Savory bagoong has long been a Pinoy kitchen staple. It's a great companion to kare-kare, ripe mangoes, fried eggplants, steamed vegetables like kangkong and bok choy, and more.
But bagoong isn't just a dip–it's an umami-packed ingredient in well-loved dishes from different regions in the Philippines, too! However you like your bagoong—on the side, cooked into ulam, or even in dessert—we're sure you'll find something you'll like.
So if you have bagoong in your pantry and are looking for an easy yet flavorful Pinoy dish to share with your loved ones at home, we have you covered. Check out these three Pinoy recipes with a twist, all with bagoong as the star ingredient!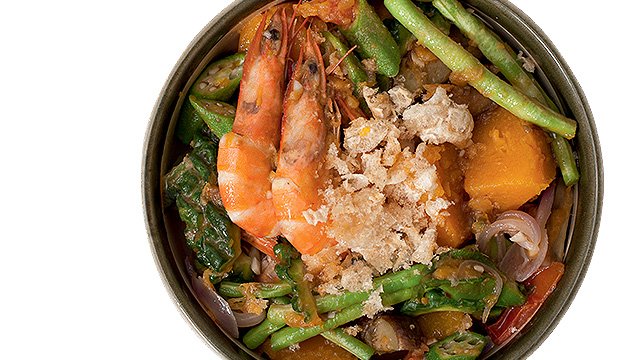 Pakbet Ilocano With Chicharon Recipe
When it comes to ulam cooked with bagoong, pakbet is definitely one of the most popular. The recipe many of us are familiar with have bagoong, sliced veggies, and cubed pork or shrimp. This version, however, also calls for sweet potato to give this salty-savory dish a sweet kick. A generous sprinkling of crushed chicharon gives it added crunch. Feel free to adjust the amount of bagoong alamang to taste.
Yield: 6 servings
Pakbet Ilocano With Chicharon Ingredients:
3 medium sweet potato (kamote), peeled and sliced into 1-inch cubes
1/4 kilo squash (kalabasa), peeled and cubed
3 tablespoons vegetable oil
2 cloves garlic, minced
1 medium red onion, minced
2 medium tomatoes, chopped
6 pieces shrimp
4 native eggplants, sliced into half-moons
3 medium native ampalaya, seeded and sliced into half-moons
1/4 kilo yard-long beans (sitaw), cut into 3-inch pieces
4 winged beans (sigarilyas), sliced into 1/2-inch pieces
8 okra, sliced into 1-inch pieces
3 bunga ng malunggay, sliced into 1-inch pieces
4 tablespoons, or to taste, bagoong alamang
1 cup chicharon, for topping
How To Make Pakbet Ilocano With Chicharon:
1. Boil sweet potatoes and squash in a pot of water until tender. Drain and set aside.
2. Heat oil in a pan over medium heat. Sauté garlic, onion, and tomatoes for 1 minute.
3. Add shrimps and cook until they turn pink. Add remaining vegetables and stir.
4. Add bagoong alamang and 1 1/2 cups water. Lower heat and simmer until vegetables are cooked and tender but still slightly crisp.
5. Add sweet potatoes and squash. Transfer to a serving platter. Top with crushed chicharon.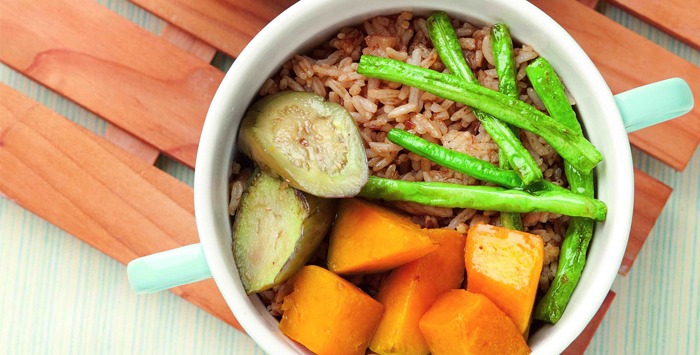 Bagoong Veggie Rice Recipe
For a simple yet filling one-bowl dish, whip up a batch of bagoong veggie rice. It's a complete meal in itself, with white rice sautéed with squash, eggplant, string beans, pork, and bagoong. You can choose to replace the veggies with whatever's in season (or with your favorites) and adjust the bagoong to taste.
Yield: 3 to 4 servings
Bagoong Veggie Rice Ingredients:
3 cloves garlic, minced
2 tablespoons onion, diced
80 grams pork (use pork belly), diced
3 cups rice, cooked
2 tablespoons bagoong alamang
3 cloves garlic, chopped
2 cups squash (kalabasa), cubed
1 cup eggplant, sliced into 1/2-inch rounds
1/2 cup string beans (sitaw), cut into 3-inch lengths
How To Make Bagoong Veggie Rice:
1. Sauté minced garlic until fragrant. Add diced onions and sauté until translucent.
2. Add diced pork belly.
3. Add cooked rice and bagoong alamang; mix until well combined.
4. In a separate saucepan, sauté chopped garlic until fragrant. Add squash and sauté for 2 minutes. Add eggplant and sauté for another minute.
5. Add string beans and continue to sauté until all vegetables are thoroughly cooked. Divide into bowls.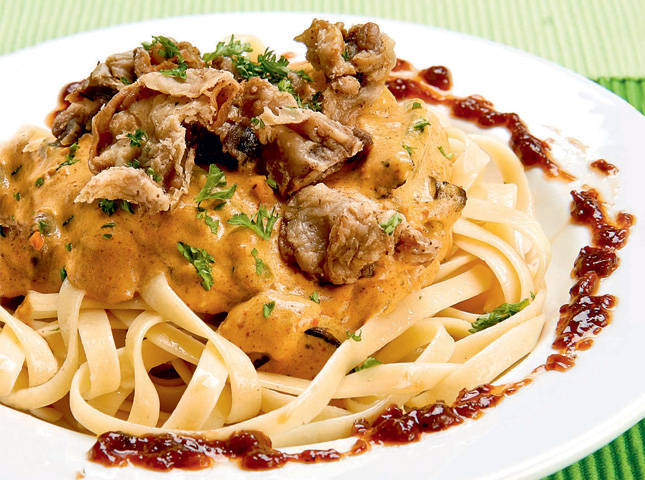 Kare-Kare Pasta Recipe
Surprise your tastebuds with this fusion dish that combines the very Pinoy kare-kare with pasta, a well-known Italian cuisine staple. This recipe specifically calls for linguine, a flat type of pasta, as well as all-purpose cream to make the sauce richer and creamier. Served with bagoong and chicharon bulaklak, it's sinful yet so good, and we're sure you'll want to share this with the whole family.
Yield: 4 to 5 servings
Kare-Kare Pasta Ingredients:
1 3/4 hot water
1 beef bouillon cube
1 (100-gram) instant kare-kare mix
1/4 cup corn oil
2 tablespoons garlic, minced
2 cups artichoke hearts, quartered
1 cup baguio beans (abitsuelas), blanched and sliced
3/4 cup white onion, sliced and roasted
3/4 cup eggplant, sliced and roasted
2 (250-gram) packs all-purpose cream
500 grams linguine noodles, cooked according to package directions
chicharon bulaklak
shrimp paste (bagoong alamang), sautéed
How To Make Kare-Kare Pasta:
1. In a bowl, place hot water, beef cube, and kare-kare mix. Mix until well blended. Set aside.
2. In a pan, sauté garlic in corn oil until light brown. Add artichoke and roasted vegetables.
3. Pour in kare-kare mixture to thicken. Add all-purpose cream. Toss in cooked linguine and mix well. Remove from heat and transfer to a serving plate.
4. Sprinkle chicharon bulaklak. Serve with sautéed shrimp paste or bagoong on the side.
If you're planning to try your hand at making these dishes, use Barrio Fiesta Sautéed Shrimp Paste. It helps you get that authentic lutong-bahay taste, whether you're making a familiar favorite or experimenting with a whole new dish.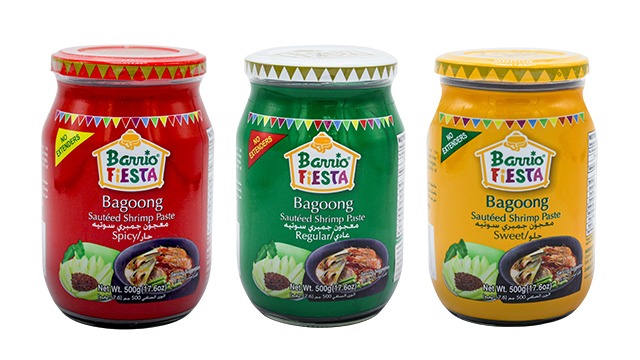 Now's the perfect time to bring your loved ones together over a delicious, home-cooked meal filled with flavors we grew up with. Savor the time you spend together at home as you dig into dishes lovingly made by mom, dad, lolo, lola, or even ate or kuya.
Barrio Fiesta Foods products are available in leading supermarkets and groceries nationwide, and online on Lazada. Follow Barrio Fiesta on Facebook and Instagram for more information.