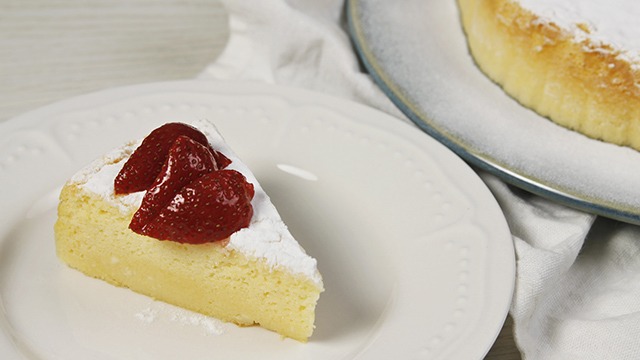 Yes, the Internet's 3-ingredient Japanese cheesecake recipe works! We put our own spin on it by topping ours with powdered sugar and some berries. What would you pair with your 3-ingredient cheesecake?
10 ounces good quality white chocolate, chopped
8 ounces cream cheese, softened
1 Preheat oven to 350 degrees F. Lightly grease an 8-inch round cake pan and line with parchment around the sides. Alternatively, grease and line an 8-inch round springform pan and wrap the bottom of the pan in foil.
2 Melt white chocolate over a double boiler. Stir in cream cheese and set aside to cool.
3 Separate egg whites and yolks. Mix yolks into the chocolate mixture and set aside.
4 In a separate bowl, beat egg whites until you get stiff peaks.
5 Beat a spoon of egg whites into the yolks mixture to lighten in up. Fold in the rest in two batches. Do not over mix.
6 Pour into a lined cake pan. Place the cake pan in a larger roasting dish and pour in hot water, enough to come up halfway on the sides of the cake pan.
7 Bake for 50 to 55 minutes. Turn off the oven and leave the cake inside for 10 minutes. Transfer to a round wire rack and let the cake cool completely.
8 Garnish with powdered sugar and berries.