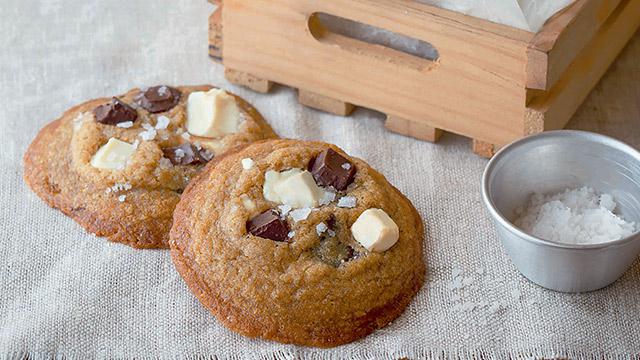 Cookies might be one of the easiest things to make but you can also easily mess up a batch by overcooking them or not handling your cookie dough properly. Make your next batch the best cookies you'll ever make with these cookie-baking secrets you should know:
TECHNIQUES
1. If you have time, chill your cookie dough before baking. Chilled cookie dough will hold its shape better and allow flavors to meld.
2. How much you cream your fat and sugar will determine your cookies' spread. Creaming until light and fluffy will result in cookies that spread more compared to butter and sugar that has been creamed only to a paste.
3. Choose the right baking sheets. Thin, flimsy baking sheets will not distribute heat evenly, while dark pans will absorb heat and cause the bottom of your cookies to brown. A heavy aluminum baking sheet is best for cookies.
4. Always grease your baking sheets or line them with Silpat or parchment paper to prevent cookies from sticking.
5. Regardless of how you pan your cookies (roll, drop, pipe, etc), make sure they are of uniform size and thickness so they cook evenly all at the same time.

6. Garnish your cookies just before popping them in the oven.
7. Bake your cookies at the right temperature. If baked at a temperature too low, your cookies' spread will increase. At a too high temperature, the edges will burn. Invest in an oven thermometer.
8. Overcooked cookies can turn rock-hard, so set your kitchen timer so you don't forget your cookies in the oven. Watch the cookies carefully and check them during the minimum time indicated. Remove cookies once they start to brown on the edges, as the heat from the pan will continue to cook them as they cool on your countertop.
9. Allow freshly-baked cookies to cool for at least a minute before lifting them off the pan. If the cookies are soft, remove them only once they're firm enough to handle.
10. Cool cookies completely before storing or decorating.
INGREDIENTS
11. A cookie dough with high fat content will produce flatter, crispier cookies. Fan of the cakey and puffy kind? Go low with the fat content.
12. Aside from giving cookies their sweetness, sugar also affects the texture and color of your baked goods! Want crisp cookies? Go with the classic granulated white sugar. Brown sugar, molasses, and honey absorb water from the air and result in a softer batch.
13. The amount and type of flour that you use provides the protein that holds cookies together. Low-protein flour such as cake flour absorbs less liquid, which will produce a wetter dough that spreads more (think lace cookies).
14. Bread flour absorbs liquid well and produces a drier dough that holds its shape better when baked. Bread flour also produces more gluten, which results in chewier cookies.
ALSO READ: A Newbie's Guide to Baking Essentials
Photography by Patrick Martires | Styling by Rachelle Santos
ADVERTISEMENT - CONTINUE READING BELOW
Recommended Videos