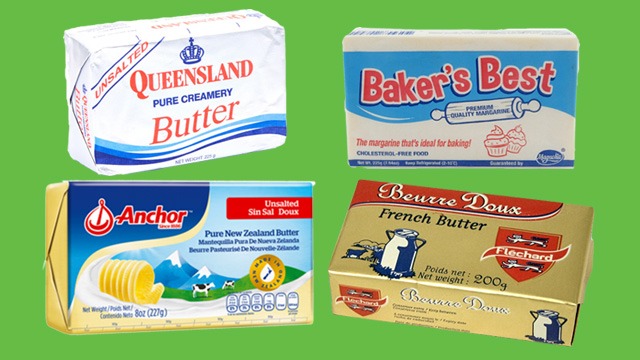 Bakers are one of the best people to ask about what brand of butter is the best to use. Bakers, more so than cooks, work with butter in almost every recipe they make. It's one of the main ingredients for many cakes, cookies, pastries, and bread. 
READ THESE: MORE ARTICLES ON BAKING INGREDIENTS 
What is the best butter for baking? We asked home bakers, baking professionals, and pastry chefs what they like to use and why. Here are the brands they like to use and why it's the best butter for baking.  
1 Queensland Butter 
Trinka Gonzales of BakeNice on Instagram, Jasper Castro, former Yummy.ph staff, and Aldwin Aspillera, baker, owner of Crust & Crumb, and photographer, all agree that Queensland is a bargain deal when it comes to real butter.
Trinka says, "I bake a lot. I go through so much butter and have to be economical about it. Queensland's price point sits in between baking margarine and the more expensive butter. It is also good quality, a lot of my baker friends have it as their go-to, too." 
"It's real butter and a steal for its price. Plus, it's the most fragrant out of all the butter I've used. Our brioche buns don't smell the same when I use a different brand," says Aldwin. 
Jerlo Bautista says, "It gives my product the perfect creaminess of real butter." He's the owner and chef of Vi & Lucia's Bakeshop, whose Berry Medley Cream Cheese Cake made it to our Favorite Desserts List in 2019, and Sibs Kitchen. 
Salted and unsalted Queensland butter (starting from P94.75 at Landers) is available in major supermarkets and baking supply stores.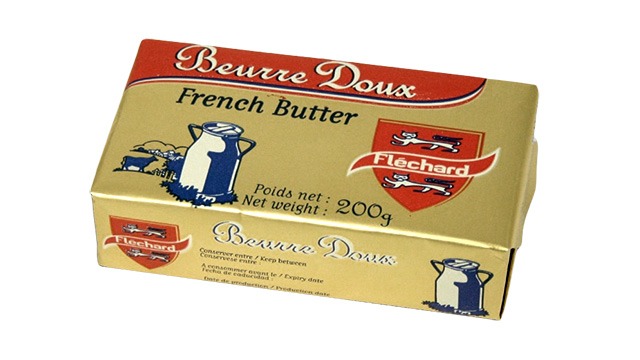 2 Flechard French Butter
This French butter might look like a new product in supermarkets but has been available in baking supply stores for far longer. At baking supply stores, this comes in 1 kilogram blocks and for those who bake a lot, this is a fantastic deal for real butter. In supermarkets, you can also find the 200-gram bricks. 
ADVERTISEMENT - CONTINUE READING BELOW
Recommended Videos
For bakers like Stephanie Cueva, homemaker of NomNomOven whose Pork Floss Ensaymadas was also one of our favorite desserts, it's all about the texture since she makes beautiful cakes with it. "I use this for my buttercream. It is yummy and is stable enough for piping buttercream flowers." 
"It has a smooth and clean mouthfeel and has a pleasantly buttery aftertaste," says Wado Siman, kitchen consultant and owner of Wadoughs.   
Retired professional baker and full-time mom Chef Joan Jean F. Baldoza says, "I am fond of Flechard. It has a very "buttery" flavor, not as dark yellow as other commercial brands, has a competitive price and is very stable, especially for buttercream."    
Flechard French Butter (starting at P637/1 kilo block at All About Baking) is available in major supermarkets and in baking supply stores.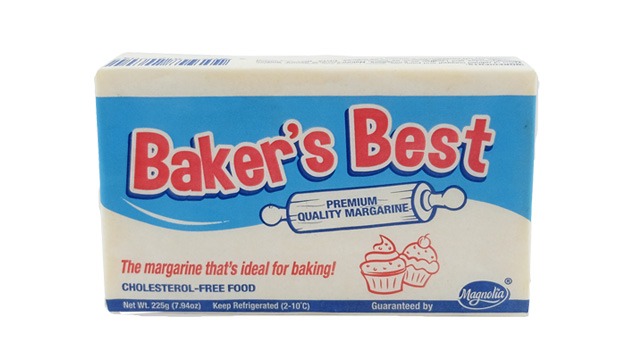 3 Bakers Best 
This may not be real butter, but of all the margarine brands on the market, this is the one that many bakers turn to when budget is an issue. Butter is more expensive than margarine.
Since margarine is made from edible oil and has added ingredients and dyes to make it taste and look like real butter, its taste is and can be very different from butter. When choosing an alternative to butter, Trinka recommends this brand, saying, "It's the 'mildest' in taste. It does not smell or taste too strongly of margarine." It's the "butter" to use when you do not need the butter to be a flavor that you can taste. 
Baker's Best (starting at P46 in All About Baking) is available in supermarkets and baking supply stores.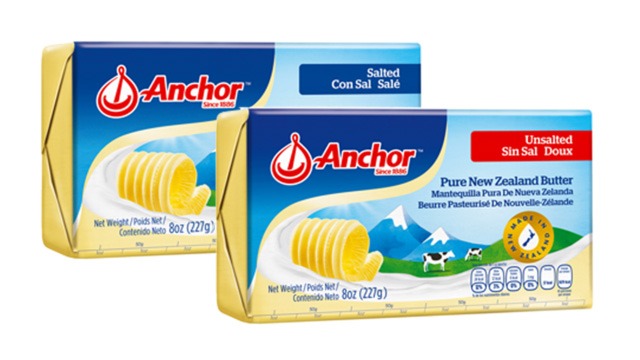 4 Anchor
What better reason to use a brand than nostalgia? It's the brand we love because we loved its taste while growing up and sometimes, we look for that taste. "It's more delicious, flavorful, and nostalgic," says Jasper. 
There are other reasons, too, why Anchor is a great butter for baking. Precious Daraway of Parkwings Restaurant, says "Anchor is readily available everywhere. Not the cheapest but it's the easiest to work with, especially in making Swiss meringue buttercream." Stephanie agrees that availability is important. Plus, she says "Nothing compares to the taste of this butter."  
Salted and unsalted Anchor butter (P139 at Robinsons Supermarket) is available in supermarkets, convenience stores, and baking supply stores. 
READ THESE: MORE ARTICLES ON BAKING INGREDIENTS 
The best reason to use a particular butter for baking is the taste. However, we think there's another reason why using real butter is best. Browned butter! "A lot of baking recipes really thrive better with butter instead of margarine. You also can't "brown butter" margarine!" says Jasper.
Anchor, Baker's Best, Flechard and Queensland are all available in major supermarkets and baking supply stores.
ALSO READ: 
***
Thinking about what to cook next? Join our Facebook group, Yummy Pinoy Cooking Club, to get more recipe ideas, share your own dishes, and find out what the rest of the community are making and eating!
Got your own version of the classic dishes? Pa-share naman! Get your recipe published on Yummy.ph by submitting your recipe here!