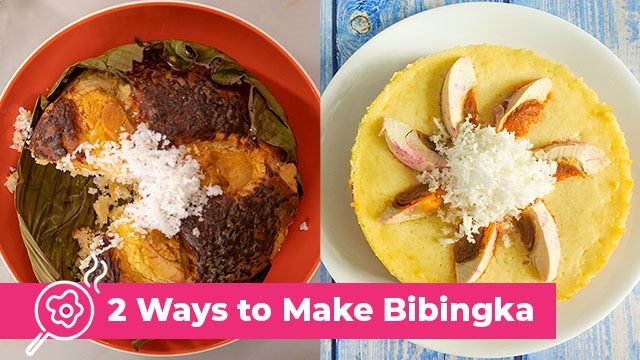 Bibingka is a classic food item eaten during the Christmas season in the Philippines. It's a rice cake that is baked in banana leaves between two charcoal ovens. Simbang gabi is just not complete without this snack cake or the puto bumbong that is commonly sold together with the bibingka. 
We have two recipes that take the bibingka and make it better. This Christmas, the bibingka can be made easily and can be made more modern as well. The first recipe is an easy hack on the bibingka using pancake mix, but that's not all. It's also made in the air fryer. It's easy, delicious, and makes a no-fail bibingka. The second recipe is a cheesecake that's made creamier and more appetizing with itlog na maalat slices on top. 
Want to try them? Here are the recipes: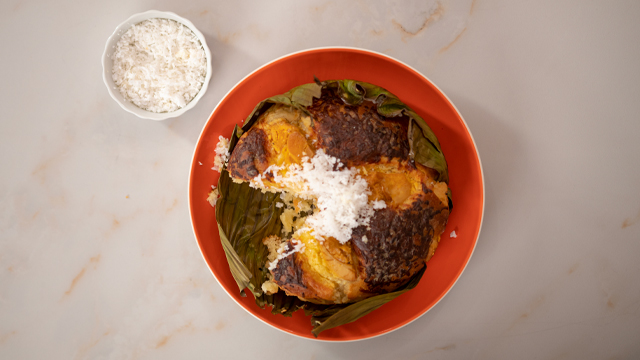 Pancake Mix Bibingka Recipe
Takes 20 minutes
Makes 2 6-inch cakes
Pancake Mix
Bibingka
 Ingredients
1 200-gram pack pancake mix
1 cup gata (coconut cream)
1 tablespoon sugar, more for serving
1 large egg
2 tablespoons salted butter, melted
1/2 cup quick-melting cheese, grated
2 pieces salted eggs, sliced
Butter, softened, for brushing pans and serving
Niyog, for serving
How To Make Pancake Mix
Bibingka
1 Line 2 6-inch round baking pans with softened banana leaves or parchment paper. (To prepare banana leaves, carefully but quickly pass the banana leaves over an open flame.) Lightly brush with softened butter. Set aside.
2 In a medium bowl, combine pancake mix, gata, sugar, egg, and melted butter. Whisk until just combined.
3 Fill prepared pans until half-full. Top with grated cheese and salted egg.
4 Place baking pan in the air fryer basket set at 180 degrees C and set the timer for 20 minutes or until the bibingka is baked through when tested with a toothpick.
5 Remove baking pan from air fryer basket and transfer to a trivet. Brush the tops with softened butter. Repeat with the other baking pan. Serve each bibingka topped with niyog before serving.
If you want something more creamy and modern that will make waves this Christmas, why not try this mishmash of a cheesecake and a bibingka?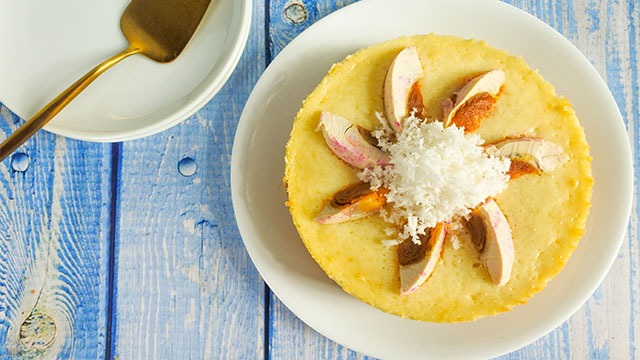 Bibingka Cheesecake Recipe 
Takes 30 minutes plus overnight chilling
Makes 6-inch cake
Bibingka Cheesecake Ingredients
3/4 cup crushed butter coconut biscuits
2 tablespoons sugar
1/4 teaspoon salt
1/4 cup butter, melted
1 227-gram block cream cheese, softened
1/3 cup sugar
1/2 teaspoon salt
2 large eggs
1/2 cup coconut cream
2 tablespoons cornstarch
2 salted eggs, sliced, more for garnish
Freshly grated coconut, for topping
How To Make Bibingka Cheesecake
1 Melt butter in a microwave-safe bowl. Stir in sugar then dump in the cookie crumbs and salt with the melted butter in the bowl.
2 Transfer to a lightly oiled and lined 6-inch round springform pan. Pat down evenly and firmly into the pan.
3 Bake the crust for 10 minutes until golden. Set aside to cool.
4 Beat cream cheese using an electric mixer until softened and smooth. Add sugar and salt, and beat well. Pour in coconut cream. Sift cornstarch over the batter. Mix until well-blended.
5 Transfer cream cheese mixture into the prepared crust. Smooth out the top, then bake. Bake 20 minutes.
6 Place salted egg slices into the center. Bake again another 20 minutes until the center is still jiggly but sides are set. Cool then chill overnight or at least 4 hours until firm.
7 When ready to serve, unlock springform pan and release the cake. Place niyog in the center of cheesecake between salted egg slices. Use a cake server to transfer the cake to a serving plate. Slice and serve.
***