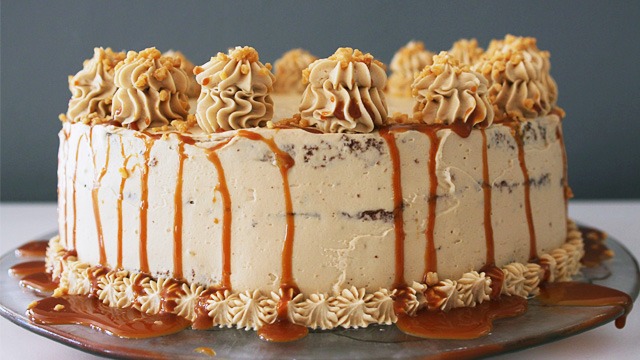 The caramel yema frosting that tops your caramel chiffon cake is a decadent silky frosting. This frosting is easy but there are tips that you can do as you make it to make sure that it is a success every time. 
This is how to make a no-fail caramel yema frosting:
1 Whisk together 1 1/2 cups evaporated milk, 3 large egg yolks, and 3 tablespoons cornstarch in a bowl with a spout. Set aside.  
2 Place 1 cup sugar in a saucepan. Heat over medium heat and melt. Do not stir but instead swirl the pan as needed to evenly melt the sugar.
3 Heat until the melted sugar begins to turn a golden amber color. Swirl the saucepan until the sugar is completely melted and an even color.    
4 Remove from the heat and slowly pour in 1/4 cup boiling water, stirring carefully to prevent the hot sugar from splashing. 
5 Return it to the heat on Low and while stirring, slowly pour in the milk mixture into the sugar mixture. Stir with a whisk and cook the mixture, stirring, until the mixture thickens about 3 to 5 minutes. 
6 Remove the saucepan from the heat and while still hot, stir in 1/4 cup unsalted butter and 1/2 teaspoon vanilla until combined. Set aside to cool completely.   
Once cool, you can frost your chiffon cake with this caramel yema frosting!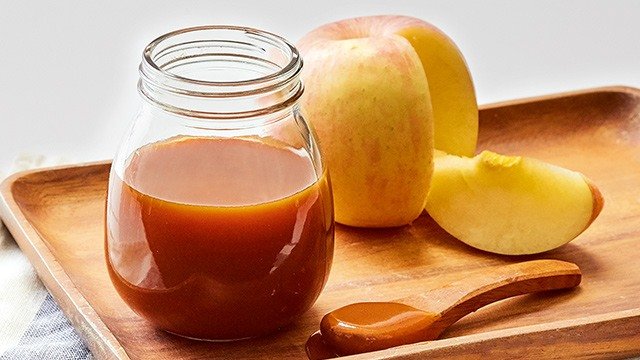 Do you want to make a classic caramel frosting instead? You need to make caramel first. To make caramel right, you need to learn how to do that without it crystalizing back into sugar crystals. Here's how to make a caramel sauce: 
1 Place 1 cup sugar and 1/4 cup water into a saucepan with high sides. Stir if needed to combine and wet the sugar.
2 Place on the stove over medium heat and bring to a boil. 
3 Once boiling, let the water evaporate from the mixture. Do not stir but instead, swirl the pan if you see any sugar spots not melting into the water. (Swirling also prevents crystals from forming.) Simmer until the water has evaporated and the sugar has completely melted and begins to bubble.  
How do you do know that it's water that is evaporating? Note that water is very liquid and sugar becomes sticky. So, water bubbles should be big in size and bubble up rapidly. Sugar bubbles can also be big but because sugar is sticky, the bubbles will be slow to form and burst. If you see that the big bubbles become sluggish and the mixture is not bubbling up as quickly as it originally was, that's your cue that most of the water has evaporated and the sugar has melted and is now bubbling. 
4 Keep the mixture boiling until the sugar begins to turn a golden amber color. Swirl the pan gently until the rest of the mixture is the same golden amber color.
5 Remove from the heat and onto a silicone trivet or kitchen towel to prevent it from slipping.  
6 Slowly pour 1 cup all-purpose cream into the hot sugar while stirring with a silicone spatula. If you have any sugar lumps form, place it back on the stove over low heat, stirring, until the sugar lump melts. Add1 teaspoon salt or to taste if you're making salted caramel.
7 Set aside to completely cool. 
Want to make this caramel super indulgent? Melt 1/2 cup unsalted butter and add that with the cream. This results in a buttery caramel that's addictive! 
ADVERTISEMENT - CONTINUE READING BELOW
Recommended Videos
Now that you have your caramel, add it to your plain buttercream frosting to taste. 
***
Thinking about what to cook next? Join our Facebook group, Yummy Pinoy Cooking Club, to get more recipe ideas, share your own dishes, and find out what the rest of the community are making and eating!
Got your own version of the classic dishes? Pa-share naman! Get your recipe published on Yummy.ph by submitting your recipe here.