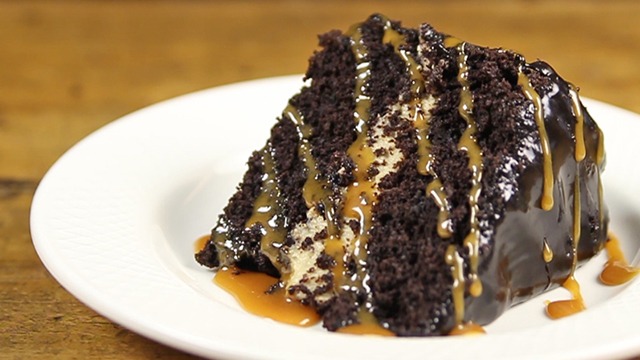 A slice of good chocolate cake always puts a smile on our faces.
1/2 cup dutch cocoa powder
1 teaspoon vanilla extract
1 1/4 cups all-purpose flour
1/2 teaspoon iodized salt
1/2 teaspoon instant coffee
1 1/2 cups evaporated milk
1
Make the chocolate butter cake: grease, line, and flour 2 8×1-inch round pans. Brush with shortening, line with parchment and flour.
2
Combine cocoa powder, water, and vanilla and mix until well incorporated. Set aside and chill in the refrigerator until needed.
3
Sift flour, baking powder, baking soda, and salt 3 times. Set aside.
4
Preheat oven to 350 degrees F.
5
In a mixing bowl at medium speed, cream butter and sugar until light and fluffy for about 10 minutes, scraping the sides of the bowl once in awhile.
6
Increase speed to medium-high. Add whole eggs and egg yolk one at a time, beating well after each addition, scraping the sides to ensure proper mixing.
7
At low speed, add the dry ingredients alternately with the cocoa mixture. Mix until smooth. Scrape and mix with a rubber spatula until there are no more visible streaks to ensure proper mixing. Divide into prepared pans.
8
Bake for 25 to 30 minutes or until your cake tester comes out clean.
9
Place on a wire rack and cool completely before frosting.
10
Make the mocha filling: dissolve cornstarch in 1/3 cup milk. Whisk in the egg yolks in the cornstarch mixture until well incorporated.
11
In a saucepan, combine remaining milk, sugar, and coffee. Mix until smooth and cook on the stovetop until it emits steam (before boiling point). Pour the milk mixture into the egg mixture to temper.
12
Pour it back into the pan and continue cooking, stirring constantly to avoid curdling until smooth and creamy. Remove from heat and add the butter. Spread the mocha filling into a cookie sheet. Sprinkle sugar on top then cover with plastic wrap. Pierce holes to release heat and cool. Set aside.
13
Make the chocolate fudge icing: In a non-stick pan, mix sugar and cocoa powder until well combined. Slowly pour in milk, stirring until well combined. Cook in medium heat until it has a spreading consistency (lift whisk to check for consistency: when the last drop hangs and doesn't fall off, it means it's done). Mix in the butter and set aside.
ADVERTISEMENT - CONTINUE READING BELOW
Recommended Videos