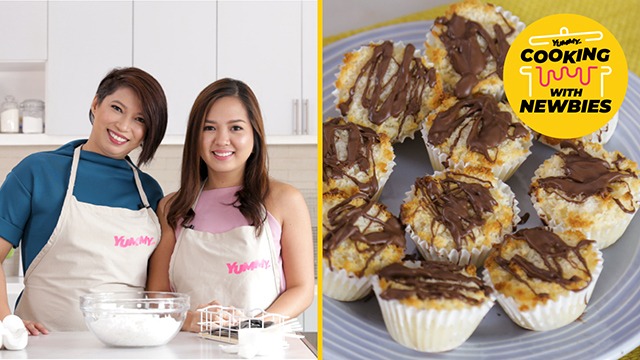 We admit: baking can be an intimidating task, especially if you've never tried anything more complicated than opening a box, mixing a few other ingredients together with the contents into a big bowl, and sticking it into a toaster oven. Boxed mixes are meant to be easy to make and result in instantly delicious baked goods that require very little effort. 
However, not all baking recipes are complicated and can be just as easy and instantly gratifying as a boxed mix. 
That's all that newbie baker Elaine Natividad-Reyes, freelance writer, wife, and mom of an active little boy knows. So it's a revelation for her when she learns just how easy it is to follow a simple baking recipe from scratch with the help of Yummy.ph food editor Roselle Miranda. 
Elaine may not be a total newbie in the kitchen (she is, after all, a wife and mother) but she is limited by what she has in her kitchen as well as the knowledge that not all baking recipes from scratch are hard to do.
That's why the coconut macaroons recipe is the perfect baking recipe for newbie bakers! 
The little coconut mounds have five simple ingredients that are not hard to find and you almost always have in your kitchen: an egg, a small container of condensed milk, some salt, a little vanilla, and some grated coconut or niyog. Since this recipe has no flour in it, it's gluten-free, meaning that there's no danger of overmixing the batter. 
Niyog, meanwhile, is the fresh ingredient that you might have a little trouble finding on a whim but for those who don't have a nearby palengke, talipapa, or supermarket, a big bag of desiccated coconut will work, too, plus a little coconut milk or even just water to moisten or rehydrate the mix. 
Once the batter is made, spoon the batter into mini cupcake liners, and pop it in the oven to slightly brown on top and become gooey on the inside. if you're feeling a little decoration is needed or just want to elevate its visual appeal, melt a little chocolate and drizzle it all over the mounds before consuming it all up. 
An easy, no-fail baking recipe is really all that any new baker needs to become confident in the kitchen. Take the same step as Elaine did, and try out this delicious and easy coconut macaroons recipe with her.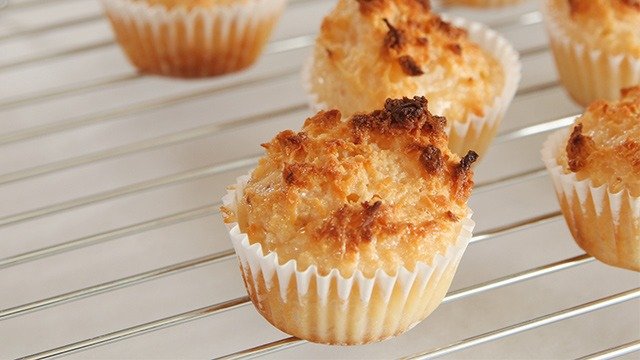 WATCH: How to Make Coconut Macaroons
Posted in:
Baking
For more easy baking recipes, try these recipes: