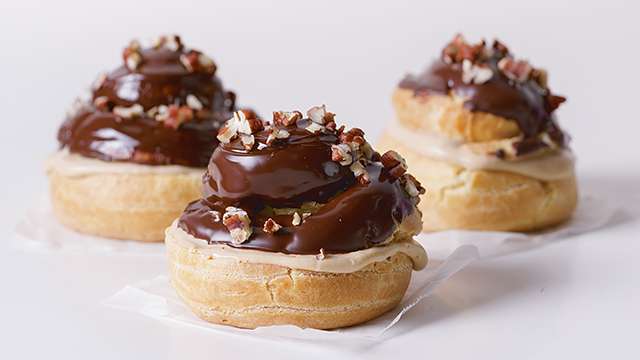 Cream puffs are made from an infamously fancy-sounding and complicated-looking dough called pâte à choux. However, this specific dough is crazy simple—and even easier to make than pie! Once the basic dough is baked, it is filled with a simple pastry cream and topped with caramel or chocolate.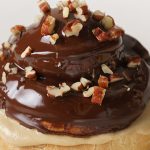 Chocolate-Coffee Cream Puffs Recipe
Posted in:
Recipe
Here's a rundown of the process of making cream puffs at home. Read the procedure carefully—everything you need to know is there. Master the basic pâte à choux dough, then get creative by experimenting with fillings, glazes, and toppings! This cream puff recipe has a coffee-flavored pastry cream and a chocolate-pecan topping.
Chocolate-Coffee Cream Puffs Recipe
1/2 cup milk
1/3 cup butter, cubed
1 tablespoon sugar
1 1/4 cups all-purpose flour
4 large egg
1 cup milk
1/4 cup coffee, use espresso
Egg, yolks only
1/3 cup sugar
4 tablespoons cornstarch
1/2 tablespoon vanilla
2 tablespoons butter
1 cup whipping cream
1 1/2 cups bittersweet chocolate, melted
1/4 cup pecans, chopped and toasted
1 Preheat oven to 450°F. Trace 5 (3-inch) circles each on 2 sheets parchment paper, leaving a 2-inch space between circles. Line 2 baking sheets with parchment paper, drawn side down. Set aside.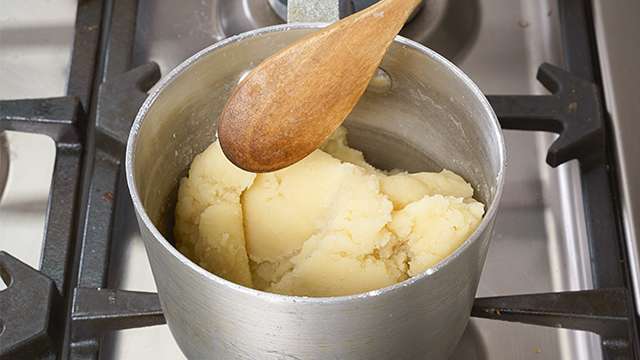 2 Make the pâte à choux: Bring milk, ½ cup water, butter, sugar, and salt to a boil in a medium saucepan. Stir in flour. (Mixture will be thick and paste-like in texture.) Stir constantly over low heat until mixture pulls away from the pan.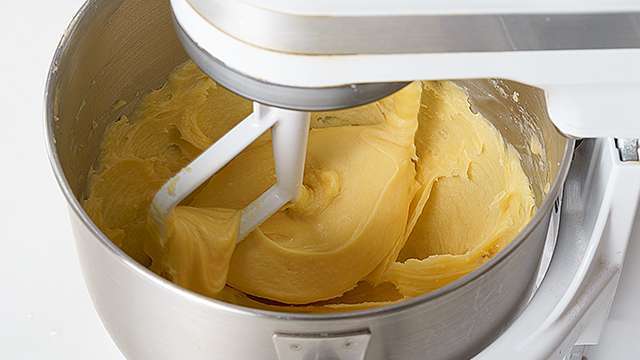 3 Transfer mixture to the bowl of an electric mixer fitted with the paddle attachment. Beat on medium speed and gradually add eggs one at a time. As soon as the mixture is shiny and holds its shape (not too thick and not too runny), it is ready to be piped.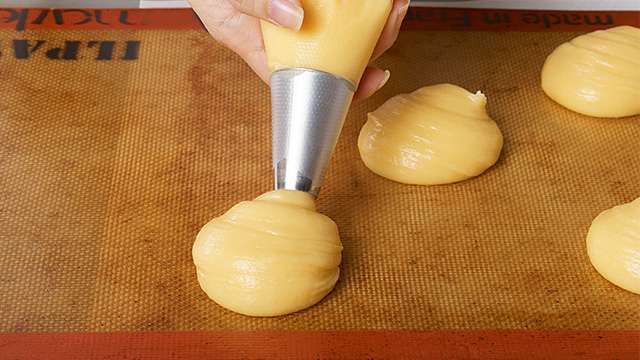 4 Transfer dough to a piping bag fitted with a large plain round tip. Pipe onto traced circles forming mounds.
5 Place baking sheets in the preheated oven and reduce temperature to 375°F. Bake for 20 to 25 minutes or until puffed and golden. Remove from the oven and let dough cool completely on the baking sheets.
6 Make the coffee pastry cream: Place milk and coffee in a saucepan and bring to a boil. Whisk together egg yolks, sugar, cornstarch, and vanilla in another bowl.
7 Pour half of the hot milk mixture into the egg yolk mixture, whisking well, then pour yolk mixture into the saucepan with the remaining hot milk mixture. Continuously whisk mixture over medium heat until thick. Add butter and mix well.
8 Transfer pastry cream to a bowl and place plastic wrap directly on the surface. Let mixture cool at room temperature then refrigerate until ready to use.
9 Place whipping cream in the bowl of an electric mixer fitted with the whisk attachment. Whip on high speed until stiff peaks form.
10 Reduce speed to low. Slowly add 1 cup coffee pastry cream. Whip on high until well combined and mixture holds its shape. Chill for 2 hours. Transfer to a piping bag with a ¼-inch tip.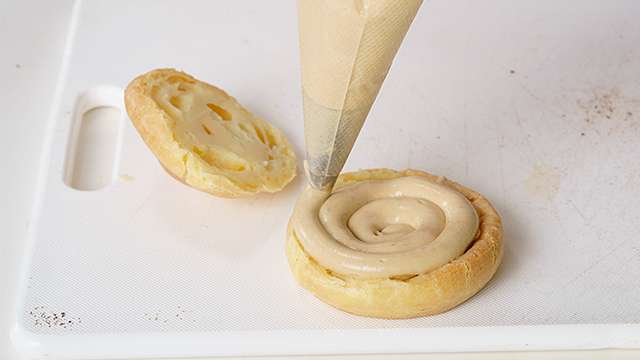 ADVERTISEMENT - CONTINUE READING BELOW
Recommended Videos
11 Slice pâte à choux in half and pipe coffee pastry cream onto the bottom half.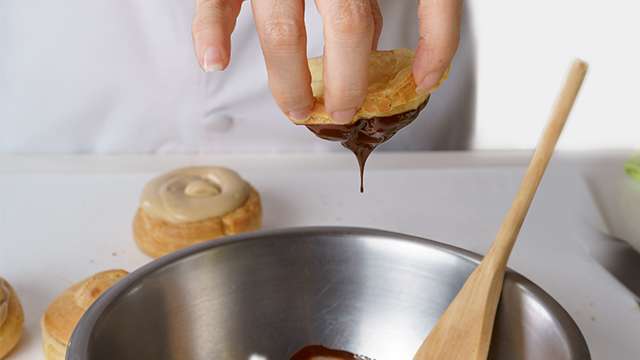 12 Dip top half into melted chocolate and cover pastry cream. Sprinkle with pecans. Repeat with remaining ingredients. Refrigerate for at least 2 hours before serving.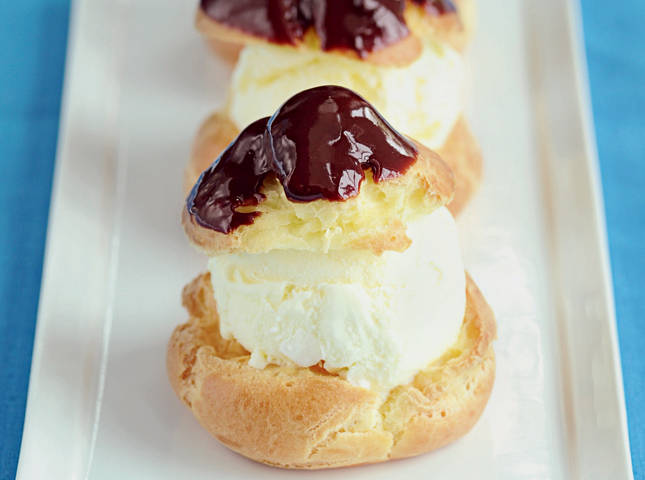 Cream Puffs with Ice Cream
Posted in:
Recipe
*Recipe and tips originally published in the May 2016 issue of Yummy magazine. Minor edits have been made by Yummy.ph editors.