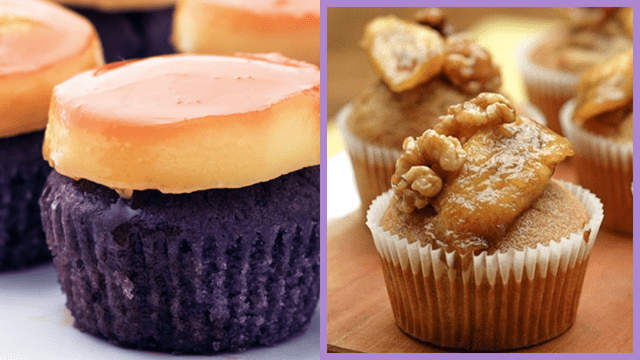 The sweltering heat of Philippine summers makes baking cupcakes extra challenging: after all, cupcakes are most popularly served with a beautiful swirl of buttercream on top, and buttercreams are notoriously terrible at holding up in high temperatures!
Of course, this isn't to say that there's no way to pull off buttercream frosting in hot weather – because of course we have a stable buttercream recipe that will work – but there are more ways to decorate a cupcake than with buttercream frosting. Aside from being just as delicious as buttercream, these cupcake decorating ideas have another advantage: they won't melt, even if you leave them out in the sun! (Please do not leave your sweets and pastries out in the sun.)
Try these creative and pretty cupcake decorating ideas that don't use buttercream:
1 Put your cupcakes in a jar.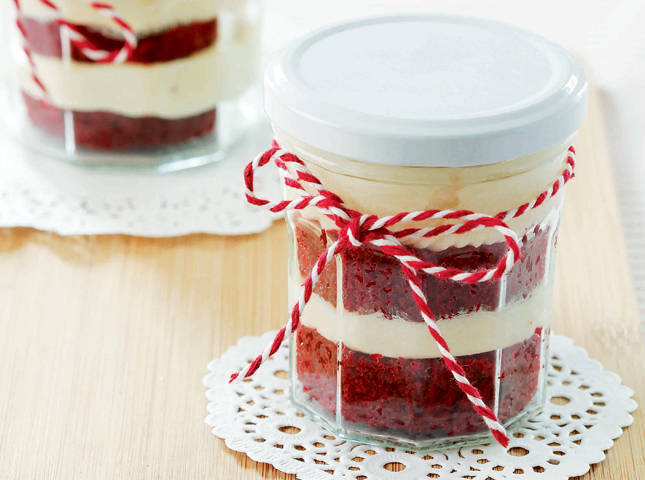 So technically, putting your cupcakes in a jar will turn them into trifles, but look how pretty they'll still turn out! These red velvet cupcake trifles come with a delicious cream cheese frosting that is not only stable in hot weather; it's super easy to make, too. You not only have a super cute container that's easy to store or send to someone who deserves these sweet treats; you don't even have to worry about piping!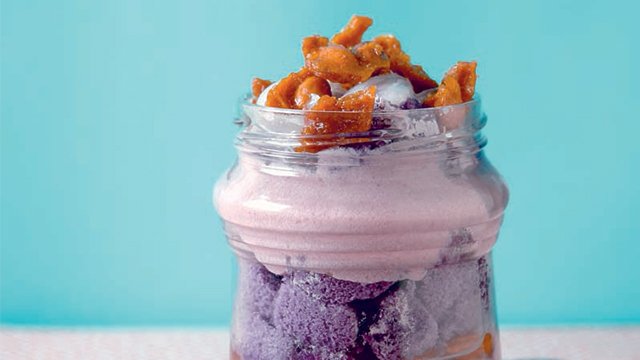 Ube-Keso Trifle Recipe
Posted in:
Recipe
2 Top it with leche flan.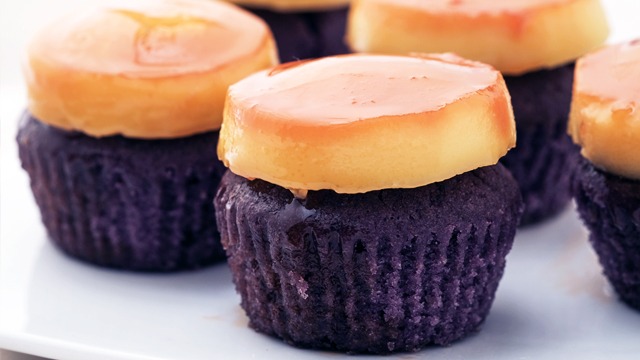 There are two ways to decorate your cupcakes with leche flan: you can either bake them together, puto flan style, or you can bake them separately and put them together afterward. The first method is used in this decadent leche flan tablea cupcakes recipe while the second is used in this ube leche flan cupcake recipe. It all depends on which method you're more comfortable with, but the result is the same: you get an elegantly decorated cupcake that's also a two-in-one dessert.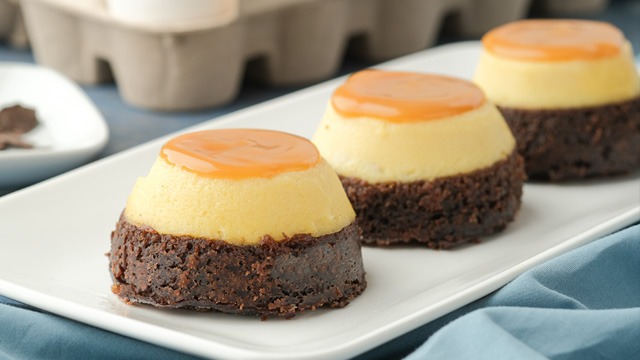 Leche Flan Tablea Cupcakes Recipe
Posted in:
Recipe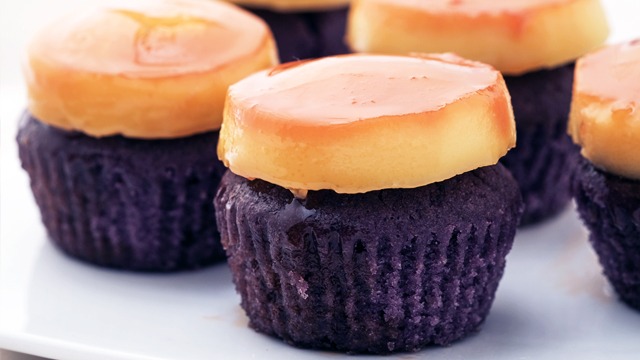 Ube Leche Flan Cupcakes Recipe
Posted in:
Recipe
3 Dip it in a glaze.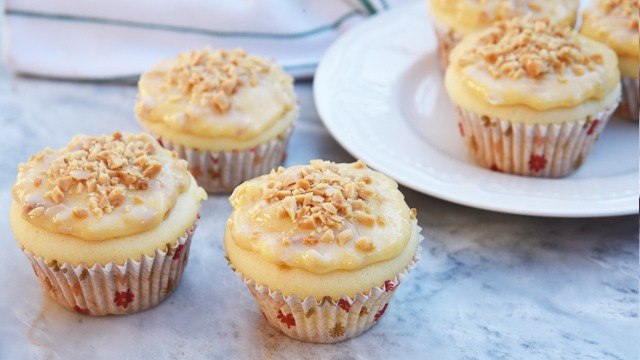 Doughnuts are not the only pastries you can dip in a glaze; cupcakes can be dipped, too! It's so easy and it's one of the best fuss-free ways to add moisture and flavor to your cupcakes. While the glaze is wet, you can even sprinkle it with something crunchy for extra texture – like these chocolate tablea cupcakes that are topped with walnuts or these peanut yema cupcakes that are topped with (you guessed it) peanuts! You can even get fancy and decorate them with chocolate shavings, as in these dark chocolate cupcakes with caramel frosting or keep it simple with sprinkles, like these lemon funfetti cupcakes.
ADVERTISEMENT - CONTINUE READING BELOW
Recommended Videos
4 Cover it with delicious flakes.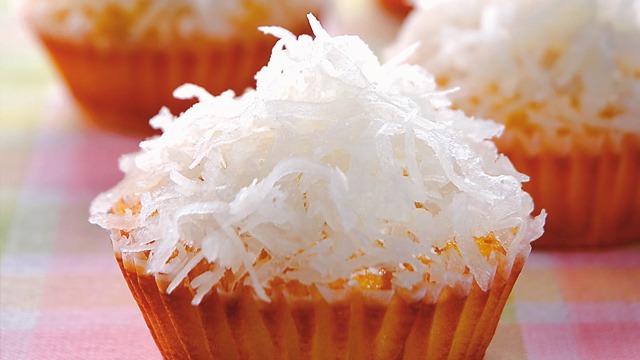 There's a reason why cheese cupcakes are so good even without frosting: it's cheese! You don't need much to decorate a cupcake, especially when you've got a good contrast going on between the cake and the topping. For example, these cheese cupcakes have a sweet cake contrasting salty cheese. Meanwhile, the soft yellow cake in these fluffy coconut cupcakes is balanced by the creamy, chewy coconut flakes!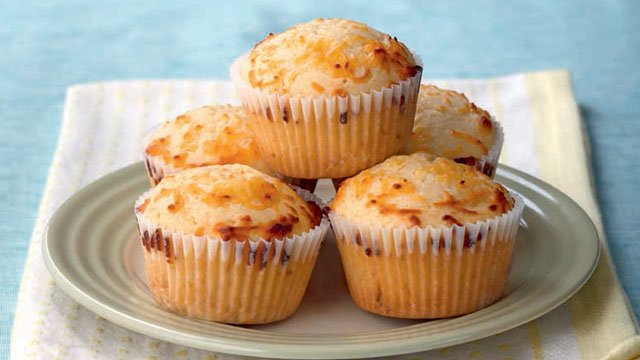 Cheese Cupcakes Recipe
Posted in:
Recipe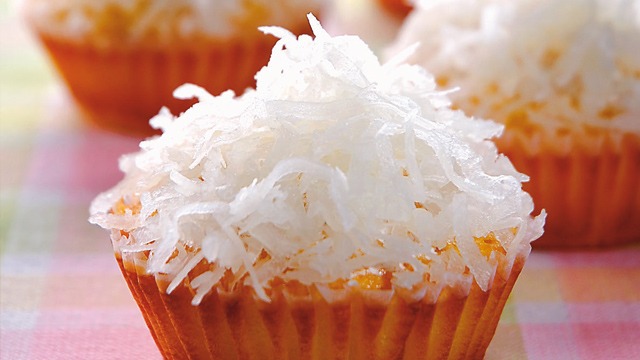 Fluffy Coconut Cupcake Recipe
Posted in:
Recipe
5 Bake it with crumbles.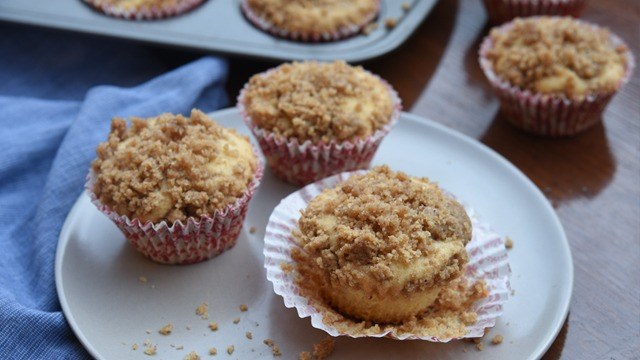 The best thing about crumble-topped cupcakes is that all you need to do after baking them is wait. Seriously: you just need to wait for them to cool off so you can bite into the crunchy, toasted crumble and the soft, fluffy cupcake. Did we not mention how opposite textures can elevate even the simplest food? These coffee crumble cupcakes are the best example of it, and if you want extra crunch, you can even mix sliced almonds, walnuts, or peanuts with the crumble before popping them in the oven.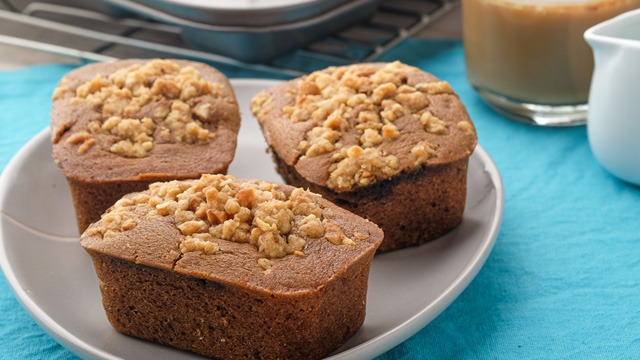 Coffee Crunch Mini Loaf Cakes Recipe
Posted in:
Recipe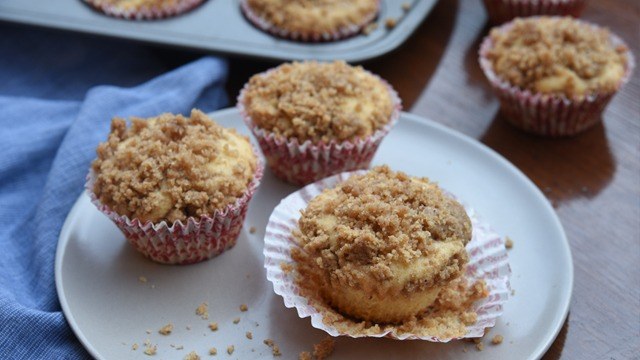 Coffee Crumb Cupcake Recipe
Posted in:
Recipe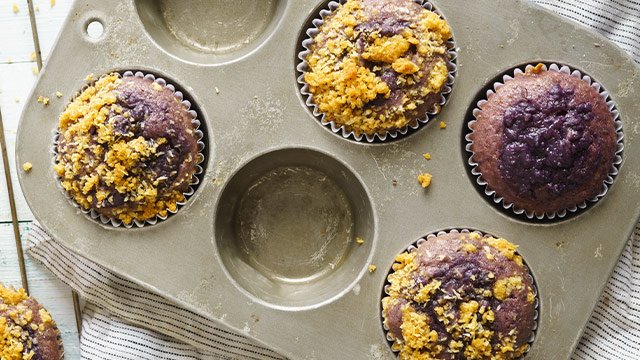 Ube Muffins Recipe
Posted in:
Recipe
6 Top it with fruit.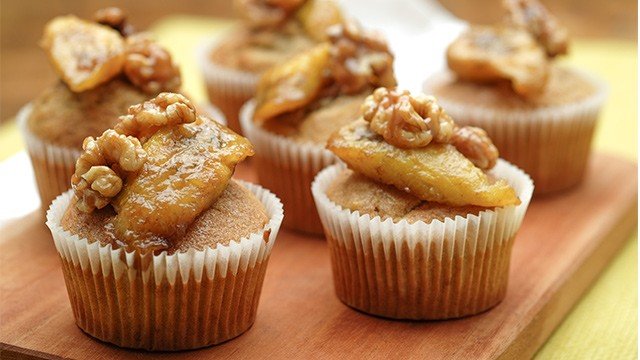 Okay – before you write this off for being "lazy" – give it a chance. We don't mean just randomly slapping some fruit on your meticulously-baked cakes: we mean you can bake fresh fruit with them, like these fruit cocktail cupcakes! Not only do you get rid of that tinny, metallic taste that canned fruit cocktail sometimes has but baking the fruit toasts some of the sugar in it and adds a nice caramelized flavor to the cupcake. And if you're a fan of this caramel flavor, you can even broil or torch it after baking to toast it more.
Another way to top your cupcakes with fruit is by adding candied or cooked fruit, like these banana cupcakes topped with candied walnut and bananas.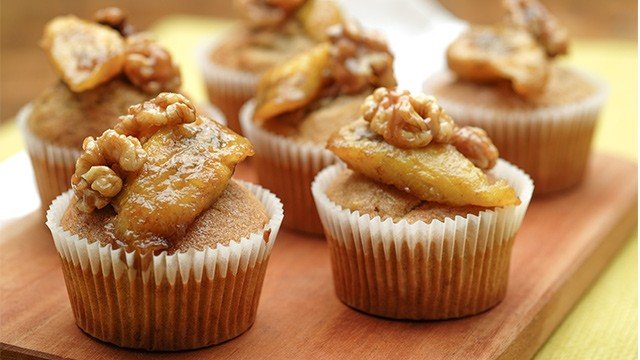 Banana Cake Recipe
Posted in:
Recipe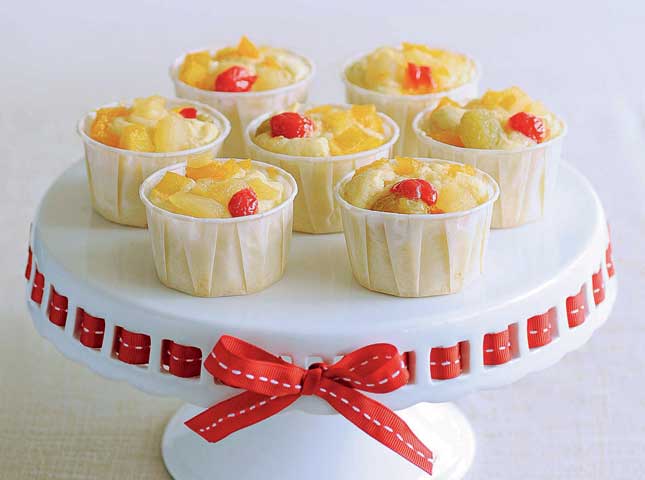 Fruit Cocktail Cupcakes
Posted in:
Recipe
7 Frost it with meringue.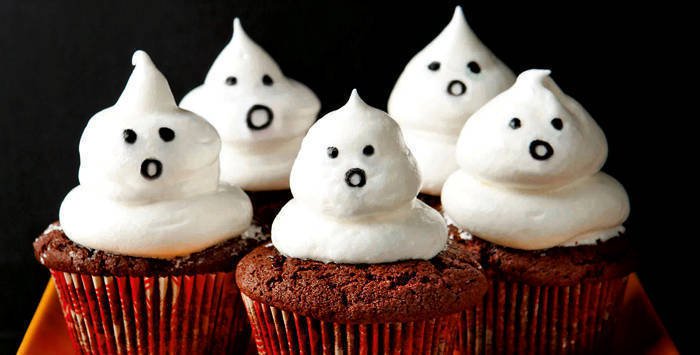 Swiss and Italian buttercreams both start with meringues and for good reason: this foam frosting is quite stable. It's the addition of butter that makes buttercreams all melty at high temperatures. So by that logic, simply omitting the butter – stopping as soon as you've got a stable and fluffy meringue – is a simple solution to your summer frosting problems. Meringues hold up to hot weather really well; in fact, they're the opposite of buttercreams in that they do worse in cold temperatures as the sugar in the meringues will absorb moisture and cause the meringue to lose its shape! They're easy to pipe into different designs, (see our "spooky" chocolate cupcakes with meringue ghosts). And even if you don't pipe them, they somehow still end up looking snazzy, like on these lemon meringue cupcake sandwiches.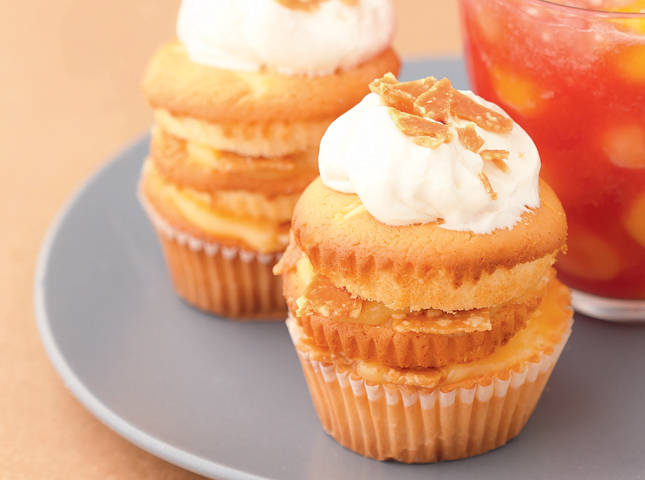 Lemon Meringue Cupcake Sandwich
Posted in:
Recipe
We have more tips and ideas on about cupcakes if you want to know more here: