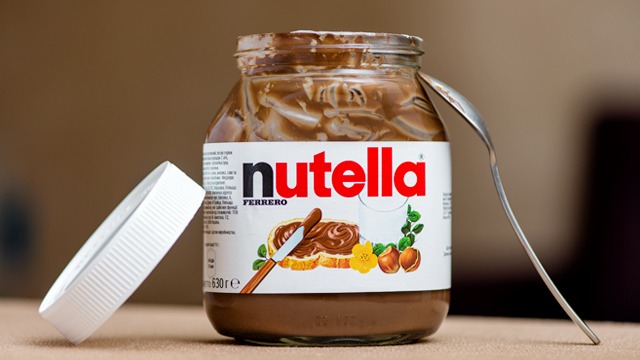 Products recommended on our website are independently selected by editors. If you buy something through our links, Summit may earn an affiliate commission at no extra cost to you.
Nutella (properly pronounced nou-tel-a or /noo·teh·luh/ ICYDK) is an addictive and admittedly delicious sandwich spread. What started off as another way to use up hazelnuts from the creator of the Ferrero-Rocher candies has become an international sensation that has made hazelnuts and the name a household name. (FYI: The same person who created Nutella also made Ferrero Rocher chocolate, so, it's safe to say that the chocolate hazelnut filling is actually Nutella, too.)
It's delicious, addictive, and lusciously decadent, so if you're a Nutella addict, celebrate World Nutella Day every February 5 with dessert recipes with Nutella!
BUY HERE: Nutella Cocoa Hazelnut Spread, 900 grams, S&R, Lazmall Flagship Store, Lazada
Want to prepare properly with your jar of Nutella? Here are Nutella recipes to try:
1 Nutella-Banana French Toast Recipe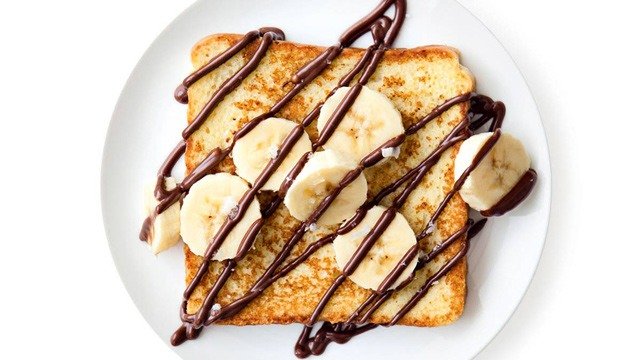 This toast recipe is a classic way to enjoy it beyond just spreading it on a slice of bread. Level things up with bananas but you can also level up the toast part as well. Dip in a slightly sweetened egg and milk batter and fry until golden. You can even use a thick slice to really make the bread centers more custardy as it absorbs the egg batter. You can even add nuts to the top, too, after drizzling Nutella over the toast and bananas!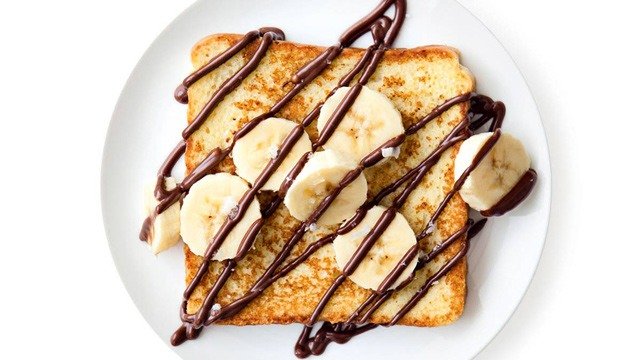 Nutella-Banana French Toast Recipe
Posted in:
Recipe
2 Mango Crepes Recipe with Vanilla Ice Cream and Nutella Sauce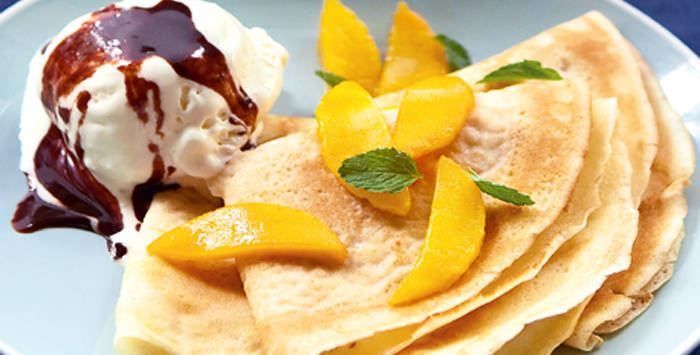 Breakfast can offer a variety of dessert opportunities! Crepes are basically very thin pancakes, and these make fabulous meals with different kinds of toppings and sauces. To make this into a decadent dessert, crepes are served with fruit slices like mangos, a scoop of ice cream, and a silky chocolate sauce made with nutty Nutella.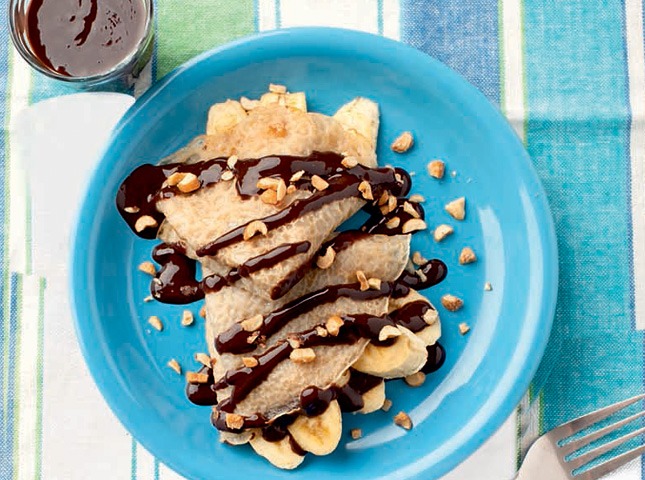 Banana Crepes Recipe
Posted in:
Recipe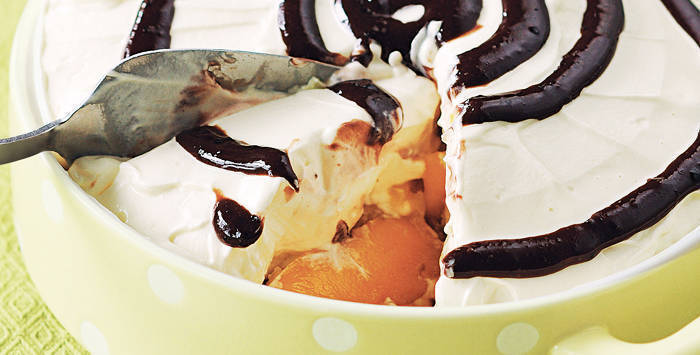 Peach Mango Crepe Recipe
Posted in:
Recipe
3 Nutella-Dulce de Leche Spread Recipe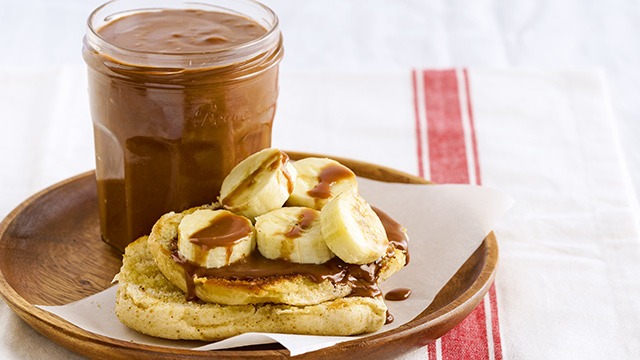 Dulce de leche is a thick creamy spread, too, like Nutella but instead of chocolate and hazelnuts, it's made with sweetened creamy milk. So, imagine mixing these two delicious spreads together and you get this decadent spread you can spread or drizzle as desired.
ADVERTISEMENT - CONTINUE READING BELOW
Recommended Videos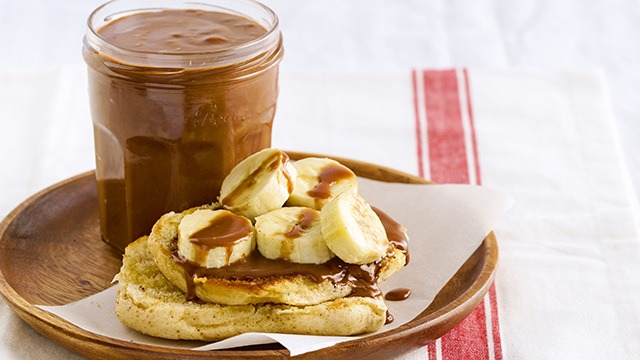 Nutella-Dulce de Leche Spread Recipe
Posted in:
Recipe
4 Nutella Brioche Trifle Recipe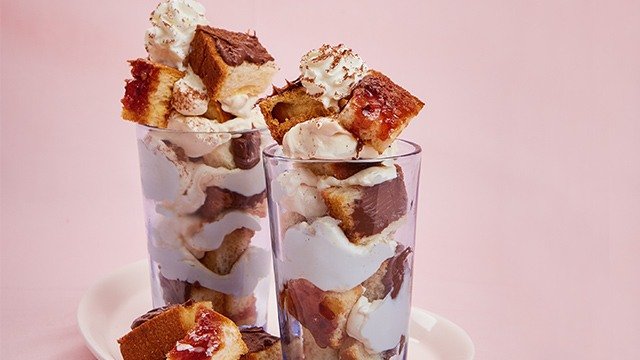 Need an easy way to make dessert but have no oven? This awesome and easy dessert is going to make you a winner in the eyes of those who eat these confections! That's bread cubes spread with spicy strawberry jam and Nutella and layered with sweetened creamy cheese. Plus, whipped cream. Grab a fork and don't expect to share these dessert glasses!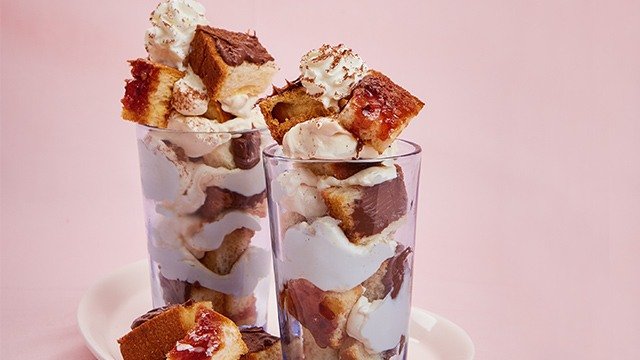 Nutella Brioche Trifle Recipe
Posted in:
Recipe
5 Nutella Brownies Recipe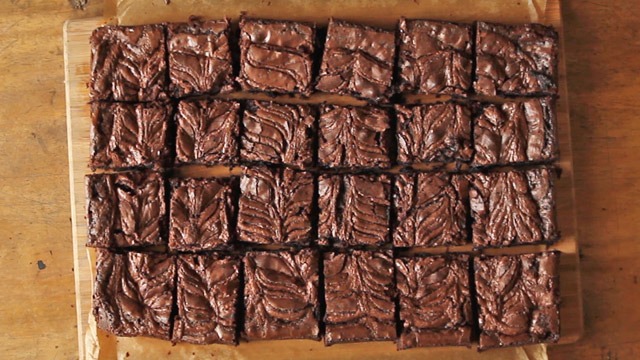 Brownies are already decadent so imagine how much more these chocolate fudgy bars would be if you stirred Nutella into the bars. Not only are these infused with Nutella in the bars themselves, but it's also piped on top so you get a double dose of the spread with every bite. If you aren't addicted to the spread before taking a bite of these bars, you might be after!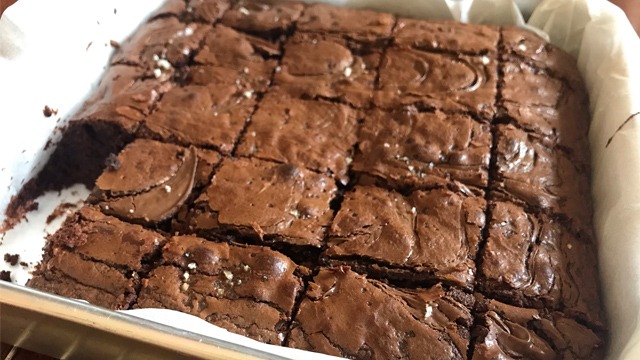 Nutella Brownies Recipe
Posted in:
Recipe
6 Banana Nutella Bars Recipe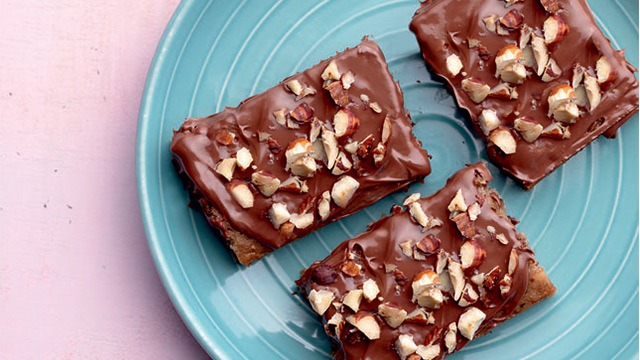 Banana and chocolate is a delicious combination so these soft and addictive bars are not out-of-this-world unexpected. These banana brownies, for lack of a better description, are slathered with Nutella and topped with extra chopped nuts. How's that for decadent?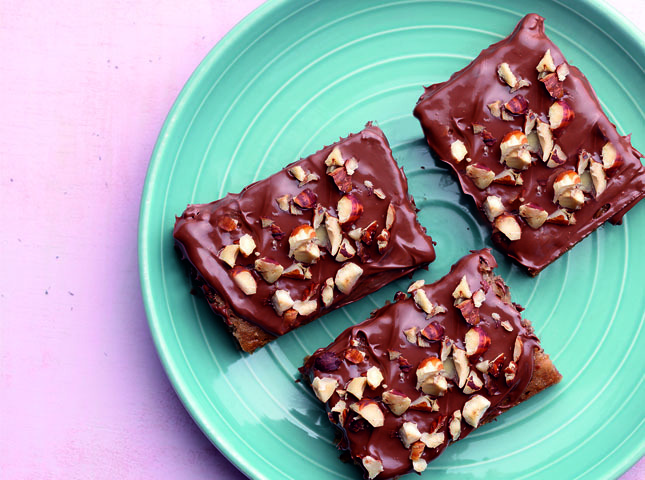 Banana Nutella Bars
Posted in:
Recipe
7 Banana Nutella Muffins Recipe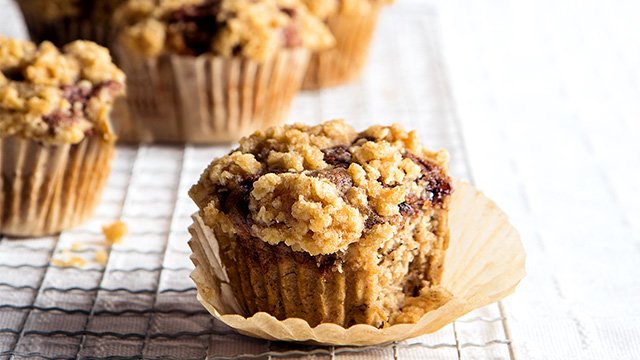 We're not sure you can get tired of bananas in dessert! These super-soft banana muffins may seem normal until you take a bite or break them open. Then you'll see that these muffins are swirled with a dollop of Nutella on each.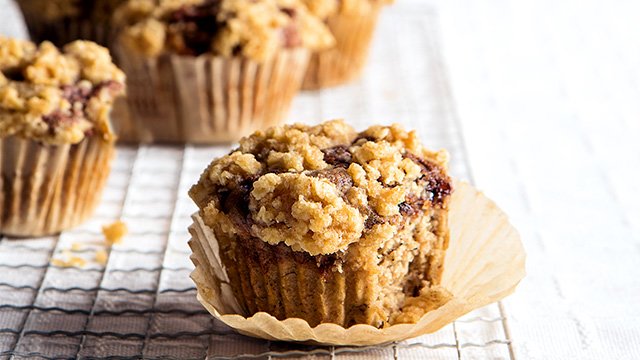 Banana Nutella Muffins Recipe
Posted in:
Recipe
8 Nutella Strawberry Mousse Pie Recipe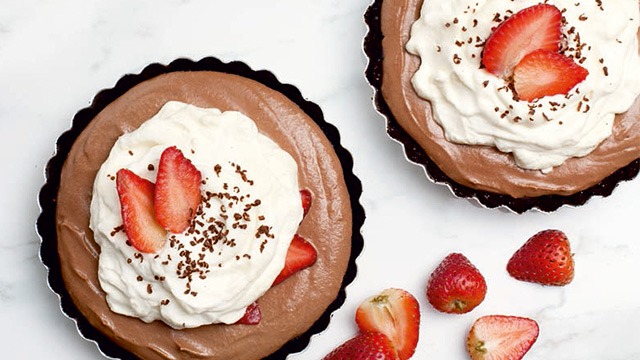 We know chocolate and bananas are delicious but so are chocolate and strawberries! When you add the nutty element that Nutella brings to the chocolate party, then you know that you have a dessert that's truly sinful. This mousse cake takes Nutella and strawberries to a flavor party that will burst with every bite you take.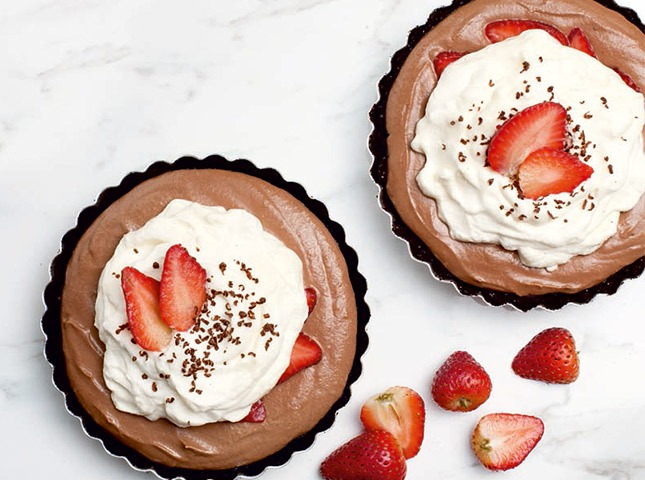 Strawberry Nutella Mousse Pie Recipe
Posted in:
Recipe
9 Nutella Loaf Cake Recipe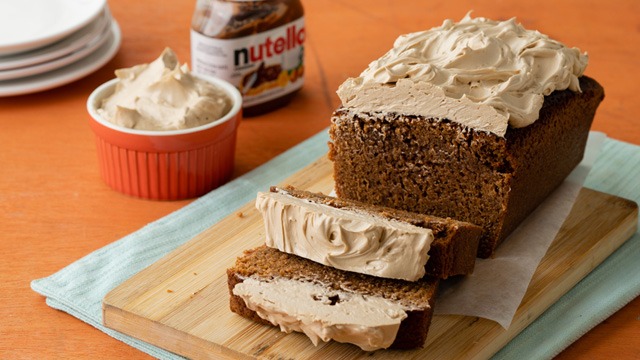 Yes! This cake is small enough for small families but big enough to satisfy even their big appetites for anything with Nutella. This loaf cake recipe has it in the cake as well as in the silky frosting that is on top of these slices.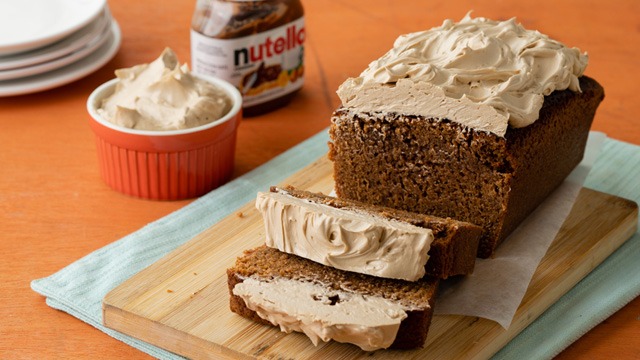 Nutella Loaf Cake Recipe
Posted in:
Recipe
10 Nutella Cheesecake Recipe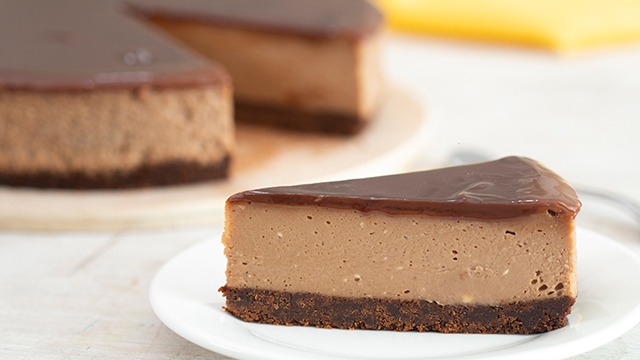 See this slice? You have Nutella in the cheesecake center as well as a silky Nutella ganache on top! If you love cheesecake and want another version to try, this double Nutella cheesecake is your next baking project to try this weekend!
How addicted are you to Nutella? So are we so we totally believe you should try these recipes as well as others that might titillate your taste buds.
Links are updated regularly and as much as possible, but note that products can run out of stock, discounts can expire, and listed prices can change without prior notice.
****