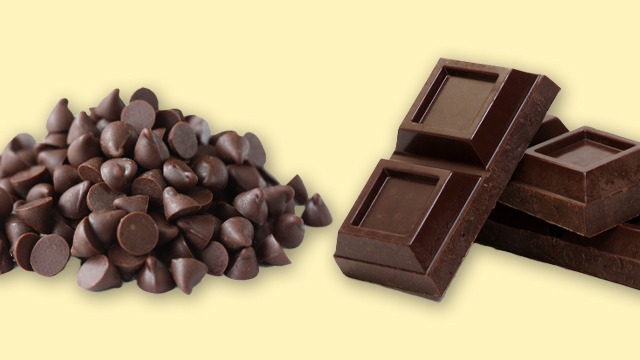 Have you ever wondered what makes dark chocolate dark chocolate?
In case you didn't know, there are kinds of dark chocolate, and two of the most common labels you will find on chocolate packages are these two: semi-sweet chocolate and bittersweet chocolate.
These are just two labels. Some brands do not advertise how much chocolate is in the bars (or chips as the case may be) and label these bars simply as "semi-sweet" or "bittersweet". What you can be sure of is that both kinds of chocolate are known to be not just a delicious snack but eating a square or two is found to also be a stress reliever, is anti-oxidant-rich, and is associated with a lower risk of heart disease.
So what makes these two kinds of dark chocolate different?
1 Semi-sweet chocolate is sweeter while bittersweet chocolate tastes more bitter.
The terms "semi-sweet" and "bittersweet" tell you how much sugar each kind may contain. However, the labels are still telling in terms of taste beyond its sweetness: bittersweet chocolate still has that natural bitterness of cacao while semi-sweet chocolate will have more of a balance in taste with sweetness overriding the bitterness. The good news for those who love dark chocolate is that both have less sugar and more cacao than milk chocolate.
2 Bittersweet chocolate can contain more cacao than semi-sweet.
Since bittersweet chocolate has a more cacao bitter flavor to it, it may actually contain more cacao than semi-sweet chocolate. Many bittersweet chocolate brands indicate how much percentage of cacao is in the chocolate.
So how do you choose which dark chocolate to use when baking?
Many semi-sweet chocolate brands do not state the amount of cacao in the chocolate, so choose bittersweet chocolate if you want your chocolate dessert to have more depth of chocolate flavor. Some bittersweet chocolate can actually have as much as 70% cacao, and some do state how much in percentage it contains. This can deliver a more rich chocolate flavor to your chocolate desserts than semi-sweet chocolate can.
3 Each can be a substitute for the other in most recipes.
If you're looking for a delicious dark chocolate dessert, you can swap semi-sweet for bittersweet chocolate in recipes and vice versa. The trick is really to taste the chocolate and see which is the kind you like best. There are some fruity chocolates that you might prefer over more neutral-tasting bars but you won't know that unless you give your dark chocolate a taste.
Are you excited to make chocolate desserts? Here is more information about chocolate if you're still unsure how to use chocolate in your baking projects:
***
ADVERTISEMENT - CONTINUE READING BELOW
Recommended Videos