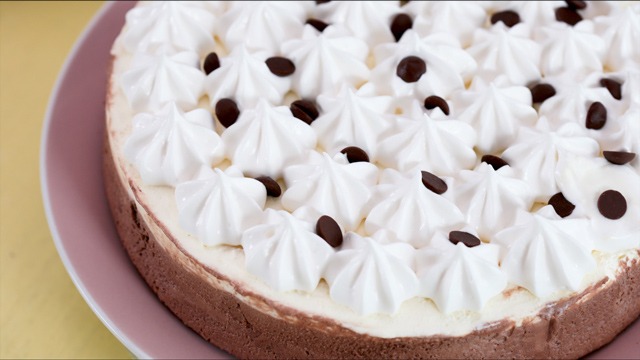 This silky chocolate mousse cake is topped with even more whipped cream and then dotted it with chocolate chips. It's your favorite cake from childhood that you always asked for at the local bakeshop. With this recipe, you don't need to buy it ever again. 
Easy Chocolate Mousse Cake Recipe 
Takes 30 minutes plus cooling and chilling
Makes 8 servings
1/4 cup chocolate chips
1/3 cup sugar
1/4 cup unsalted butter
1/3 cup Dutch-processed cocoa powder
1 large egg
1/2 teaspoon vanilla extract
1/4 cup all-purpose flour
1/8 teaspoon baking powder
1/8 teaspoon salt
4 cups heavy cream, chilled, divided
1/2 cup chocolate spread
1/2 teaspoon salt, divided
1/4 cup powdered sugar, sifted
1/2 cup chocolate chips, optional
1 Make Brownie Base: Preheat oven to 350 degrees F (180 degrees C). Lightly grease the bottom of an 8-inch round springform pan. Set aside.  
2 In a large microwave-safe bowl, melt chocolate chips, sugar, and butter together, about 1 minute on High. Stir. Add cocoa powder and stir to mix. (Mixture should have cooled slightly.) Add egg and vanilla extract, and stir until just mixed. Add flour, baking powder, and salt and, using a silicone spatula, stir until just mixed. Transfer to the prepared springform pan, spreading the mixture as needed until the bottom is covered.
3 Bake brownie until edges are set and the center is firm, around 15 minutes. Remove from the oven and set aside onto a wire rack to cool completely. Loosen the brownie from the springform base if desired for easy removal. Set aside. 
4 Meanwhile, make the mousse: Transfer 2 cups cream into a large bowl. Whisk until the cream begins to stiffen. Add in the chocolate spread and whisk until well mixed. Spoon onto the brownie layer. Chill until needed. 
5 Whisk the remaining 2 cups cream until soft peaks. Add the powdered sugar and gently whisk until just mixed and the whipped cream can hold a peak. Spread half of the whipped cream over the chocolate layer. Transfer the remaining half into a piping bag fitted with a star tip. Chill the mousse and the whipped cream at least 4 hours, overnight, or until ready to serve.
6 When ready to serve, remove the cake from the springform pan and transfer to a serving dish. Pipe prepared whipped cream onto the top of the firm cake. Sprinkle with chocolate chips. Keep chilled until ready to slice and serve. Serve chilled.
Craving for more chocolate and whipped cream desserts? Here's a great list of recipes to help you satisfy it: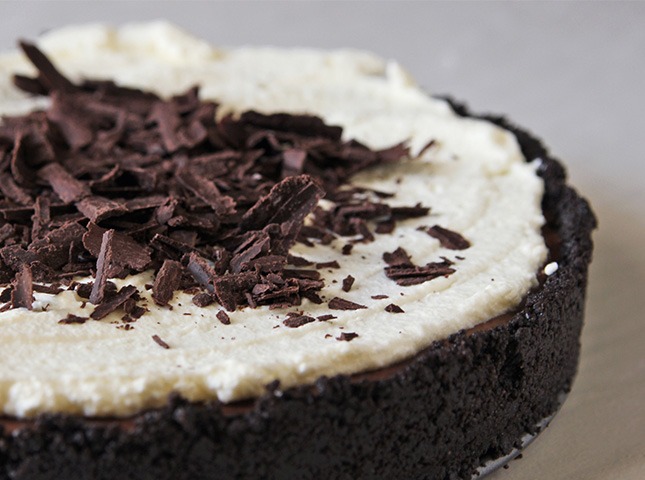 WATCH: How to Make No-Bake Mocha Mousse
Posted in:
Prepping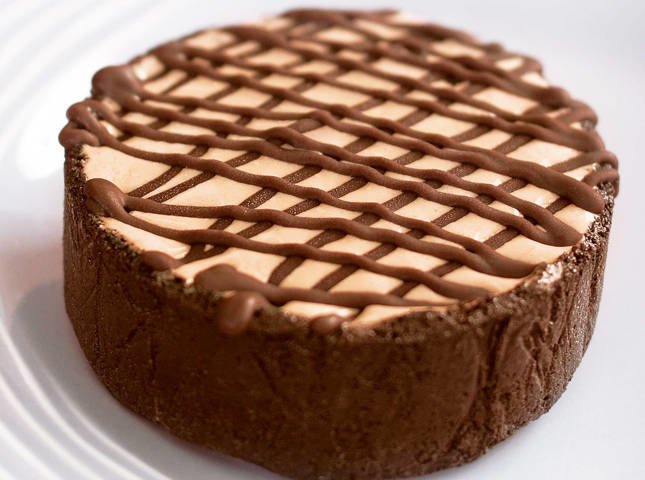 Frozen Mocha Mud Pie
Posted in:
Recipe
ADVERTISEMENT - CONTINUE READING BELOW
Recommended Videos