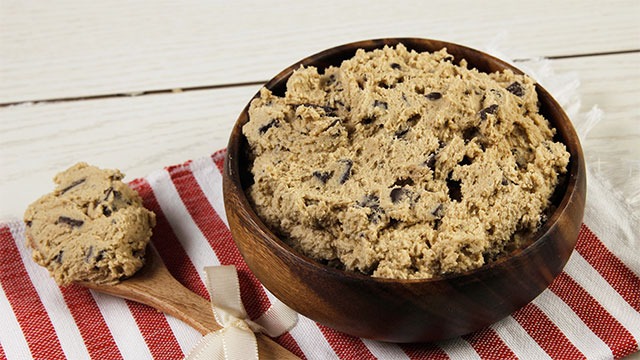 When baking chocolate chip cookies, resisting the urge to sneak in a little taste of ooey, gooey cookie dough from that wooden mixing spoon is the biggest struggle ever! Your mom was right: both raw eggs and raw flour can carry bacteria that could make you sick. The solution? This easy completely safe-to-eat cookie dough recipe!
We hacked our way into making an egg-less and flour-less recipe for the ultimate cookie dough lover. All you have to do is replace eggs with a light dash of milk and all-purpose flour with homemade oat flour. To make your own homemade oat flour, whiz rolled oats in a food processor until very fine and powdery.
You can also opt to bake this dough into cookies. Shape them into 2 by 2-inch balls, flatten them, then bake in a toaster oven on a light toast setting for 5 minutes or until lightly browned at the bottom.
Edible Cookie Dough Recipe
Makes around 1 ½ cups
1 stick salted butter, softened
¾ cup dark brown sugar, packed
½ teaspoon vanilla extract
2 tablespoons full-cream milk
1 ¼ cups oat flour
½ cup semisweet chocolate chips or chunks
1  In a medium-sized mixing bowl, beat butter and sugar together until light and fluffy, around 8 minutes. 
2  Beat in vanilla and milk. Then, beat in oat flour on low speed until just combined. 
3  With a spatula, fold in chocolate chips. 
This can be eaten immediately. To store, place in the refrigerator in an airtight container for 1 week. 
ADVERTISEMENT - CONTINUE READING BELOW
Recommended Videos