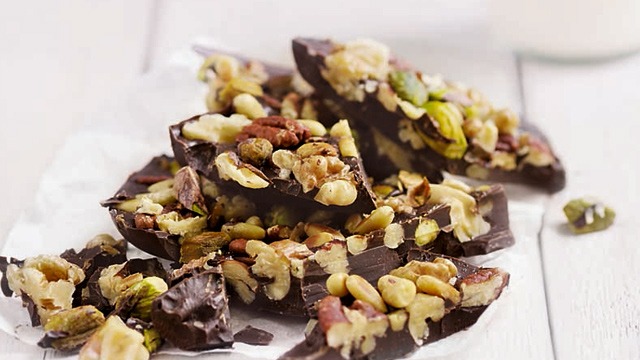 Have an intense chocolate craving? Don't worry. We've got you. We know of some delicious chocolate desserts that are not that hard to make nor do any of them take that much time to put together. Either way, the idea that you need chocolate right now can mean something as easy as grabbing a chocolate bar and eating it. 
If might want a chocolate dessert that's more substantial, you can easily satisfy your chocolate craving within minutes using one of these easy chocolate dessert recipes. 
Note how much time you have and see which of these easy chocolate dessert recipes will be the chocolate dessert that you'll make.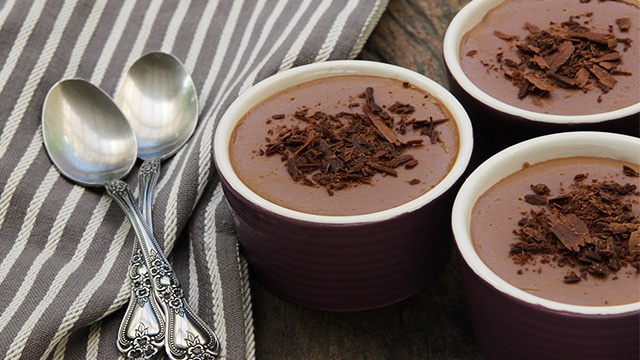 1 Chocolate Pudding Recipe 
Time needed: 15 minutes 
What makes this chocolate recipe ideal for anyone's craving is the sheer speed with which this can be eaten. You only need 15 minutes to make this chocolate pudding recipe. While you can certainly let this chill before consuming, you don't have to wait if you don't have the hour or two needed for the mixture to cool completely. 
Did we tell you that this is also a no-bake chocolate dessert recipe? You do it all on a stovetop in one pot. Easy, fast, and delicious even when still hot or warm.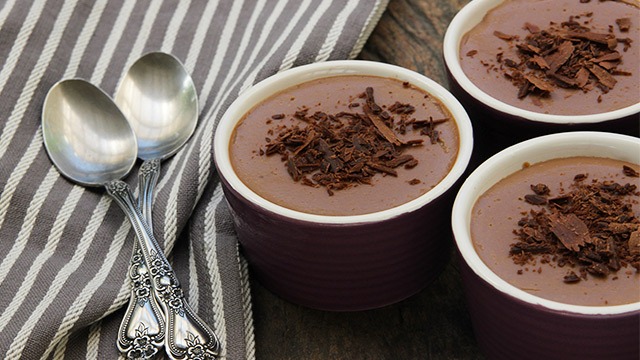 Chocolate Pudding Recipe
Posted in:
Recipe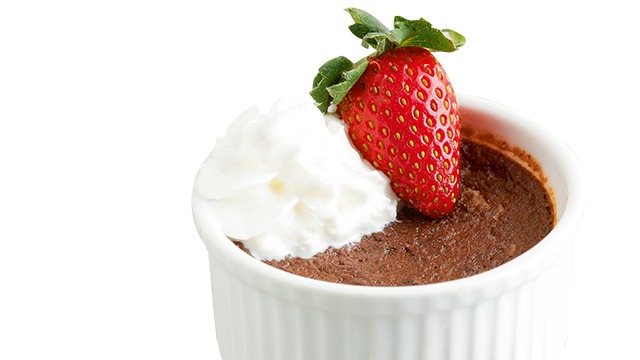 2 Chocolate Flan Cups Recipe 
Time needed: 20 minutes 
This is basically another version of the chocolate pudding but made richer, more like your favorite leche flan for one with the addition of an egg to the dessert. You need 5 minutes to mix it together and 15 minutes to steam cook this 3-serving chocolate dessert recipe. Less than 30 minutes later, and you've got a decadent chocolate dessert to eat pronto if you just can't wait for it to chill. (Who said hot desserts are any less delicious than cold ones anyway, right?)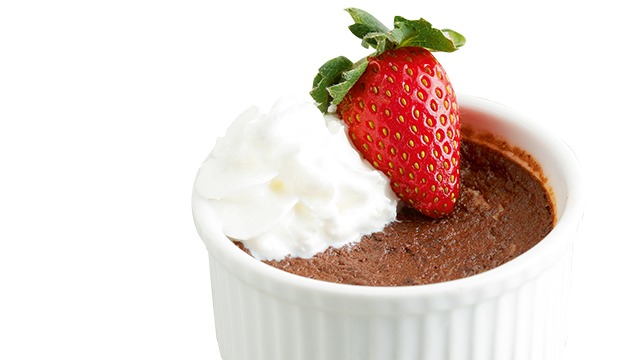 Chocolate Flan Cups Recipe
Posted in:
Recipe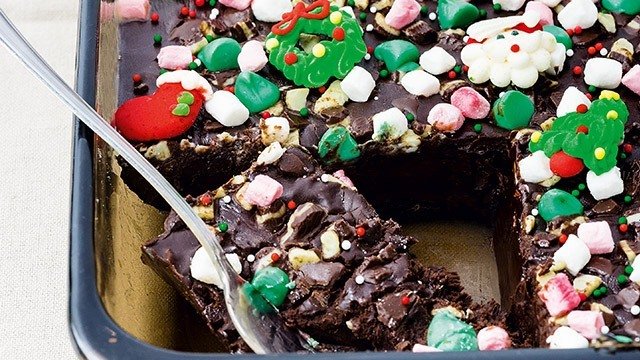 3 Mint Chocolate Fudge Recipe 
Time needed: 15 minutes 
ADVERTISEMENT - CONTINUE READING BELOW
Recommended Videos
Fudge is one of the easiest, fudgiest, creamiest, and most decadent chocolate desserts ever. It's an easy dessert that you can make in 15 minutes, and it delivers a resoundingly rich and layered flavor profile with every bite. Waiting for this dessert to cool and become firm enough so you can cut and portion each delectable square with a knife will be richly rewarded.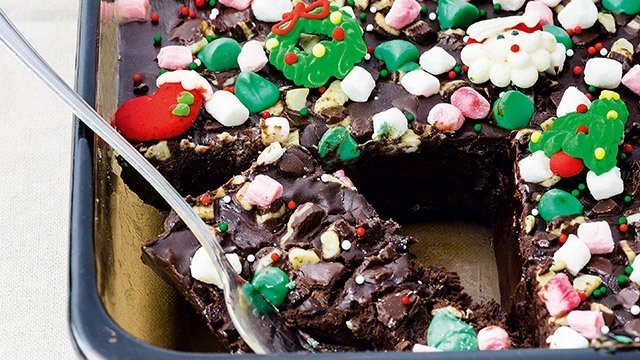 Mint Chocolate Fudge Recipe
Posted in:
Recipe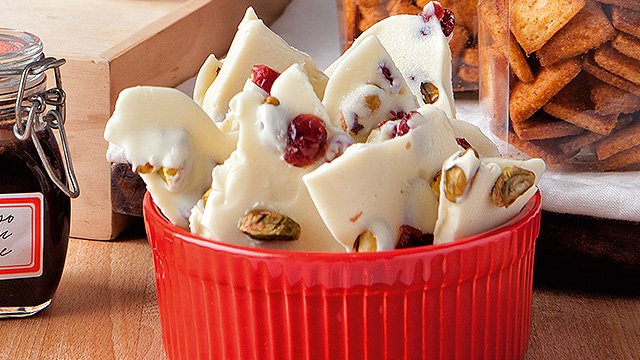 4 White Chocolate Bark Recipe
Time needed: 15 minutes 
Melting chocolate and adding and stirring in your favorite ingredients into it is one of the best ways to elevate your regular chocolate bar. Since all you're doing is giving it more flavor than it originally had, you can basically add in anything you love, from another kind of chocolate like milk and white chocolate chunks to dried fruits and nuts to give it another level of texture. 
From melting the chocolate to topping it off with all those delicious ingredients you want, the entire process takes just 15 minutes. Then it's just a short stint in the refrigerator to harden before breaking it apart, ready for eating. 
Need it quicker than quick? Use a microwave to melt the chocolate and speed up the process overall.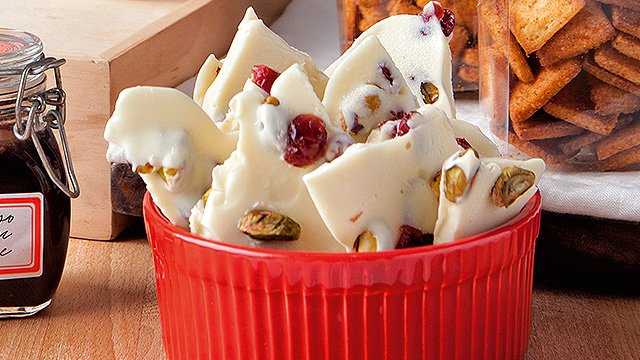 White Chocolate Bark Recipe
Posted in:
Recipe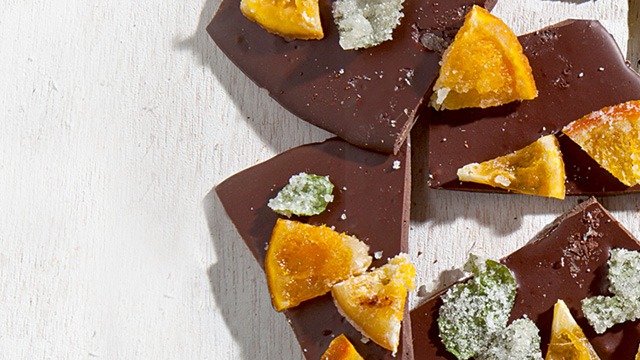 Dark Chocolate and Orange Bark Recipe
Posted in:
Recipe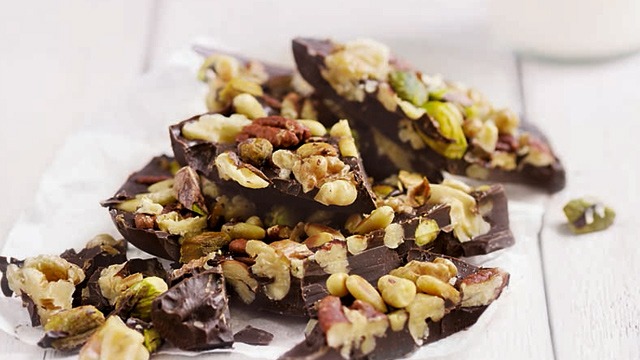 Dark Chocolate Bark Recipe
Posted in:
Recipe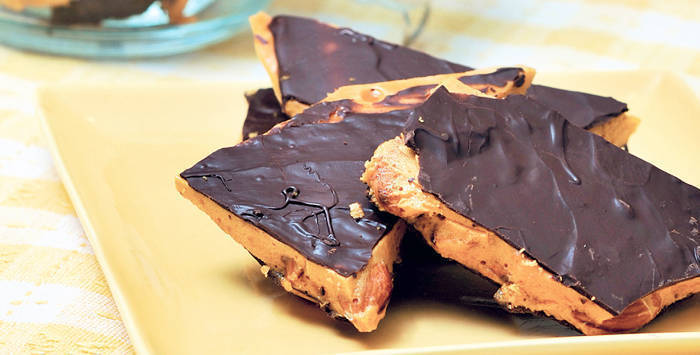 5 Almond Bark Recipe 
Time needed: 25 minutes
Nuts and chocolate are a food pairing that makes both infinitely more delicious and irresistible when eaten together. Add in the equally delicious caramel flavor that brittle brings to the party, and you've got a candy dessert that can easily rival that of anything you can buy.
You don't even need much time to make this! All you need is 25 minutes to caramelize the sugar, stir in the nuts, and melt and spread the chocolate over the almond brittle. Wait a few more minutes to break this candy apart, and you'll have your nut, caramel, and chocolate craving satisfied.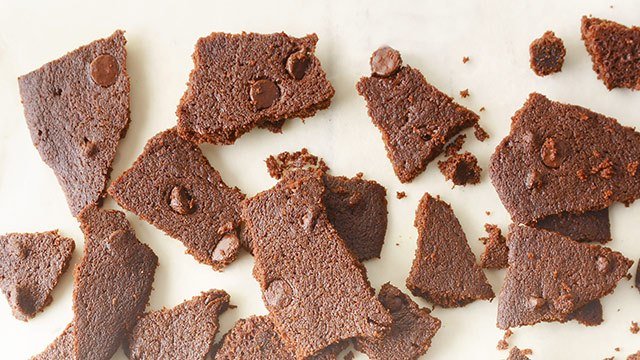 Milo Chocolate Brittle Recipe
Posted in:
Recipe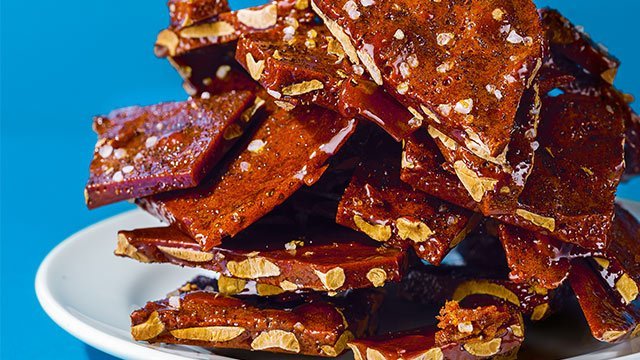 Cashew Brittle with Sea Salt Recipe
Posted in:
Recipe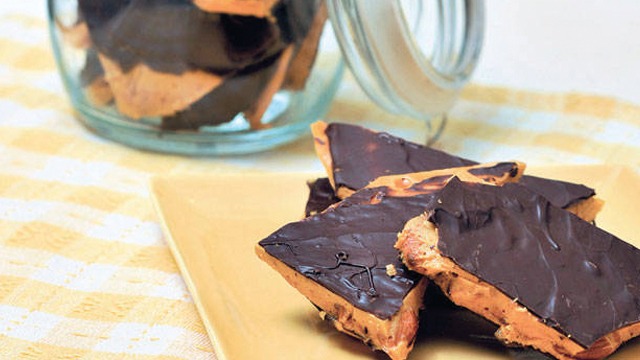 Almond Bark
Posted in:
Recipe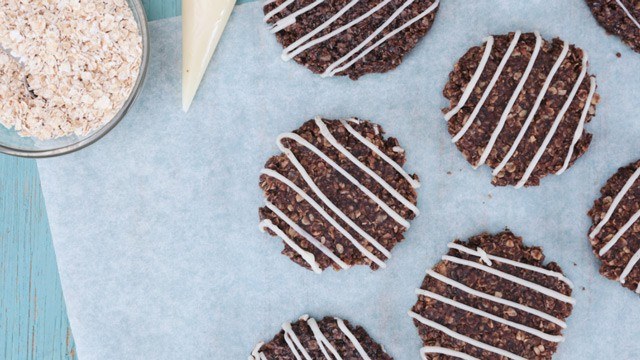 6 No-Bake Chocolate Oatmeal Cookies Recipe 
Time needed: 25 minutes
Cookies are notorious for taking a long time since you need to make the dough, shape each, and bake it in batches as needed. Nobody has time for that! That's why there are recipes like this no-bake cookie recipe that you can make on your stovetop within 25 minutes. 
We actually think you can grab a spoon and just spoon it straight from the pan and ditch forming these into individual cookies. However, if your EQ allows you to delay your satisfaction for a little longer, just let it cool for a few minutes more to firm up and you can enjoy these as you should.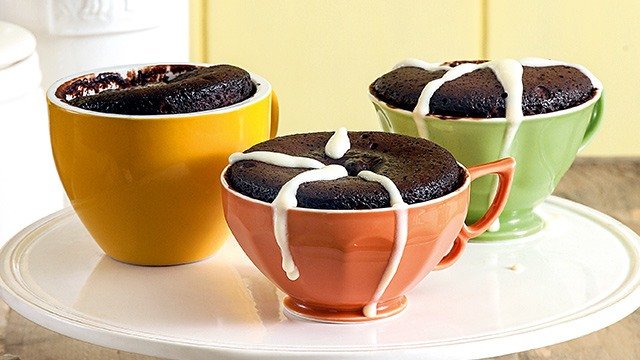 7 Microwave Chocolate Lava Cake Recipe 
Time needed: 15 minutes 
Not everyone has an oven. However, if you have a microwave oven, then you're in luck because you can make a chocolate lava cake in it. This tried and tested chocolate cake recipe with an oozy gooey center that's not unlike a lava cake uses a premade mix to ensure that you do as little as possible to make this dessert. Armed with this recipe, a mug or two, and a microwave, this faux but decadent cake-in-a-mug recipe is done in less than 15 minutes.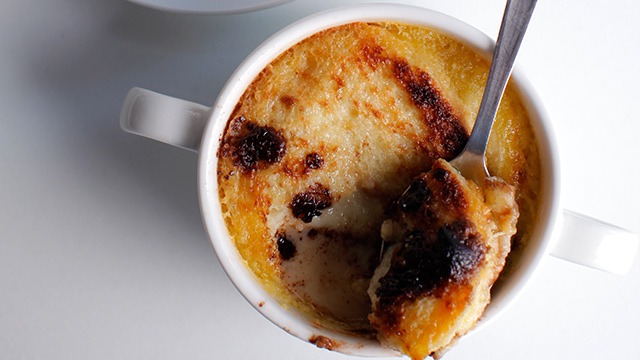 8 Chocolate Bread Pudding Recipe 
Time needed: 25  minutes
We really don't see why there is a need to make more than you need when it's a craving. You need it as soon as possible (or now) and it's best if it's easy, too. In just 25 minutes, if you're craving something more substantial than just chocolate, you can make this luscious bread pudding that notes all those things you need right now and delivers with is flavors and textures.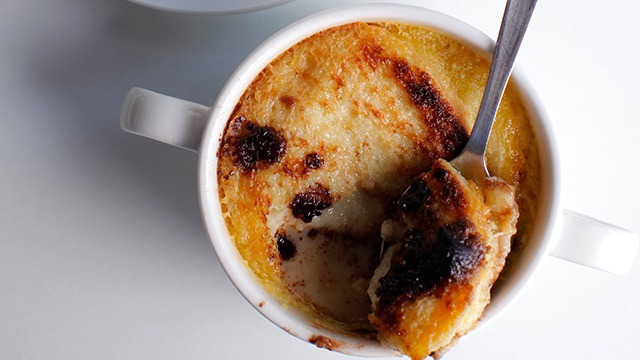 Chocolate Bread Pudding Recipe
Posted in:
Recipe
There are many, many chocolate desserts that are worthy of being the one to satisfy your chocolate craving. We think these are the easy dessert recipes that can get that job as soon as it is possible if you're not prepared. If you have all the ingredients and have as little as 15 minutes to make a chocolate dessert, delay your gratification and create a dessert that's going to make that craving worth satisfying. 
ALSO TRY: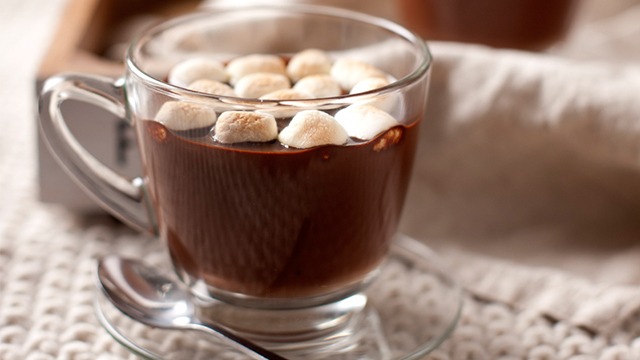 Espresso Hot Chocolate Recipe
Posted in:
Recipe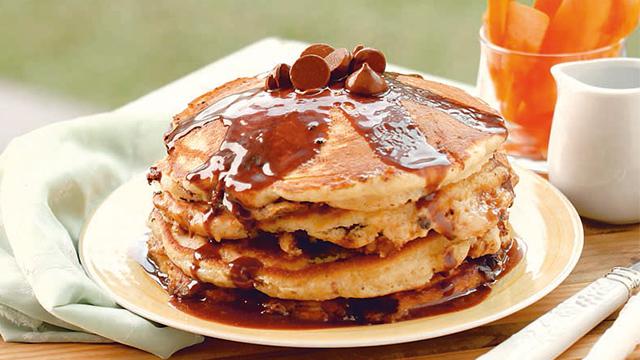 Chocolate Chip Oatmeal Pancakes
Posted in:
Recipe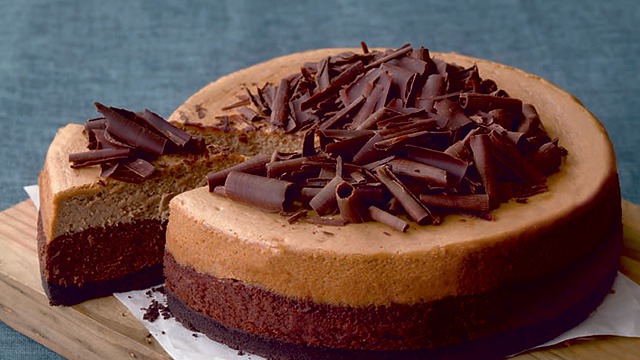 Chocolate and Coffee Cheesecake Recipe
Posted in:
Recipe