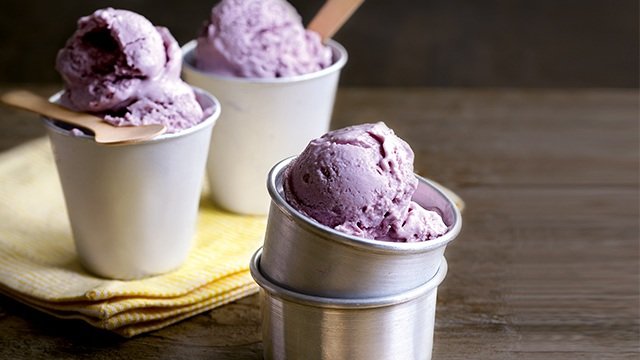 Good ice cream at home is not a difficult recipe to make. What might make it seem difficult is the fact that you need to not only have a super delicious ice cream mixture to begin with but you also need to give it at least a good 4 hours before you can even give it taste to pass judgment. It's a hit or miss before that first spoonful!   
This is a three-ingredient homemade ice cream recipe because while we know you can make ice cream using just two ingredients, we also know that we want our homemade ice cream to be more flavorful than just taste sweet and be creamy. That's why for a truly good homemade ice cream, you need at least these three ingredients:
• condensed milk
• whipping cream
• vanilla extract  
It's just not a classic homemade ice cream without the vanilla! If you're worried about the ingredients, know that you can swap out the whipping cream for all-purpose cream and switch the vanilla extract for your choice of flavor. (After all, this is YOUR ice cream.) We have a recipe video showing you how easy it is to do! Here is how to make a basic, flavorful homemade ice cream: 
With that being said, even the most flavorful vanilla ice cream cannot compete with an ice cream that is loaded with other ingredients. All of those mix-ins into your homemade ice cream are what make it so appetizing and ultimately, irresistible. Once you learn how easy and how delicious it is to make homemade ice cream at home, you may not want to go back to buying the stuff at the convenience stores and supermarkets again unless you really want to.  
Once you master this homemade ice cream recipe and discovered you're in love with it, you can advance further into the ice cream-making business and start adding your own flavors and ingredients to the basic custard.
Here are all the ways you can level up that basic homemade ice cream into one that's so seductively decadent and appetizing: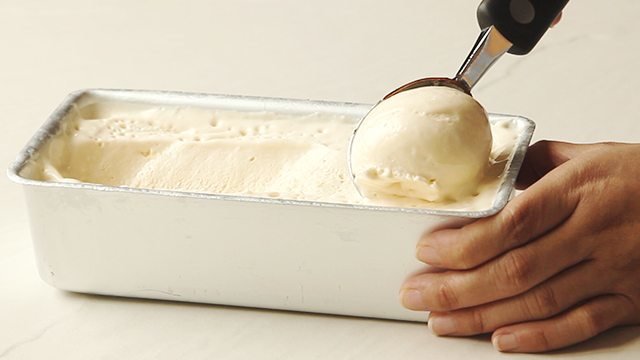 1 Add cheese. 
Cheese ice cream is an iconic and nostalgic flavor for anyone who has waited for the sorbetero to drop by with this trio of ice cream flavors. The cheese ice cream was always a good choice! If you love cheese ice cream, know that this is a classic flavor made even more delicious and creamy just by taking the time to make it with more luscious ingredients.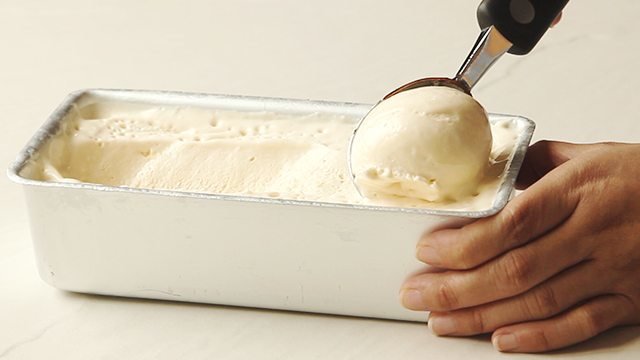 WATCH: How to Make Cheese Ice Cream
Posted in:
Cooking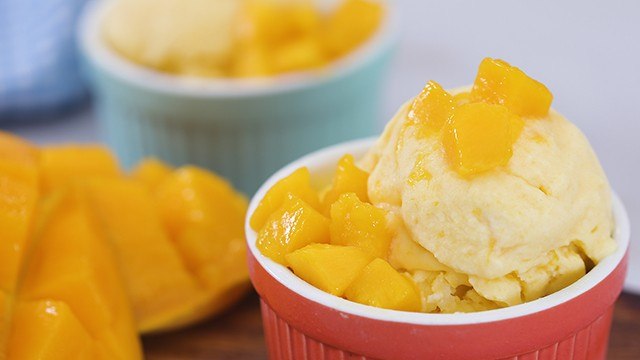 2 Stir in fruits. 
Fruit are the natural flavor partner of ice cream. Since we live in a tropical country that boasts of a magnificent array of fruits that we can transform into desserts, ice cream is just one way to make it so much more refreshing and appropriate for the dry months. Try it with cream or with just milk to make sherbets for an icy treat that's different but still sweet and creamy without being too cloying.  
ADVERTISEMENT - CONTINUE READING BELOW
Recommended Videos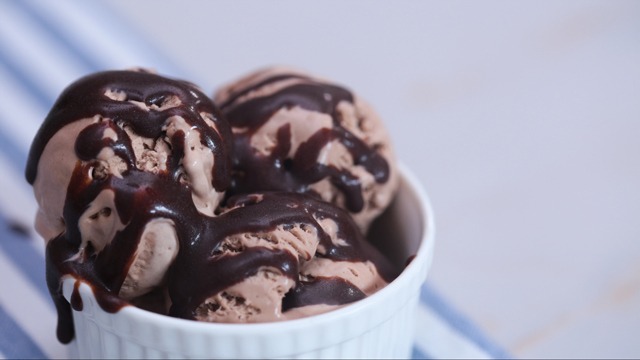 3 Add chocolate or Milo. 
Ice cream can be made into more flavorful other than vanilla and fruity flavors. Chocolate is a fan favorite you can make at home! Want to make a classic chocolate ice cream? Here's how to do a luscious DIY chocolate ice cream version at home: 
1. Whisk 4 large eggs yolks, 6 tablespoons sugar, and 1 teaspoon cornstarch in a bowl until well combined. Heat 1 1/4 cups fresh milk over medium fire until liquid nears boiling. 
2. In a slow and steady stream, pour a portion of the milk into the egg mixture while whisking rapidly to temper the eggs. Continue until half of the milk has been added. Stir. Pour the mixture back into the saucepan. Cook over low heat, stirring constantly until the custard thickens slightly. It should remain smooth and coat the back of a spoon. Remove from the heat.
3. Add the 200 grams dark unsweetened melted chocolate and mix until smooth. Set aside to cool. 
4. Meanwhile, whip 1 1/4 cups whipping cream until thick but still soft. Fold into the custard until well incorporated. Place in a tightly sealed container. and freeze overnight. 
Want to make it using Milo instead for a nostalgic chocolate flavor? You can!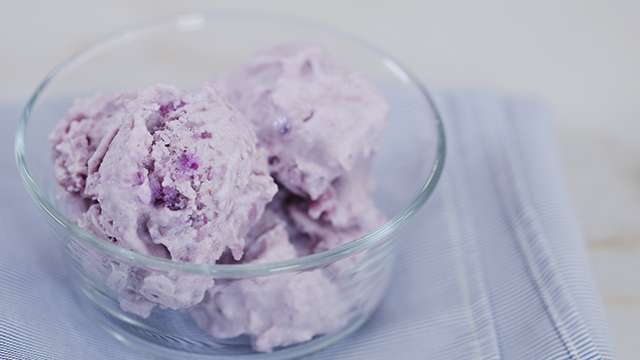 4 Use coconut milk instead.  
Anyone who has ever despaired that they didn't have all-purpose cream for their dessert was probably not thinking about other creamy alternatives. Here, we take that missing ingredient and replace it with similarly creamy coconut cream or gata to make ice cream. Not only that, but it's also the perfect match for making earthy ube ice cream into a dairy-free version.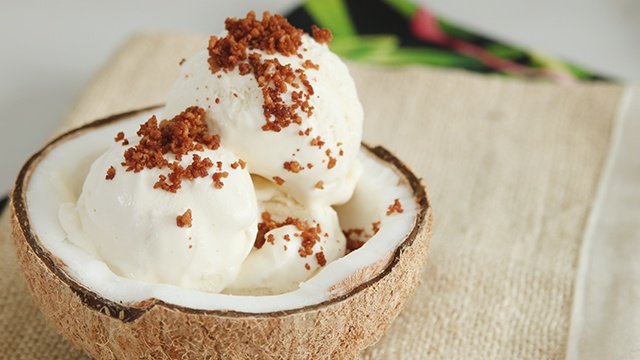 WATCH: How to Make Coconut Ice Cream
Posted in:
Prepping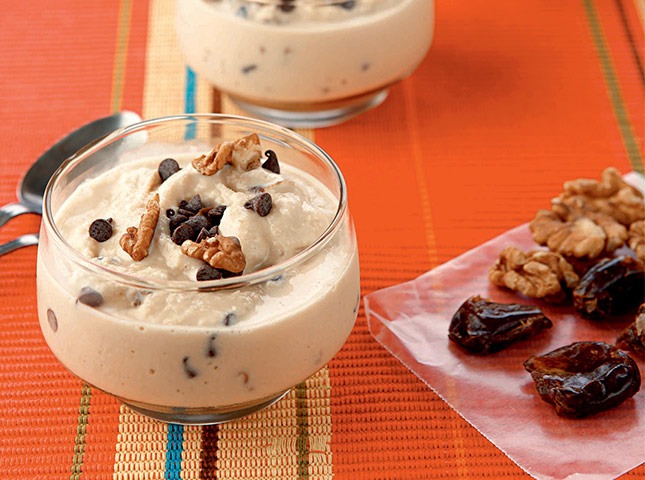 5 Add coffee. 
Coffee, whether it's the dalgona coffee craze or you just love coffee in all its forms, this icy version is a soft-serve ice cream that you'll want to serve immediately upon scooping. The bitterness that you find addictive in coffee is offset by the sweetness of the sticky dates and the nuttiness of the walnuts. Swap these out for other ingredients that you think will make your coffee ice cream experience that much more rewarding with every spoonful.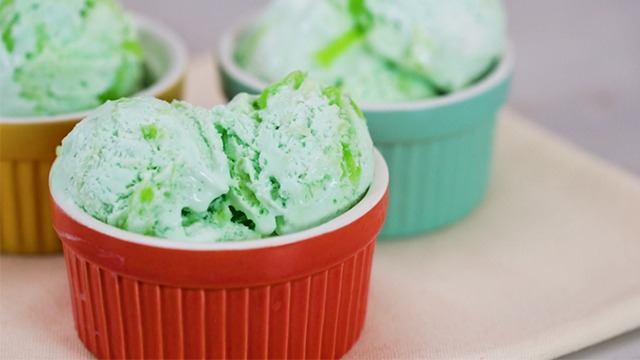 6 Add buko, pandan, and gulaman. 
One of the most common desserts you will find at many gatherings is the buko pandan dessert. This iconic dessert is delicious on many levels and is usually just a simple sweetened coconut cream tossed with shredded buko and pandan-flavored gulaman. This homemade ice cream just leveled up that dessert to icy levels that's very summer-friendly.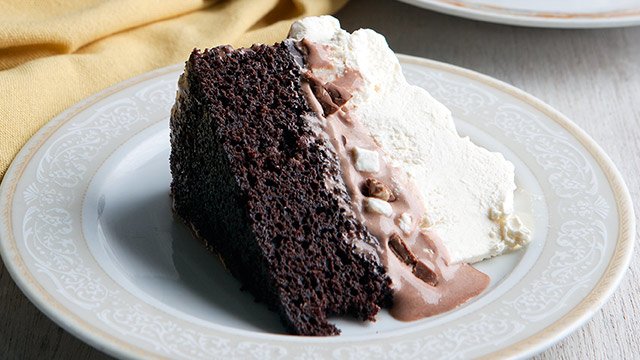 7 Combine it with cake. 
When you know how to make great ice cream and know a great cake recipe, it's not going to a stretch to put these two homemade desserts together to create a doubly decadent dessert. For anyone who loves cake and ice cream together, whether it's your birthday or not, this cake + ice cream combination is going to be a celebration of delicious proportions to make.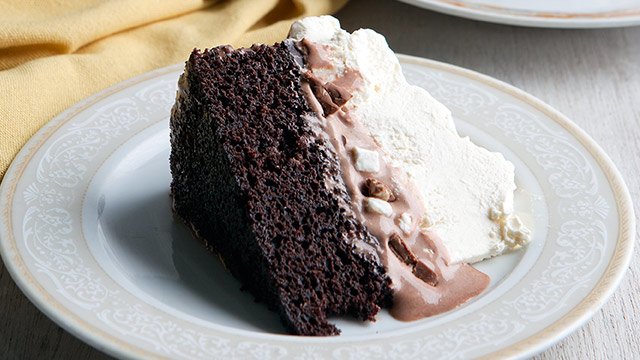 Chocolate Ice Cream Cake Recipe
Posted in:
Recipe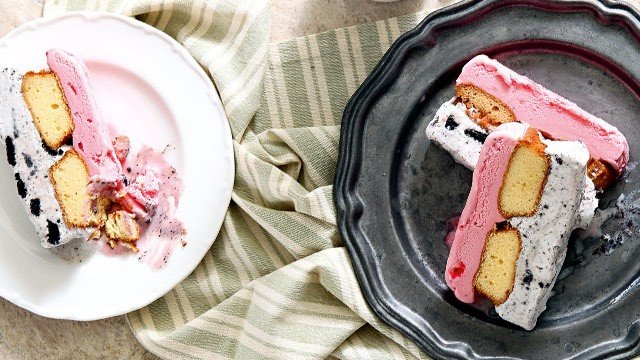 3-Ingredient Ice Cream Cake Recipe
Posted in:
Recipe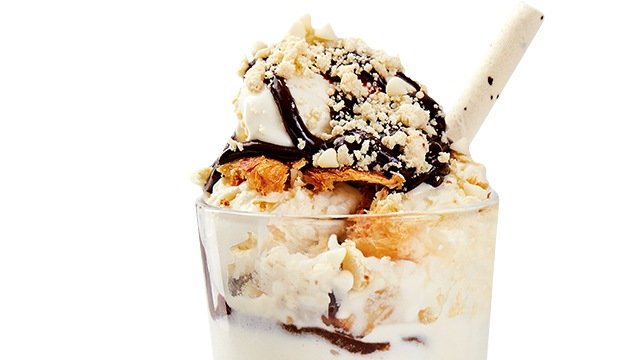 8 Make sundaes with syrups, nuts, and candy sprinkles. 
Sundaes are just ice cream topped with all sorts of decadent ingredients that you can think of! It can even loaded on top of another dessert for an ala mode experience! You can make truly overloaded and towering glasses of different ice cream flavors and toppings to make your heart beat enthusiastically. Mix and match with brownies, cookies, bananas, chocolate candy, rainbow sprinkles, chocolate syrup, caramel sauces, and strawberry glazes to make your homemade ice cream one you will always remember.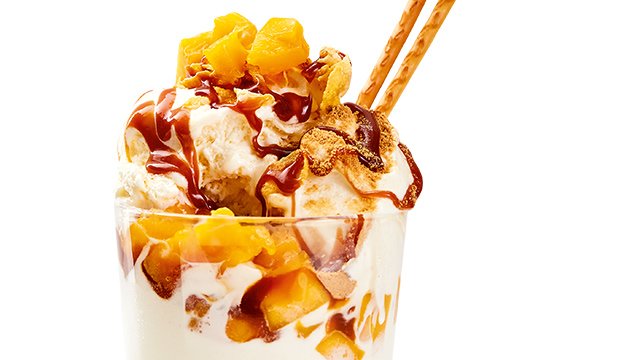 Caramel Ice Cream Sundae Recipe
Posted in:
Recipe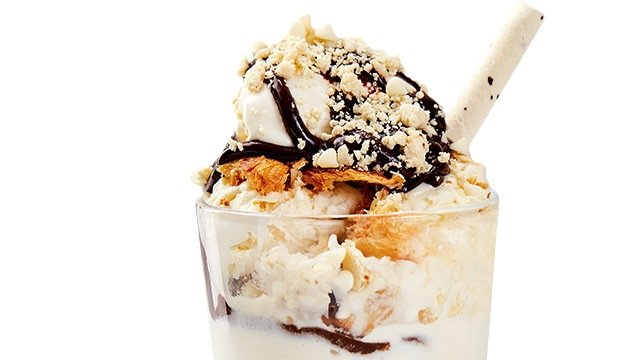 Chocolate Cinnamon Sundae Recipe
Posted in:
Recipe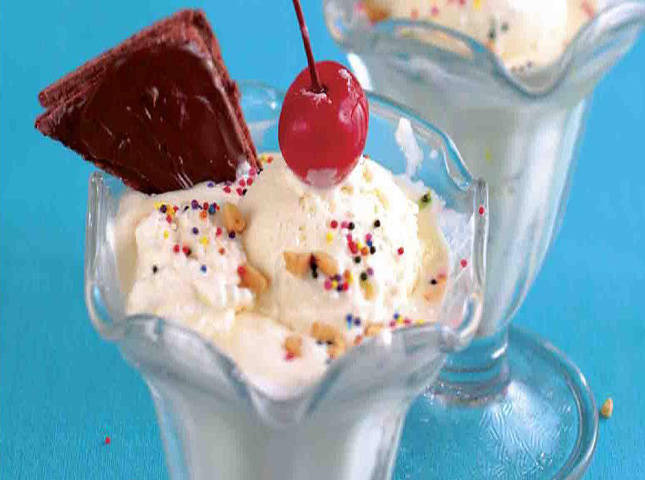 Last-Minute Sundae
Posted in:
Recipe
How do you like your ice cream?  
ALSO READ: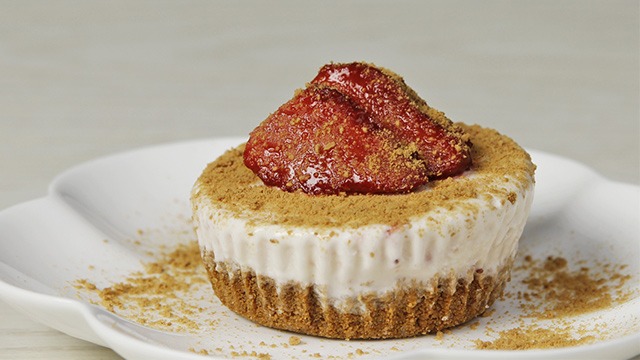 WATCH: How to Make Mini Ice Cream Cakes
Posted in:
Prepping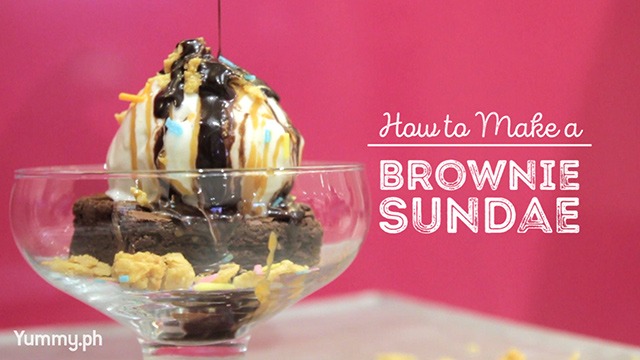 WATCH: How to Make a Brownie Sundae
Posted in:
News + Trends
***
Thinking about what to cook next? Join our Facebook group, Yummy Pinoy Cooking Club, to get more recipe ideas, share your own dishes, and find out what the rest of the community are making and eating!
Got your own version of the classic dishes? Pa-share naman! Get your recipe published on Yummy.ph by submitting your recipe here!