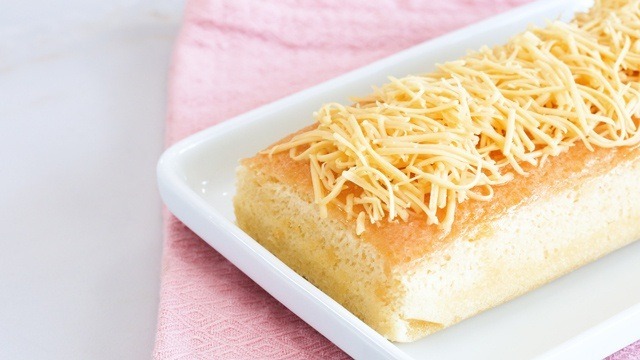 You'll be reliving your favorite childhood treats with this cake! Made into easy-to-slice loaves, the sweetness of the chiffon cake is offset by the salty grated cheese and salted butter. The trick is to use the butter to help make the cheese stick to the top of the cake, so don't scrimp and brush it on generously! 
Chiffon Cake with Cheese
Takes 1 hour plus cooling
Makes 2 loaves
1 1/4 cups castor sugar, divided
2 cups cake flour, sifted
1 tablespoon baking powder
1 teaspoon salt
6 large eggs, separated
1/2 cup canola oil
1/2 cup water
1 teaspoon vanilla extract
1/4 teaspoon cream of tartar
1/2 cup salted butter, melted
1 1/2 cups cheese, grated
1 Preheat oven to 325 degrees F (165 degrees C). Lightly butter and place parchment paper on the bottom of two 8 1/2 x 4 1/2-inch loaf pans. Set aside. 
2 Set aside 1/4 cup sugar.
3 Sift remaining sugar, flour, baking powder, and salt into a large bowl. Stir to mix. Create a well in the middle of the dry ingredients. Add egg yolks, oil, water, and vanilla extract. Beat until well combined. Set aside.
4 In the bowl of a stand mixer with the whisk attachment, add egg whites and cream of tartar, and whisk on Medium-High until foamy. Sprinkle gradually the reserved 1/4 cup sugar to make a meringue. Whisk only until stiff peaks.
5 Scoop out 1/3 of the meringue, and add to the batter. Fold in meringue using a large spatula. Once well mixed, add the remaining meringue in batches, folding while being careful to not over mix the batter and release all the air whipped into the egg whites. (A few thin egg white streaks is ok.) Divide mixture evenly between the prepared loaf pans.
6 Place in the oven, and bake for about 25 minutes or until a toothpick inserted into the centers emerge clean. Remove from the oven, and completely cool on a wire rack. Remove loaves from the pans, and discard parchment papers.
7 When ready to serve, brush tops with melted butter. Cover the tops with grated cheese before slicing and serving.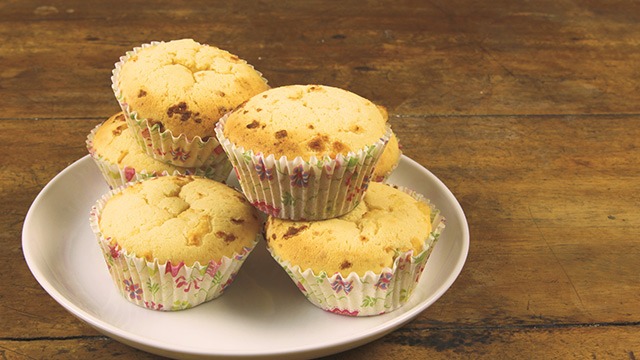 WATCH: How to Make Cheese Cupcakes
Posted in:
Baking
ADVERTISEMENT - CONTINUE READING BELOW
Recommended Videos