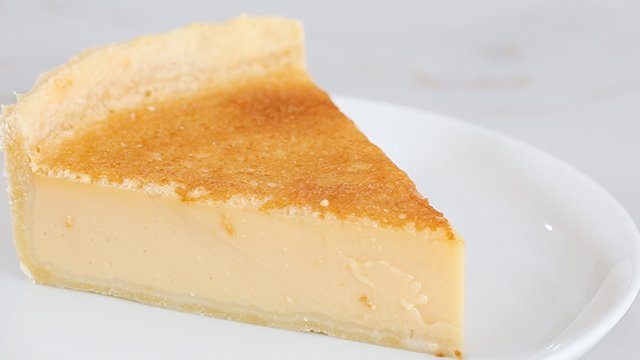 A typical Pinoy egg pie has a light custard filling with a golden brown topping baked into a sweet crust. It's almost like a leche flan but not quite. It's just as delicious though, and it's easy to make. But the tricky part is how to make that characteristic golden brown top, and if you don't know how it's made, here's the recipe you've been looking for.
Egg Pie
Takes 1 hour 30 minutes plus cooling and chilling
Makes 10 servings
2 1/2 cups all-purpose flour, more for kneading
1/4 teaspoon salt
2 tablespoons sugar
2/3 cup butter, cold, cubed
1 large egg yolk
1/2 cup ice water (water with ice)
2 cups fresh milk, heated
3/4 cup sugar
1/4 cup cornstarch
7 large eggs
1 large egg white
1 Preheat oven to 350°F. Prepare a water bath in a large baking sheet.
2 Make Pie Dough: In a large bowl, mix flour, sugar, and salt. Make a well in the middle. Add egg yolk and butter. Using two forks, cut through the cold butter and yolk until mixture resembles wet sand. Pour in 2 tablespoons ice water. Mix until combined. Add more water by the tablespoon, as needed or if dough looks too dry, to create a dough that comes away from the bowl. When dough begins to separate from the sides, remove and knead very briefly on a lightly floured surface to press dough together. Form into a flat round. Wrap in plastic wrap and chill at least 15 minutes.
3 Meanwhile, make the Pie Filling: In another bowl, mix sugar and cornstarch. Create a well and beat in whole eggs. Pour in hot milk, and stir until well blended. Set aside.
4 Take out the slightly chilled dough. Dough should be firm yet pliable without breaking. Place the dough on a lightly floured surface. Working quickly, roll out dough using a rolling pin until about 1/4 inch in thickness. Gently roll pie crust over the rolling pin. Place over an 8-inch deep-dish pie plate and then press dough down gently to fill in the plate. Trim off any excess using a knife.
5 In a medium bowl, beat remaining egg white until stiff peaks. Gently fold into the egg mixture. Do not over mix. Egg white will float to the top. Pour batter into the pie crust. Place pie in the oven with the water bath. Bake in the center of the oven about 30 minutes or until the top is golden brown. Place foil over the top of the pie if needed to prevent burning, then bake another 30 minutes or until the egg mixture is set. Cool on a wire rack. Chill until cold before slicing and serving.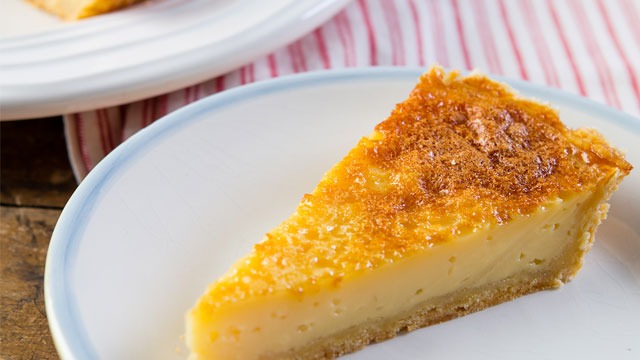 Egg Pie Recipe
Posted in:
Recipe
ADVERTISEMENT - CONTINUE READING BELOW
Recommended Videos