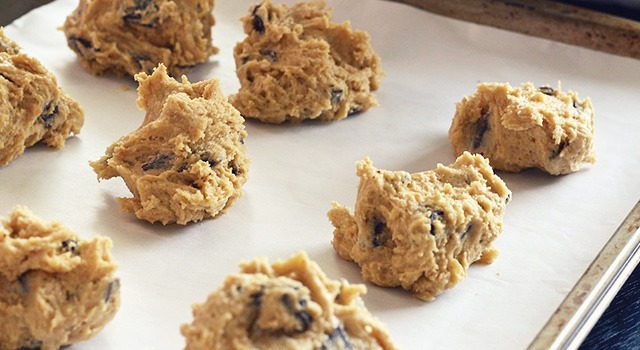 With the holiday season coming upon us, your kitchen will be churning out dozens and dozens of cookies very soon! Be prepared for the holiday mayhem: there is a simple baking hack that you can use to bake large batches of cookies, quickly, with minimal equipment: all you need is your prepared cookie dough, one oven, and at least two baking sheets.
A common setback in baking large batches of cookies is having to wait for your cookie sheets to cool down before scooping out a new batch of cookies on to them. If you place cookie dough on a hot cookie sheet, the cookies will start to melt before going into the oven.
Here's how to cheat this time-consuming step: while your two sheets of cookies are baking in the oven, place two sheets of parchment paper on your kitchen counter. Scoop out cookie dough onto the parchment as you normally would.
When your first batch of cookies finish, place them on a wire rack to cool. Quickly slide your prepared parchment paper with cookie dough onto the hot cookie sheet then immediately place them in the oven. Voila! This baking hack will save you lots of time and will help conserve energy. All you have to do is repeat the process until you're done with your cookie dough.
Main image courtesy of Pixabay.