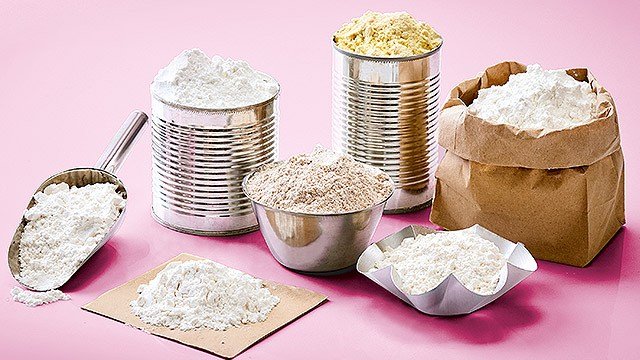 All you have to do is walk through the baking aisle to know that there are plenty of different flours to bake with: some are for bread, some are for cakes, and some are for delicate pastries. How do you know which ones to use and how to use them? Here's our quick guide to knowing the different types of flours and how to bake with them.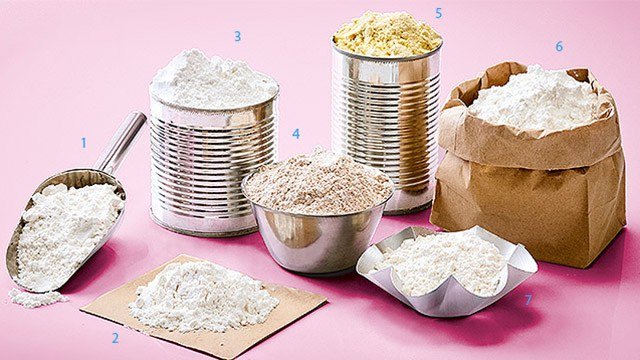 1 All-Purpose Flour
Use for: anything!
All-purpose flour is the most common and most versatile type of flour. Also called white flour, this fine-textured variety is packed with B vitamins and iron. It's made of a combination of high-gluten hard wheat and low-gluten soft wheat, making it ideal for most baked goods.
2 Cake Flour
Use for: delicate cakes, bars, fruit loaves
Fine and silky cake flour is made of low-gluten soft wheat. This means it is high in starch and has a lower protein content, making it the most suitable type of flour for soft, tender, and delicate products. Use it if you're going for an extra moist cake, bar, or fruit loaf.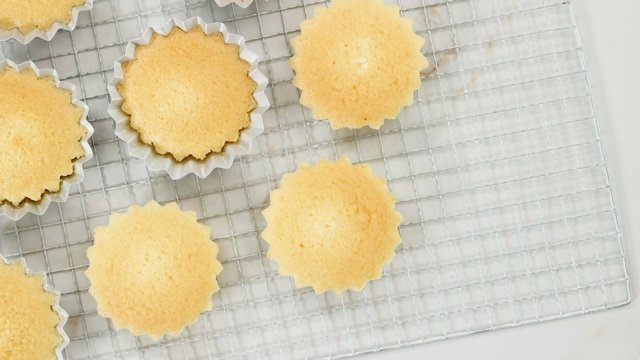 WATCH: How to Make Mamon (Sponge Cake)
Posted in:
Baking
3 Bread Flour
Use for: yeast breads, chewy cookies
Bread flour, on the other hand, is high in gluten. It is a blend of hard-wheat flour and barley flour, and is rich in vitamin C. It's the strongest type of flour, which means it can provide support to sturdier products like yeast breads. If you want chewier crumbs and a browner crust (especially with cookies!), make sure to use this variety.
4 Whole Wheat Flour
Use for: bread, dense cakes and cookies
Choose whole wheat flour if you want to make your baked goods healthier. This dark brown flour contains wheat germ, making it relatively higher in fiber, nutrients, and fat. It is full-flavored, and products using this type of flour are usually denser than those made with white flour.
5 Corn Flour
Use for: corn bread, sourdough, pastries, breading
Aside from wheat, other grains can also be used to make flour.  Corn flour, for example, is milled from whole corn kernels. It is different from cornstarch, which only uses parts of the kernel. Finely ground corn flour can be used for breading or, when combined with other flours, for baking breads and other pastries.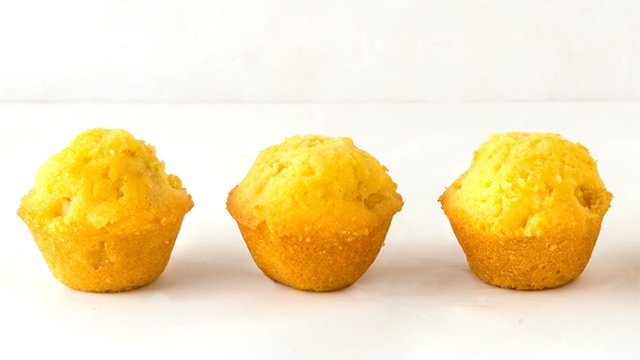 Mini Corn Muffins Recipe
Posted in:
Recipe
6 Self-rising Flour
Use for: muffins, cupcakes, pancakes
Self-rising flour is all-purpose flour combined with salt and a leavening agent such as baking powder. You can use it in place of all-purpose flour, but make sure to lessen the amount of salt and baking powder in the recipe. Use it when making muffins, cupcakes, and pancakes.
ADVERTISEMENT - CONTINUE READING BELOW
Recommended Videos
7 Rice Flour
Use for: kakanin, mochi, bibingka
Widely popular in Asian cooking, rice flour is the fine powder made out of ground white rice. It can be used in baking flat breads and cakes, or as a thickener for sauces. When made from high-starch short-grain rice, it becomes glutinous, and can be used to make Asian sweet treats like mochi and bibingka.
ALSO READ: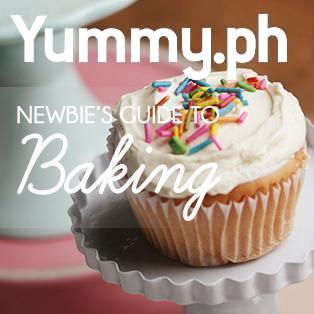 Yummy.ph's Newbie's Guide to Baking
Posted in:
Baking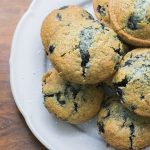 5 Genius Baking Tips From Yummy.ph Readers
Posted in:
Baking
Article originally published in the October 2016 issue of Yummy magazine. Minor edits have been made by Yummy.ph editors.