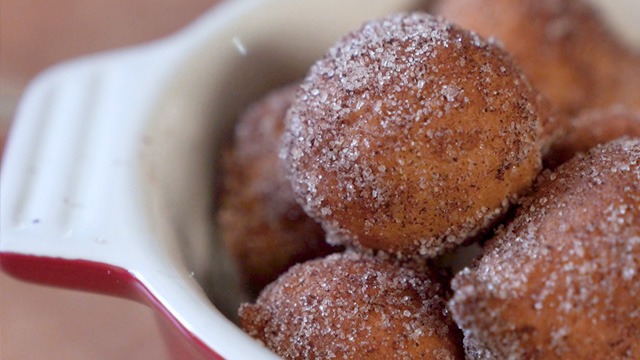 For those days when you are craving doughnuts and it's too late to get ingredients you may not have, you can make this super easy doughnut recipe if you have these three ingredients. You need to check because you need specific ingredients to make these delicious little fried doughnut holes. 
You need all-purpose flour, fresh milk, and baking powder. To make it taste fantastic, sugar is all you need unless you want to jazz up the flavor with some ground cinnamon, too.  
No flour? You can use cake flour if that's what's available! 
No fresh milk? Use evaporated milk diluted with a little water so it's not too overpoweringly milky. 
No baking powder? Use a small egg white and whisk it until it's at stiff peaks and fold it in.  
Need doughnuts now? Here's the super easy recipe: 
3-Ingredient Doughnut Holes Recipe 
1/2 cup all-purpose flour
1/4 cup fresh milk
3/4 teaspoon baking powder
Oil, for frying
For the coating:
1/2 cup white sugar
1 tablespoon ground cinnamon
1. Place flour, milk, and baking powder in a bowl. Mix until no dry lumps remain.
2. Transfer the mixture into a piping bag or into a resealable bag with a hole cut in the corner. 
3. Preheat enough oil in a deep pan for deep frying. Once hot, carefully pipe dough into the hot oil, using scissors to snip little balls of dough. Deep fry until golden brown.
4. Immediately coat the donut holes in your preferred flavor coating. (We used a cinnamon-sugar mixture.)
ALSO READ: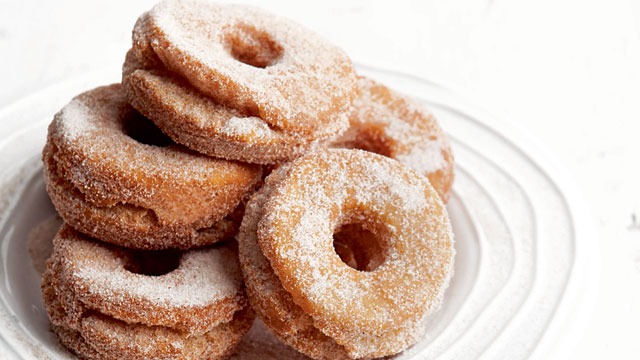 Love Doughnuts? We Have Recipes!
Posted in:
Baking
***
Thinking about what to cook next? Join our Facebook group, Yummy Pinoy Cooking Club, to get more recipe ideas, share your own dishes, and find out what the rest of the community are making and eating!
Got your own version of the classic dishes? Pa-share naman! Get your recipe published on Yummy.ph by submitting your recipe here!
ADVERTISEMENT - CONTINUE READING BELOW
Recommended Videos