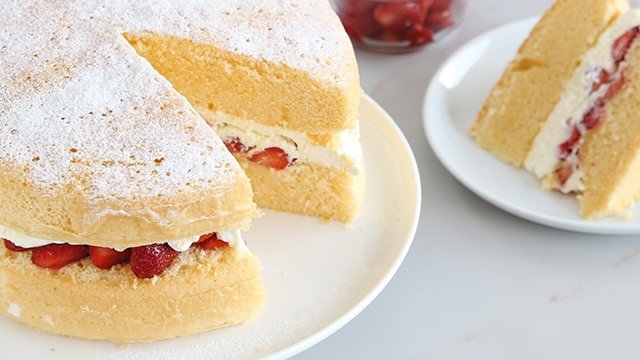 This soft and light classic chiffon cake recipe is easily a crowd favorite. What differentiates a chiffon cake from sponge cakes are the addition of baking powder as an additional leavener (on top of the beaten egg whites), as well as the use of oil instead of butter. These help to create a cake that has a tender crumb, is melt-in-your-mouth moist, and (the best feature yet) stays soft even when cold. Plus, it's the perfect cake to use when making roulades or rolled cakes since it's pliable enough to roll. How's that for a versatile cake?
Takes 1 hour plus chilling and cooling
Makes 1 9-inch 2 layer cake/10 servings
2 cup cake flour, sifted
1 tablespoon baking powder, sifted
1 cup caster sugar, divided
1/2 cup canola oil
1/2 cup water
1 tablespoon vanilla extract
6 large eggs, separated
Powdered sugar, as desired
For the filling:
2 packs strawberries, hulled, quartered
2 tablespoon caster sugar
1 cup whipping cream, chilled
More strawberries, to serve
1 Preheat oven to 325?F. Lightly oil and flour then line 2 9-inch springform cake pans with parchment paper. Set aside.
2 In a bowl, add 3/4 cup caster sugar, baking powder, and flour in the mixing bowl of a stand mixer with the beater attachment. Stir to mix. Create a well in the middle of the dry ingredients.
3 Into the well, add oil, water, vanilla extract, and egg yolks. Beat on low speed until just combined. Increase speed to medium-high until mixture is well-combined, scraping the sides and bottom of the bowl as needed. Transfer to a large bowl once well mixed. Set aside.
4 Clean and completely dry mixing bowl. Add egg whites to the bowl, and whisk on medium-high speed until foamy. Sprinkle gradually the remaining 1/4 cup of sugar to make a meringue. Whisk only until stiff peaks form.
5 Fold in meringue into the cake batter in batches until well-combined. Be careful to not over mix the batter and release all the air whipped into the egg whites. (A few thin egg white streaks is ok.) Divide mixture evenly between the prepared cake pans.
6 Place in the oven, and bake for about 25 minutes or until a toothpick inserted into the centers emerge clean. Remove from the oven, and completely cool on a wire rack. Remove cakes from the pans, and discard parchment papers. Set aside until ready to fill.
7 To make the filling: In a large bowl, toss strawberries with sugar until well coated. Set aside at least 5 minutes. Meanwhile, add chilled cream into a large mixing bowl. Using a whisk, whisk cream until stiff peaks form.
8 To assemble: Place 1 chiffon layer on a cake stand. Top cake with strawberries then top strawberries with dollops of whipped cream. Smoothen with an offset spatula. Top with second cake layer. Sprinkle with powdered sugar before slicing and serving. Keep chilled.