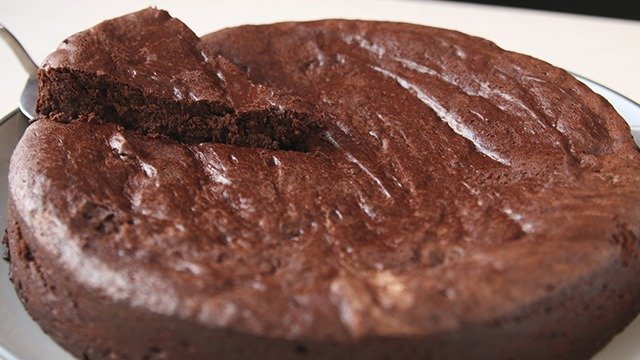 This is not a drill: you can make your homemade chocolate cake extra rich and extra indulgent with a simple ingredient swap. Omit the flour, and add more melty dark chocolate! This step-by-step video will run you through the process of successfully making a flourless chocolate cake. Remember: always shop for good-quality dark chocolate (60-70% is ideal) and the freshest eggs that you can find.
Makes 1 9-inch flourless chocolate cake
Ingredients:
10.5 ounces dark chocolate, coarsely chopped or broken into pieces
10 tablespoons plus 2 teaspoons salted butter, at room temperature, cubed, separated
5 egg whites
1 cup white sugar
6 egg yolks
1 teaspoon vanilla
2/3 cup plus 1 tablespoon cocoa powder, sifted, separated
1 Preheat the oven to 350°F. Grease a 9-inch round cake pan with 2 teaspoons of butter, then lightly dust with 1 tablespoon of cocoa powder. Set aside until ready to use.
2 Place the dark chocolate and butter in a medium heatproof mixing bowl. Combine on low heat over a double boiler until smooth and combined, around 8 minutes. Set aside and let cool.
3 In a medium-sized mixing bowl, beat the egg whites on low speed. Once the egg whites start to foam and just before they form soft peaks, gradually add the white sugar, increasing the speed as you go. Whip the egg whites and sugar until they for stiff peaks.
4 Add the egg yolks, vanilla, and cocoa powder into the cooled dark chocolate and butter mixture. Stir until smooth and thoroughly combined.
5 Add a large scoop of the meringue into the chocolate mixture and beat to lighten up the mixture. Fold in the rest of the meringue in batches. It is alright to leave a few strokes of meringue in the chocolate—be careful not to overmix.
6 Pour the cake batter onto the prepared cake pan and smoothen out the top. Bake for 35 minutes or until the cake does not shake in the center anymore and until the top has set. Cool completely before slicing with a knife dipped in warm water.
ADVERTISEMENT - CONTINUE READING BELOW
Recommended Videos