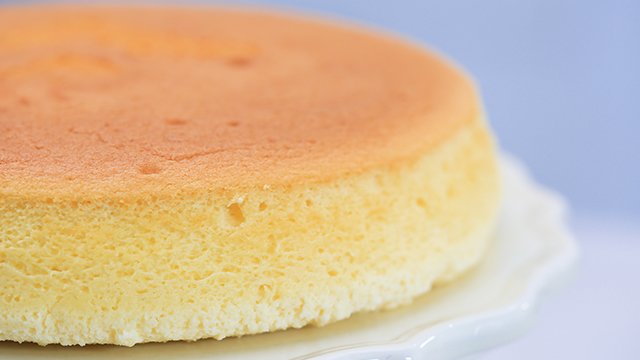 What is a Japanese cheesecake? 
While you may be used to dense, creamy, and luxurious cheesecakes, Japanese cheesecakes are totally different. This Japanese cake is known for its light, airy, and melt-in-your mouth properties, which is why it's also called a Japanese cotton cheesecake.
It may be Japanese but this fluffy cheesecake can be baked at home and enjoyed with coffee or tea for a perfect midday snack!
How to make the perfect Japanese cotton cheesecake
The key to achieving the trademark Japanese fluffy cheesecake texture lies in three important steps: whipping the egg whites, folding them into the cheese mixture, and baking the batter low and slow in a stable environment.
What makes this Japanese cake fluffy is primarily the air that is trapped in the egg whites when whipped. It's important that the whites are only whipped until the soft peak stage (the tip of the meringue should curl down when you hold your whisk up) as this makes it easier to fold in later without losing the air bubbles.
Folding is the next most crucial step. Make sure that the cheese mixture is smooth, and cooled to room temperature before adding the whipped egg whites. To preserve the all-important egg bubbles, you'll want to stop folding as soon as you see that the batter no longer has streaks of the white meringue. 
Finally, baking your Japanese cheesecake batter in a steam bath allows it to rise gently and retain moisture while forming the fine crumbs that trap the air bubbles you worked so hard to make. The airiness of cotton cheesecakes comes from these bubbles, so it's important that the cake is not disturbed at all, especially during the first hour or so of baking, so do not open your oven to try to get a peek inside, no matter how much you want to! 
Just like its crumb and texture, the process of making a Japanese cheesecake is a delicate process, but one that's well worth the time and effort once you bite into its light, fluffy goodness!
Japanese Cheesecake Recipe
Makes 1 (8-inch) cheesecake
Japanese Cheesecake Ingredients
1 (8-ounce) pack cream cheese, cubed, at room temperature
¼ cup milk
¼ cup butter, cubed, at room temperature
½ cup sugar, divided
¼ cup all-purpose flour
1 teaspoon baking powder
1 tablespoon lemon juice
1 teaspoon vanilla extract
5 medium eggs, whites and yolks separated
¼ teaspoon cream of tartar
How To Make Japanese Cheesecake
1 Preheat oven to 325°F/163°C. Line the bottom and sides of an 8- or 9-inch round pan with parchment paper.
2 In a double boiler, melt cream cheese, milk, and butter until smooth.
3 Add 1/4 cup sugar, flour, baking powder, egg yolks, lemon juice, and vanilla extract; mix until well combined. Set aside and let cool.
4 In the bowl of an electric mixer fitted with the whisk attachment, whip egg whites with cream of tartar. Add remaining sugar gradually. Whip until soft peaks form.
5 Fold in 1/3 of the whipped egg whites into the cream cheese mixture, then fold in the remaining egg whites. Do this gently and gradually to prevent the whipped egg whites from deflating.
6 Pour mixture into the prepared pan. Place pan in a large rectangular baking pan with 2- to 3-inch-high sides. Pour hot water into the outer pan until halfway full. Bake in the preheated oven for 1 hour and 15 minutes or until the top is browned and the cake looks set. Turn off heat.
7 Let cool inside the oven until almost at room temperature. Chill overnight or at least 4 hours before serving.
ADVERTISEMENT - CONTINUE READING BELOW
Recommended Videos