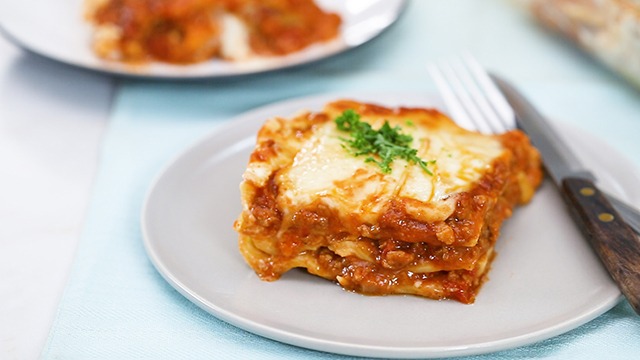 Lasagna is a pasta dish that everyone loves. Who doesn't enjoy pasta, cheese, meat, and a sauce that has simmered until thickened in one generous slice? So, if you love lasagna, then you'll definitely love this version that packs all that plus meat, meat, and more meat. 
Meaty Lasagna
Takes 1 hour 45 minutes plus simmering and soaking
Makes 8 servings
3 tablespoons cooking oil
500 grams ground pork
500 grams ground beef (80-20 meat/fat ratio)
1 large white onion, minced
5 cloves garlic, minced
1 (28-ounce can) crushed tomatoes
2 (6-ounce can) tomato paste
1 (15-ounce can) pasta sauce
1/2 cup water
2 tablespoons white sugar
500 grams lasagna noodles
250 grams sliced mozzarella cheese
Fresh parsley, chopped
Salt and ground black pepper, to taste
Bechamel Sauce 
5 tablespoons butter
4 tablespoons all-purpose flour
4 cups fresh milk
2 teaspoons salt
1/2 teaspoon freshly grated nutmeg
1 In a large pot over medium heat, add oil. Add ground pork and ground beef. Break up the meat. Add onion and garlic, and cook until meat is well browned, stirring. Stir in sugar, and season to taste. Pour in crushed tomatoes, tomato paste, tomato sauce, and water. Stir well, and bring to a simmer. Reduce heat to Low, and simmer 1-4 hours, stirring occasionally.
2 Meanwhile, 30 minutes before ready to start assembling, place lasagna noodles into the bottom of a baking pan. Pour hot water directly over the noodles, making sure the pasta is completely immersed in the water. Let soak for 30 minutes, then drain and discard water.
3 Make Bechamel Sauce: In a medium saucepan, heat the butter over medium-low heat until melted. Add the flour and stir until smooth. Over medium heat, cook until the mixture turns a light, golden color, about 6 to 7 minutes.
4 Meanwhile, heat the milk in a separate pan until just about to boil. Add hot milk to the butter-flour mixture 1 cup at a time, whisking continuously until very smooth. Bring to a boil. Cook 10 minutes, stirring constantly, then remove from heat. Season with salt and nutmeg, and set aside until ready to use.
5 Preheat oven to 375 F. Lightly grease a deep 9×13 pan.
6 To assemble, spread about 1 cup of meat sauce on the bottom of the prepared pan. Place 4 noodles on top. Spread with 1/2 cup béchamel sauce. Spoon 1 1/2 cups meat sauce over the bechamel. Repeat layering two more times to fill up the pan. To finish, place a final layer of pasta, topped with another 1 cup of meat sauce to cover the pasta. Top with mozzarella cheese.
7 Bake in preheated oven for 30 minutes or until the cheese has browned. Slice, plate, and sprinkle with chopped fresh parsley. Serve hot.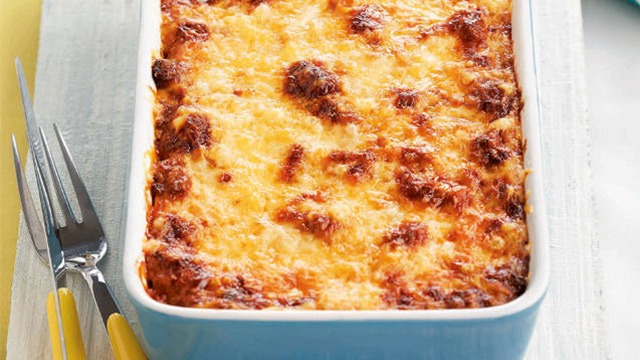 The Anatomy of A Really Good Lasagna
Posted in:
Cooking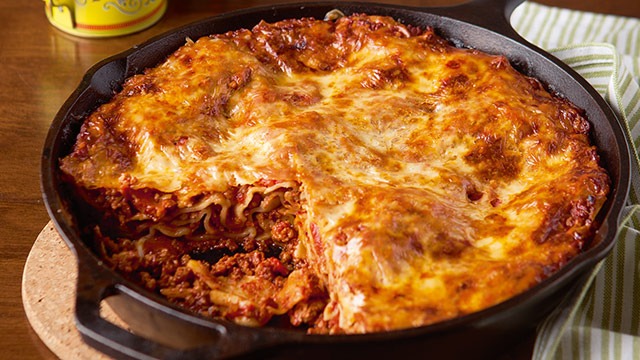 One-Pan Lasagna Recipe
Posted in:
Recipe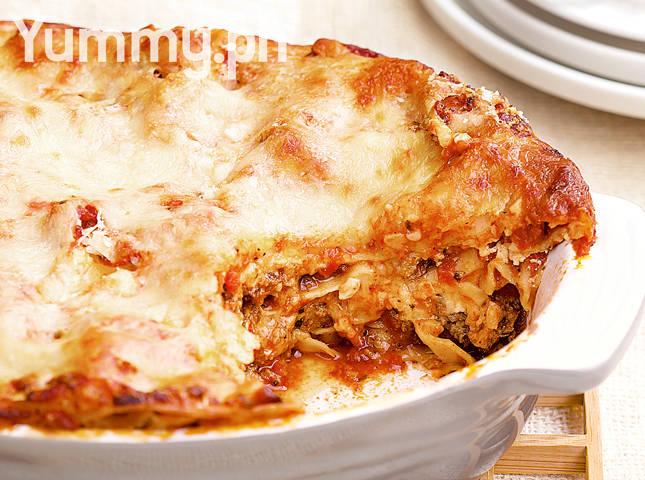 Meatball Lasagna
Posted in:
Recipe
ADVERTISEMENT - CONTINUE READING BELOW
Recommended Videos