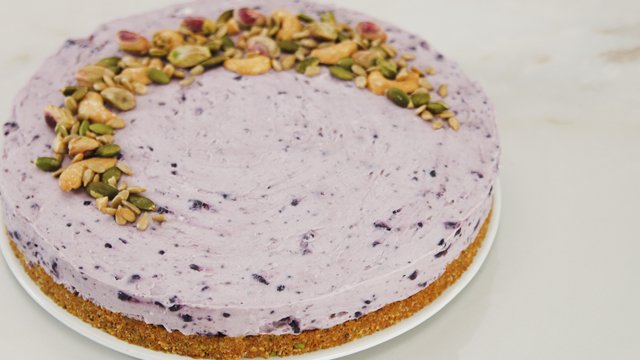 Put everything together—ube, nuts, and all the things you love about a creamy cheesecake—in one easy no-bake dessert recipe!
This dessert will have everyone savoring every bite. The cream cheese is flavored with ube while the nuts form part of the crust. Best part? No baking involved!
No-Bake Ube Cheesecake
Takes 20 minutes plus chilling
Makes 10 servings
1 cup mixed nuts and seed nuts (shelled pistachios, cashews, and pumpkin and sunflower seed nuts), more as garnish
1 cup graham cracker crumbs
1/2 cup plus 2 tablespoons sugar, divided
1/8 teaspoon salt
1/3 cup butter, melted
2 bars (225 grams each) cream cheese, softened
1/2 cup all-purpose cream
1 tablespoon vanilla
1 jar (340 grams) ube halaya
1 In a blender, finely process nuts and seeds until finely chopped, scraping sides as needed. (Careful not to create butter.) Transfer mixture to a bowl. Stir in graham cracker crumbs, 2 tablespoons sugar, and a pinch of salt. Pour in melted butter and mix until mixture, when squeezed in your hand, retains its shape. Press mixture evenly onto the bottom of a 9-inch springform pan. Chill until ready to use.
2 Meanwhile, in the bowl for a mixer with a beater attachment, beat cream cheese and remaining sugar (1/2 cup) until light and fluffy. Add cream, vanilla extract, and ube halaya into the cream cheese mixture, beating on low until well mixed then increasing the speed to high to mix completely. Spoon mixture onto the nut crust. Smooth surface using an offset spatula. Tap pan on the counter to release any air bubbles, then chill at least overnight until firm.
3 To serve, run a knife around the cake before removing the cake from springform pan. Decorate with nuts and seed nuts as desired. Slice and serve while cold.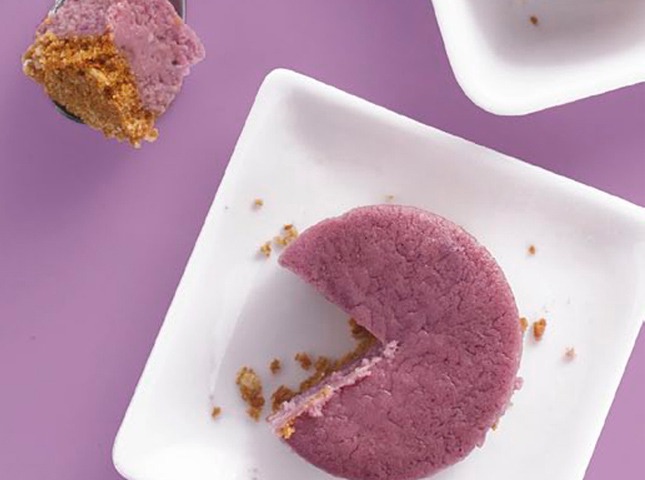 Ube Cheesecake Recipe
Posted in:
Recipe