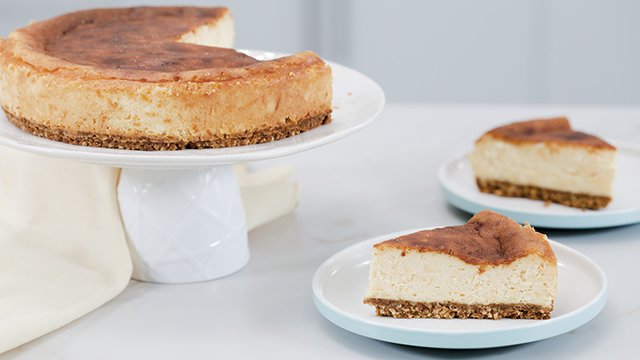 If you love the salty umami taste of queso de bola, then this cheesecake has everything you want it to be and more. It's all at once creamy, cheesy, sweet, salty, and even has nutty flavors.
Queso de Bola Cheesecake
Takes 60 minutes plus cooling and chilling
Makes 1 8-inch cake
1/4 cup butter, melted
1 cup graham cracker crumbs
1/2 cup cashews, finely chopped
3/4 cup plus 1 tablespoon sugar, divided
1/4 teaspoon salt
3 packs (227 grams each) cream cheese, softened
1 1/2 cups queso de bola, grated finely
3 large eggs
1 Preheat oven to 350°F.
2 In a mixing bowl, combine graham cracker crumbs, cashews, 1 tablespoon sugar, salt, and melted butter until well blended. (Crumbs should look damp and hold its shape when pressed together.) Evenly press crumbs mixture onto the bottom of an 8-inch springform baking pan. Chill until ready to fill.
3 In the mixing bowl of a stand mixer, blend cream cheese until creamy. Add remaining sugar and continue to beat until light and creamy. Add then stir in grated queso de bola. Add then beat in eggs, one at a time. Pour cheesecake mixture into the prepared baking pan. Spread in an even layer.
4 Bake cheesecake about 40 minutes until the center is almost set and the top has browned. Remove cheesecake from the oven, and transfer to a cooling rack. Let cool completely. Refrigerate overnight or at least 4 hours until firm.
5 Once ready to serve, unhinge springform and transfer to a cake stand. Keep chilled until ready to slice and serve.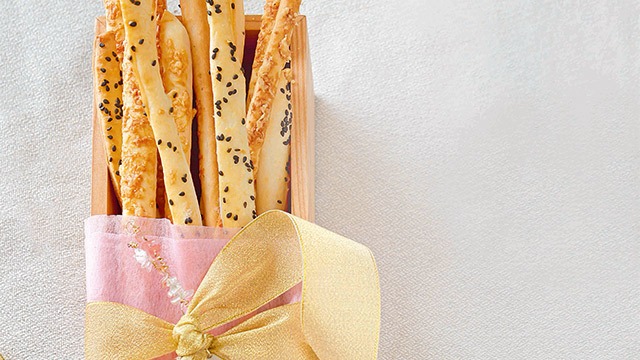 Queso de Bola Breadsticks
Posted in:
Recipe
ADVERTISEMENT - CONTINUE READING BELOW
Recommended Videos