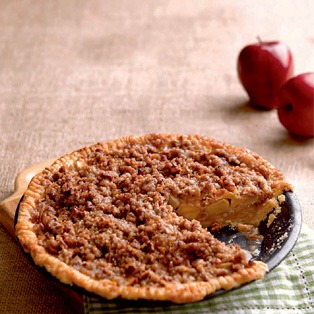 .
The buttery crust, cinnamon-flavored apples, and crisp streusel topping make apple pie an all-time favorite dessert!
To give the crust a fine, flaky texture, we suggest adding shortening. You may also use two types of apples—tart, green Granny Smith apples give the filling a crunchy texture, while red Golden Delicious ones give it a sweet flavor. Warm a slice, then enjoy it with a dollop of sweetened whipped cream or a scoop of vanilla ice cream!
FRENCH APPLE PIE RECIPE
Serves 8 to 10
Prep Time 45 minutes, plus chilling time
Baking Time 1 hour
For the pie crust
1 1/4 cups all-purpose flour, plus extra for dusting
1/2 teaspoon salt
1 1/2 tablespoons sugar
6 tablespoons butter, chilled and cut into 1/4-inch pieces
4 tablespoons vegetable shortening, chilled
3 to 4 tablespoons ice-cold water, plus more if needed
For the Streusel Topping
6 tablespoons all-purpose flour
1/4 cup packed brown sugar
1/4 cup sugar
1/2 teaspoon ground cinnamon
5 tablespoons butter, chilled and cut into 1/2-inch pieces
3/4 cup coarsely chopped nuts (we used toasted pecans)
For the Filling
3 Granny Smith apples
3 Golden Delicious apples
6 tablespoons sugar
juice and grated zest from 1 lemon
1/2 teaspoon ground cinnamon
1/4 teaspoon ground nutmeg or allspice
1/4 teaspoon salt
1 Make the pie crust: Combine flour, salt, and sugar in a large bowl; mix well. Scatter butter pieces over mixture and rub in butter gently using your hands. Add shortening; continue rubbing until flour is pale yellow and resembles coarse crumbs.
RELATED: WATCH: How to Make a Pie Crust
2 Sprinkle 3 tablespoons ice-cold water. Gently fold and press mixture using a spatula until dough is formed. Add water, 1 tablespoon at a time, if dough is too dry. Shape into a disk, dust lightly with flour, and cover with plastic wrap. Chill for at least 30 minutes.
3 On a lightly floured surface, roll dough into a 12-inch circle. Fold dough into quarters and place in a deep 9-inch pie pan. Unfold gently and trim edges all-around, leaving a 1/2-inch overhang. Tuck overhang underneath itself; press firmly with a fork. Chill until ready to use.
4 Make the streusel topping: Mix together flour, sugars, and cinnamon in a medium bowl. Scatter butter pieces and rub gently using your hands until mixture resembles coarse crumbs. Add nuts and mix with your hands until mixture looks like clumpy wet sand. Refrigerate for 15 minutes.

5 Preheat oven to 375°F.
6 Meanwhile, make the filling: Peel, core, and cut apples into 1/2- to 3/4-inch slices. Place in a large bowl and toss with the rest of the ingredients. Arrange apples and juices on chilled crust. Mound apples slightly in the center.
7 Top apples with streusel topping. Bake for 35 to 40 minutes. Adjust temperature to 325°F and cover pie loosely with aluminum foil. Continue baking for 25 minutes. Let cool for 15 minutes before serving.
ADVERTISEMENT - CONTINUE READING BELOW
Recommended Videos
YUMMY TIPS:

To avoid a soggy base, blind bake the pie crust:
Preheat oven to 425°F.After step 3, place parchment paper on top of the dough and fill with dry beans. Bake in the oven For 10 minutes. Remove parchment and beans; continue baking until golden, about 10 To 15 minutes. Let cool completely on a wire rack before filling. Adjust temperature to 375°F and bake, uncovered, for 35 to 40 minutes only.
CLICK HERE for more APPLE PIE RECIPES.
Recipe, demo, and styling by Rachelle Santos; Photography by Miguel Nacianceno
Lesson was published in the October 2014 issue of Yummy magazine