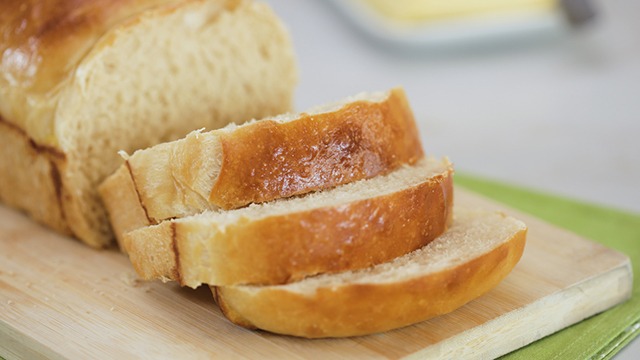 You know you're going to have a fantastic day when you wake up to the amazing aroma of baking bread. The smells that waft from the oven is really indescribable; you have to smell it to understand why the yeasty, warm aromas are so nostalgic and energizing, especially to anyone who loves their bread. 
Believe it or not, bread recipes are easy to make! What makes it a hard recipe is the kneading of the dough, plus the time it takes to "proof the dough" (to let the dough rise). Kneading alone can take a full 10 minutes of continuous rolling and folding over of the dough onto itself to make it into a smooth ball of flour, yeast, milk, and seasonings. 
A stand mixer with a dough hook would be a great help when it comes time to do the kneading but even without it, you can make it a productive 10 minutes since it can be an outlet to help you de-stress. The proofing and rising of the dough usually lasts around 1 hour each time you set it aside in a nice warm place. (We recommend placing the covered bowl beside a window so it can benefit from the afternoon heat.) 
This time is necessary for the instant yeast you added to activate and let you know that it's alive and ready to make delicious bread.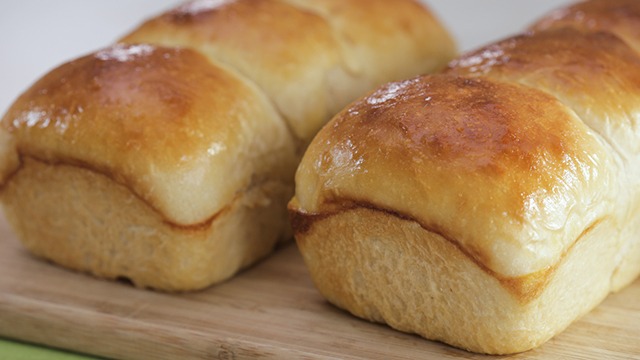 Here's this awesome loaf bread recipe that you can make today so you can enjoy it slathered in butter tomorrow morning:  
Loaf Bread Recipe
Takes 1 hour plus cooling and proofing 
Makes 2 loaves
For the Base:
3/4 cup water
1 cup bread flour
1/2 teaspoon salt
For the main dough:
2 1/2 cups bread flour
1 teaspoon instant dry yeast
1 heaping teaspoon salt
3 heaping tablespoons brown sugar
2 tablespoons powdered milk
1/4 cup butter, cut into small pieces
3/4 cup fresh milk
1 Make the base: Heat water to a rolling boil. Combine bread flour, salt, and the just boiled water in a large, clean bowl. Mix well with a spatula until it looks like a thick paste. Cover with cling wrap. Refrigerate until cold.
2 Make the main dough: Combine flour, yeast, salt, sugar, and powdered milk in a big clean bowl. Make a well in the middle and then pour in the fresh milk and the cold base. Mix well with a spatula until a ragged dough is formed.
3 Add the butter piece by piece and knead to incorporate into the dough. Transfer the dough onto a lightly floured surface.
4 Knead until the dough becomes smooth and pliable. Place in an oiled bowl, and cover with a damp towel. Place in a warm area and let proof for 1 hour.
5 Punch down the dough to release the trapped air. Divide the dough into six pieces. Roll each piece into a smooth ball.
6 Place 3 balls into each 5"x8" inch loaf pan. Cover and let proof for 1 and 1/2 hours.
7 Preheat oven to 375 degrees F (190 degrees C).
8 Once proofed, brush the tops of the balls with an egg wash and then bake until golden brown. Let cool slightly before removing from the loaf pans. Slice and serve. 
If you want more bread recipes, here are some that we think you should try: 
ADVERTISEMENT - CONTINUE READING BELOW
Recommended Videos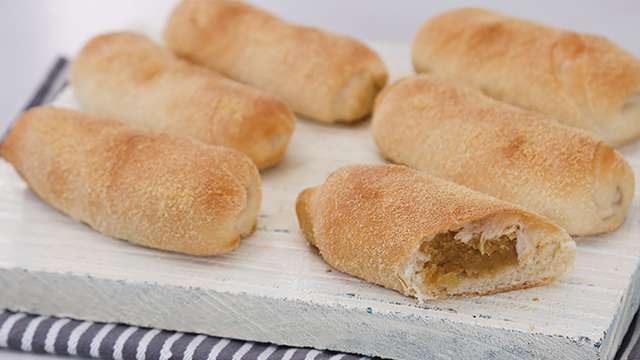 WATCH: How to Make Spanish Bread
Posted in:
Baking