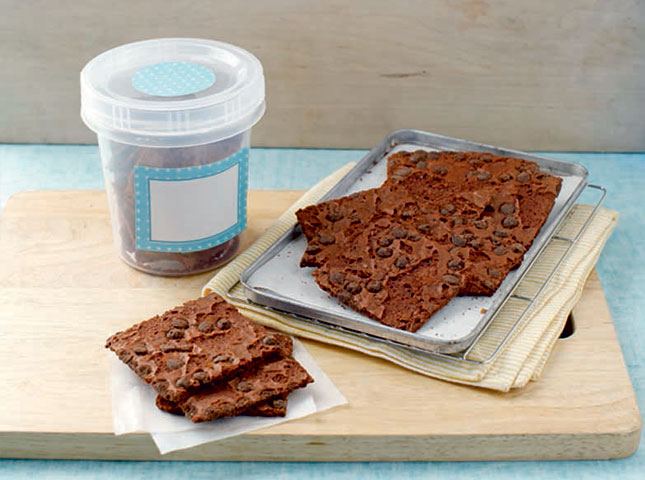 Love brownie brittle, the thin and crispy version of the fudgy treat? Save money by making the homemade version: you only spend around P140 for a batch that's twice as much as the store-bought pack. That means you have a stash good for a week of chocolate happiness! 
Brownie Brittle Recipe
Prep time 10 minutes
Cooking time 25 minutes
Yield 4 servings
Brownie Brittle Recipe Ingredients
1/2 cup butter, melted
3/4 cup sugar
1 teaspoon vanilla extract
1 egg white
1/3 cup all-purpose flour
3 tablespoons unsweetened regular cocoa powder
3/4 teaspoon baking soda
1/4 teaspoon salt
1/2 cup chocolate chips
How to Make Brownie Brittle
1 Preheat oven to 350°F. Line a baking sheet with a silicone mat or parchment paper lightly sprayed with baking spray.
2 Combine butter, sugar, and vanilla in a large bowl; mix until well incorporated. Add egg white and blend well.
3 Mix together flour, cocoa powder, baking soda, and salt. Add dry ingredients to the butter mixture and mix for about 1 minute or until smooth.
4 Using a spatula, spread a thin layer of batter on the prepared baking sheet into an 11×8-inch rectangle. (You want it thin, but not transparent.)
5 Bake in the preheated oven for 15 minutes. Remove from oven and quickly sprinkle brittle with chocolate chips. Return to the oven and bake for 7 to 10 more minutes.
6 Remove baking sheet from the oven. Transfer brownie brittle to a wire rack to cool. Cut brownie brittle into pieces before it cools completely and becomes crispy, or break it apart once completely cool. Store in an airtight container for 7 days.
Eat your brownie brittle in traffic, in waiting lines or with lunchboxes to make even the dullest moment spark happiness. Keep it on the kitchen table for kids coming home as a good way to end the day. This brownie brittle will be your sweet companion in every situation.
ALSO READ: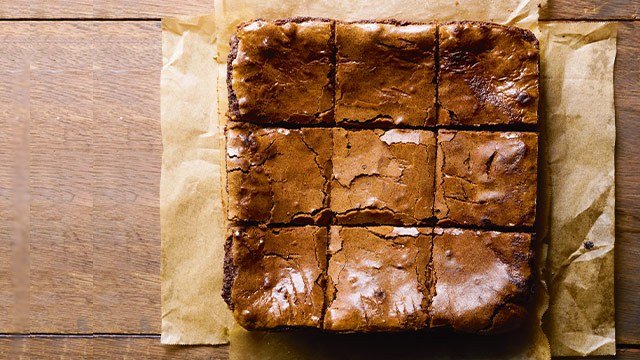 All the Brownie Recipes You Need
Posted in:
Baking