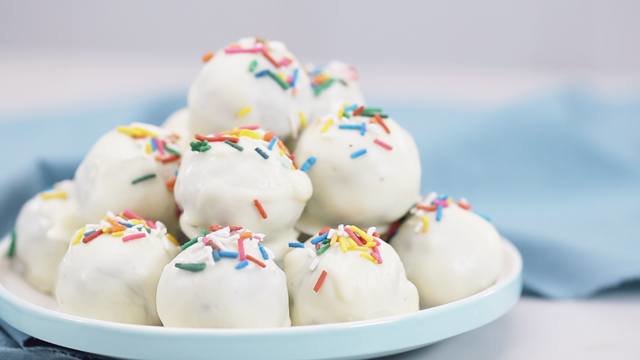 Baking fail? No problem. You can easily transform any cake, even leftover cake which has become stale or the collection of trimmings from your recent cake-baking marathon, into these glam cake balls. All you really need is a little leftover frosting and melted chocolate to encase the cake balls so each is a perfectly delicious and moist bite.
Cake Balls
Takes 50 minutes plus chilling
Makes 36 1-inch balls
1 6-inch chocolate cake
1/2 cup leftover vanilla frosting, more as needed
For Garnish:
2 cups white chocolate buttons
Rainbow sprinkles or other decorations
1 In a large mixing bowl, crumble cake into crumbs (around 2 cups). Add frosting and mix until moist. Mixture should be sticky enough to stick together when squeezed; if not, add more frosting by the heaping teaspoon until it does.
2 Use a scoop to portion out cake crumb mixture onto a parchment-lined baking tray. Roll portions into 1-inch balls and return to baking sheet. Chill 15 minutes or until firm.
3 Meanwhile, melt white chocolate in a microwave-safe bowl in 30-second intervals, stirring in between until completely melted. Using a fork, dip a cake ball into the melted chocolate until completely covered. Remove covered cake ball from the melted chocolate and return to the parchment. Sprinkle tops with sprinkles if desired before chocolate sets. Repeat with remaining cake balls. Chill until chocolate is set, around 3 minutes. Serve in cupcake liners if desired.