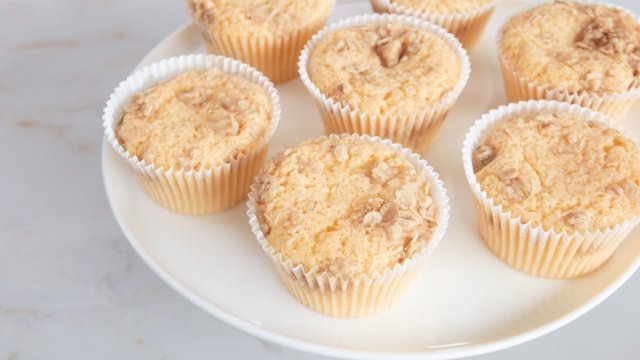 Crusty on the top with a soft, moist middle that is both tart and sweet at the same time, this calamansi muffin is perfect when paired with a cup of coffee.
Takes 20 minutes plus cooling
Makes 10 muffins
For the oat crumble:
1/2 cup brown sugar
1/2 cup rolled oats
1/3 cup all-purpose flour
1/4 teaspoon salt
1/4 cup butter, softened, cubed
For the batter:
1/2 cup butter, cubed, softened
3/4 cup sugar
2 large eggs
1 1/2 cup all-purpose flour, sifted
1 teaspoon baking powder
1/2 teaspoon baking soda
1/4 teaspon salt
1/4 cup calamansi juice (increase to 1/3 cup if more tartness is wanted)
1 Preheat oven to 350F. Place 10 liners in 6-cup muffin pans. Set aside.
2 To make the oat crumble: Place sugar, oats, flour, salt, and finally butter into a large bowl. Using a crisscrossing motion against the tines of two forks, cut the ingredients of the crumble together in a medium bowl until crumbly. Chill until needed.
3 To make the muffins: In a large mixing bowl, cream butter and sugar. Add then beat in eggs until well mixed. Add flour, baking powder, baking soda, and salt. Fold into the egg mixture until well mixed. (Mixture will be thick.)
4 Pour in calamansi juice and mix until just blended in. (Mixture will bubble.)
5 Scoop batter using an ice cream scoop into each lined cup of the prepared muffin pans, filling each until 3/4 full. Sprinkle tops with streusel. Place in oven and bake 15-20 minutes, or until tops are firm or a toothpick emerges cleanly from the center of each muffin.
6 Remove from oven, and let cool slightly before removing each muffin from the pan. Cool completely on wire rack. Serve.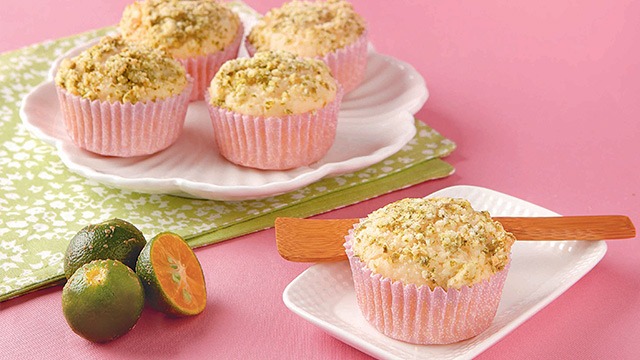 Calamansi Muffins
Posted in:
Recipe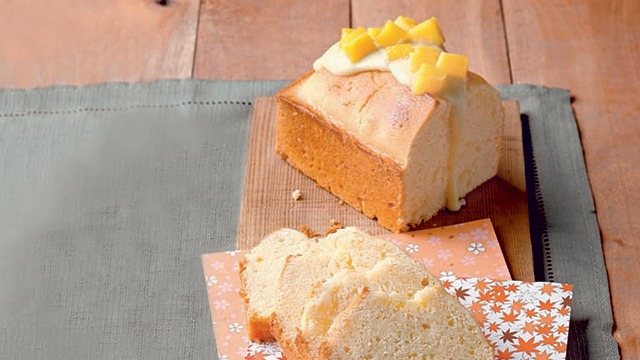 Calamansi Pound Cake
Posted in:
Recipe
ADVERTISEMENT - CONTINUE READING BELOW
Recommended Videos