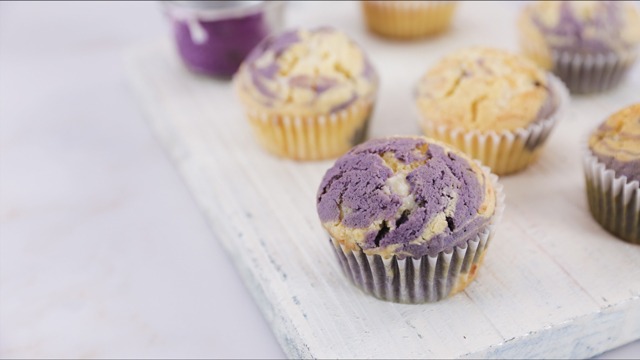 One of our most watched and tried cupcake recipes – the cheese cupcakes recipe and video – is made better! We decided it was time to make a change to our cheese cupcake recipe and thought a swirl of ube cupcake batter would not only make these cupcakes gorgeously pretty, but it would also taste quite fantastic, too.  
How did we make cheese cupcakes with ube? 
It was easy! We made a batch of our cheese cupcakes recipe which we already know is delicious and made it even better with a little tweak. We took a cup of the batter so we could stir in some ube halaya. The result? A pretty and moist cheese and ube cupcake that will have cheese and ube fans sighing in delight. 
If you're curious how we made these cheese and ube cupcakes, take a look below for the recipe: 
Cheese and Ube Cupcakes Recipe
Takes 45 minutes 
Makes 12 cupcakes 
1 1/2 cups all-purpose flour
1/2 tablespoon baking powder
1/2 teaspoon salt
1/2 cup butter, cubed
1/3 cup sugar
2 large eggs
1 teaspoon vanilla extract
1/2 cup condensed milk
1/2 block cheddar cheese, grated large
1/4 cup ube halaya
1/2 teaspoon ube flavoring and coloring
1 Preheat oven to 350 degrees F. Line a 12-cup cupcake tray with cupcake liners.
2 In a large bowl, cream butter and sugar together until butter mixture has softened. Mix in eggs. Stir in vanilla extract and condensed milk.
3 Sift all-purpose flour, baking powder, and salt over the butter mixture. Fold with a silicone spatula to mix. Scoop out about 1 cup batter into another bowl. In the remaining batter, stir in grated cheese and mix until just combined. In the other bowl, stir in ube halaya and ube flavoring until just combined.
4 Using two spoons, place 1 scoop cheese batter onto prepared cupcake tray and top with 1 scoop ube batter. Repeat with remaining batters until all the cupcake liners are filled about 3/4. Lightly bang the cupcake tin on the countertop to remove any bubbles. Using a toothpick, lightly swirl the cheese and ube batters together.
5 Place cupcake tray in the preheated oven. Bake for 25 to 30 minutes or until a toothpick inserted in the center of the cupcake comes out clean. Let cool completely on a wire rack before serving.
If you're interested in more cupcake recipes just like this one, here are more cupcake recipes of different flavors that might tickle your fancy: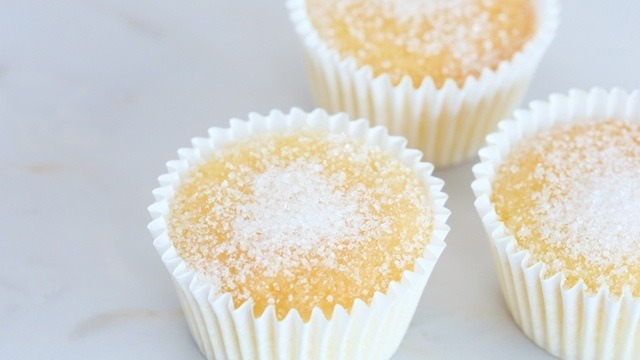 WATCH: How To Bake Taisan Cupcakes
Posted in:
Baking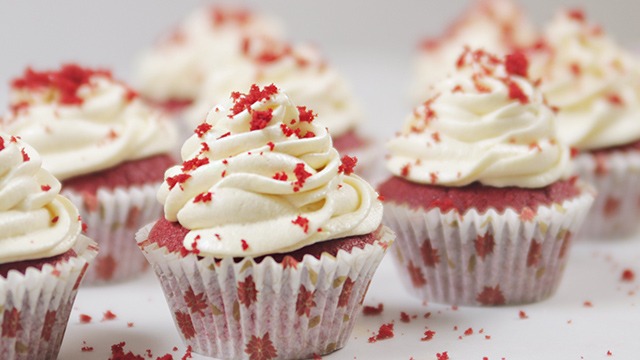 WATCH: How to Make Red Velvet Cupcakes
Posted in:
Baking
ADVERTISEMENT - CONTINUE READING BELOW
Recommended Videos