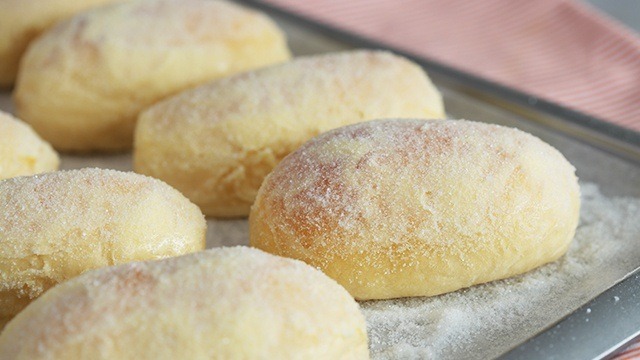 These soft, buttery, sweet cheese rolls are bound to be a crowd favorite! It takes a bit of effort to make but it is worth your time. 
Cheese Rolls
Makes 10 (5-inch) rolls
Prep Time 3 hours
Baking Time 25 minutes
1 tablespoon dry active yeast
1 ½ cups plus 2 tablespoons all-purpose flour, divided
¼ cup plus 2 tablespoons milk warm milk, divided
2 tablespoons caster sugar
½ teaspoon salt
2 large eggs
10 (4-by-½ inch) sticks soft cheddar cheese
¼ cup plus 3 tablespoons unsalted butter, softened and divided
¼ cup granulated sugar
 
1 In a small bowl, mix yeast, 2 tablespoons flour, and ¼ cup milk. Set aside.
2 In a large bowl, mix 1 ½ cups flour, caster sugar, and salt together. Make a well in the middle.
3 Add in eggs, and pour in the remaining 2 tablespoons milk and yeast mixture into the well and bring the mixture together with a wooden spoon. The dough will be sticky. Mix the dough with the wooden spoon for 6 minutes. Alternatively, bring the dough together with a stand mixer fitted with a dough hook attachment and mix for about 3 minutes on medium speed.
4 Add ¼ cup unsalted butter, tablespoon by tablespoon, while the stand mixer is on low speed. Increase the speed to medium and knead until the butter is completely incorporated and the dough is smooth and shiny, about 6 minutes. If you are mixing by hand, mix vigorously until the dough is smooth and shiny, about 8 minutes.
5 Transfer the dough into a lightly oiled bowl, cover with plastic wrap, and leave in a warm spot (room temperature will do) to rise for 30 minutes. If desired, transfer the bowl into the refrigerator and let rest for at least 2 hours or overnight to bake the next day.
6 Punch down the dough and transfer onto a lightly floured work surface. Divide the dough into 10 equal pieces and roll into round balls. Cover with a damp towel and let rest for 10 minutes.
7 Use a rolling pin to flatten each piece of dough evenly. Place 1 stick of cheese onto the upper portion of each piece of dough and roll up into a log, pinching down the two sides.
8 Place the cheese rolls onto a baking sheet lined with parchment paper and cover with a damp towel. Leave to rise for 30 minutes.
9 Preheat the oven to 350°F. Brush the tops of the cheese rolls with milk and bake in a hot oven for 25 minutes until lightly golden brown. Set aside to cool completely.
10 Spread the remaining 3 tablespoons of unsalted butter over the tops of the cooled cheese rolls and sprinkle with ¼ cup granulated sugar.
ALSO READ: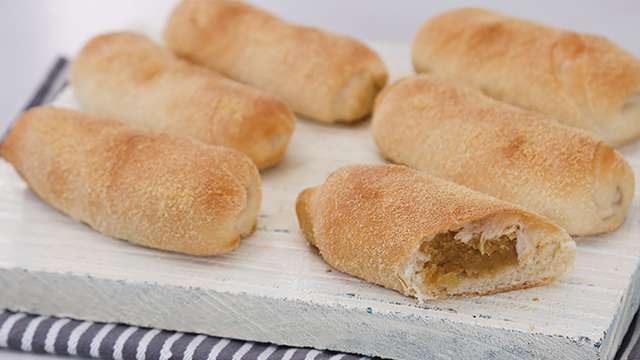 WATCH: How to Make Spanish Bread
Posted in:
Baking
ADVERTISEMENT - CONTINUE READING BELOW
Recommended Videos