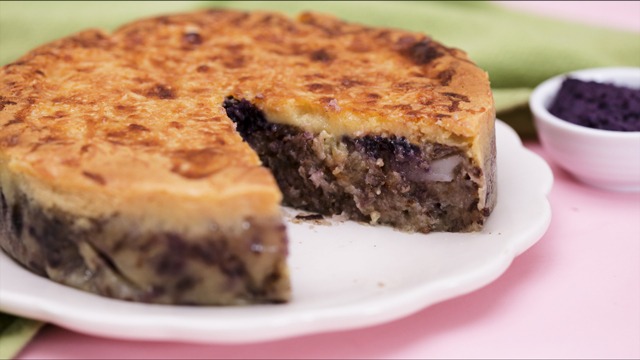 There are many ways to make a cassava cake. A cassava cake, or a cake made with grated cassava root, is mixed with eggs, three different kinds of milk, sugar, and butter to amp up the richness. It's an already decadent cake that's easy to make with ingredients you can find at any palengke.  
There are any number of ways to make it even more intensely flavorful and delicious. We think we found how to do just that and you get a burst of flavor in one awesome bite with this recipe that mixes the best there is in cassava cake with ube and cheese.
How? 
We make a normal cassava cake recipe and added the flavors of ube and cheese to the mix in three ways: 
The first way we amp up the flavors is by mixing freshly grated ube with the cassava. You may find that when you grate the fresh ube, it will oxidize extremely quickly and turn brown as you grate. That's okay because that's just the way it is before it's cooked. If you want to preserve the bright purple hue, you may want to cook the ube first before adding it into the cake batter. 
The second way is by topping the cake with dollops of creamy ube halaya or ube jam. This boosts the ube flavor while assuring whoever is eating it that there really is ube in the cake. 
Finally, it's topped with a savory cheese tart layer. The marriage of sweet and salty in this cake is the ultimate flavor bomb that will have you craving this cake long after your plate is clean. 
We know you're curious about how to make a cassava cake even better. Here is the recipe: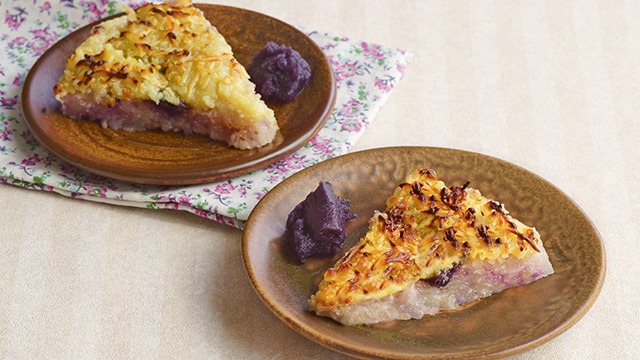 Cheese and Ube Cassava Cake Recipe
Posted in:
Recipe
For more kakanin recipes, here you go: 
ADVERTISEMENT - CONTINUE READING BELOW
Recommended Videos