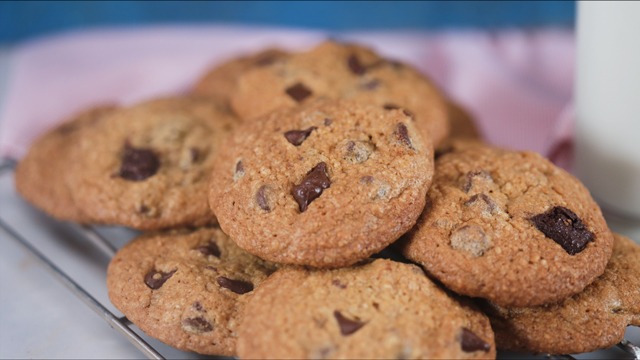 We don't know anyone who doesn't like a good chocolate chip cookie. Cookies are like sweet golden brown nuggets you make when you know you don't want more than just a few bites of something that tastes sinful. 
What we do know however is that making cookies is usually the gateway to baking for newbie bakers. There are many who want to make cookies but do not always find the cookie recipe that inspires them to bake. 
You may want to try this intensely delicious cookie recipe that is not only dotted with two kinds of chocolate, but it is also loaded with oatmeal. 
Don't worry though if you're not a fan of oatmeal! You may not even taste it because what we did is ground up the quick-cooking oatmeal into a powder, effectively making oat flour. This is what you mix in so you get the heft you need to make the cookie base, but you also get the flavor and the fiber that those who love oatmeal want. 
We didn't add anything else but chocolate into these cookies but you can certainly stir in chopped nuts, white chocolate chips, crushed potato chips, broken pretzels, caramel bits, or even swap out some of the butter with peanut butter for a peanut butter chocolate chip cookie!
Whether you want to add more to this basic cookie dough or keep it as is, we think this is the chocolate chip oatmeal cookie recipe you've been looking for. 
Here's the recipe:
Chocolate Chip Oatmeal Cookies Recipe
Takes 40 minutes plus chilling 
Makes 36 cookies
1 1/2 cups quick-cooking oats
1 cup unsalted butter, cubed, softened
1/4 cup sugar
1 1/4 cups dark brown sugar
2 large eggs
1 teaspoon vanilla extract
1 1/2 cups all-purpose flour
1 teaspoon baking soda
1 teaspoon salt
1 1/2 cups semi-sweet chocolate chips
2 55-gram bars 70% dark chocolate, roughly chopped
Oil, as needed

1 In the bowl of a food processor, place oats and process until finely ground. Transfer to a bowl and add flour, baking soda, and salt. Stir together. Set aside.
2 In a large bowl using a silicone spatula, cream butter and sugars until mixture is well mixed and softened. 
3 Add eggs one at a time, mixing until well blended. Stir in vanilla extract. 
4 Add oat flour mixture to the batter and mix just until combined. Stir in chocolate chips and dark chocolate chunks. 

5 Portion dough using a scoop onto a baking sheet lined with parchment paper. (TIP: Portion it NOW before it gets chilled. Easy!) Add more chocolate chips and chunks as desired on top of each cookie. Cover or wrap with plastic wrap and refrigerate for at least 30 minutes or up to overnight. 
6 Preheat oven to 375°F. Lightly oil baking sheets. 
7 Remove dough from the refrigerator. Place dough balls onto baking sheets, 2 inches apart. 
8 Bake for 10 to 12 minutes in the preheated oven or until edges are golden and firm and centers are still slightly soft to the touch. Let cool on the baking sheet for a few seconds or just until the edges firm up. Then use a flat spatula to release each cookie from the baking sheet before transferring to a wire rack to cool completely.
Eager for more cookie recipes? We have more you can try: