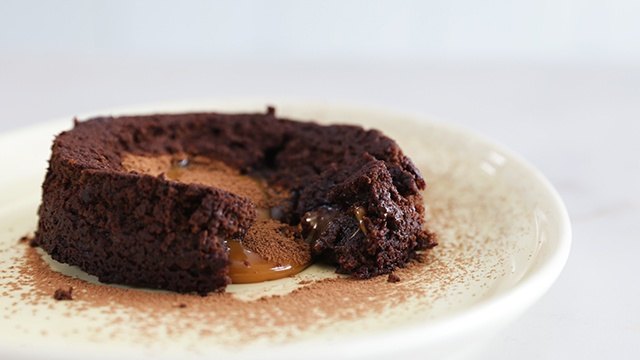 Add coffee and caramel flavors to make your lava cake extra indulgent! No oven? You can bake these lava cakes in the toaster oven or turbo broiler!
Chocolate-Espresso Lava Cake
Prep time 10 minutes
Cooking time 15 minutes
Makes 2 (4×2-inch) or 4 (3×2-inch) ramekins
1/2 cup bittersweet chocolate chips
1/4 cup butter, cubed, plus more for greasing
2 shots coffee, use espresso
3/4 cups confectioner's sugar, sifted
1 egg yolk, (from a large egg)
1/3 cup all-purpose flour
2 to 4 caramel candies, use soft, chewy kind
cocoa powder, for dusting
whipped cream, to serve
1 Preheat oven to 425F. Generously grease 2 (4-inch) or 4 (3-inch) heatproof molds or ramekins with butter. Place on a baking sheet.
2 Melt chocolate and butter in a double boiler until butter and chocolate are melted. Mix well.
3 Add espresso and stir well. Add sugar and mix until well blended.
4 Beat in egg yolk with a wire whisk.
5 Stir in flour and mix until just combined. (Mixture will be slightly thick but pourable.)
Divide batter among prepared molds or ramekins.
6 Microwave caramel candies on a microwave-safe plate for 15 to 20 seconds to soften. With wet hands, scoop up 1 candy, roll into a ball, and gently drop into the center of a ramekin. Repeat with remaining caramel candies and ramekins.
7 Bake in the preheated oven for 12 to 15 minutes or until sides are firm but centers are soft. Remove from oven and let rest for 1 minute. Carefully run a spatula or small knife around cakes to loosen. Invert cakes onto dessert plates. Dust with cocoa powder and serve with whipped cream or ice cream, if desired.
Serve immediately.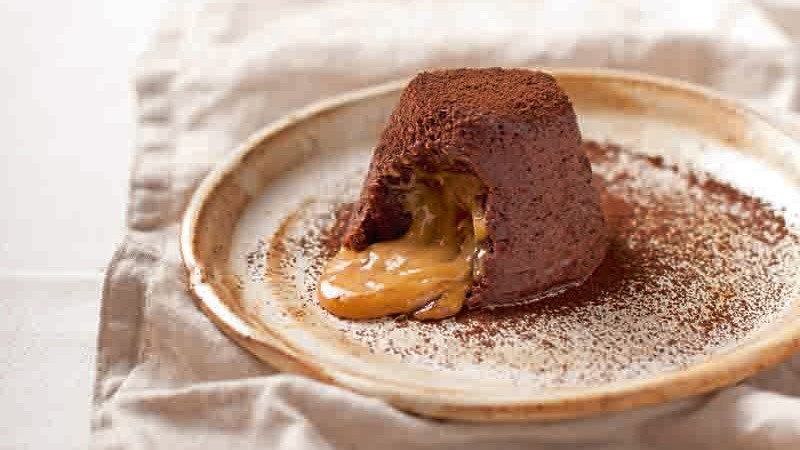 Chocolate-Espresso Lava Cake Recipe
Posted in:
Recipe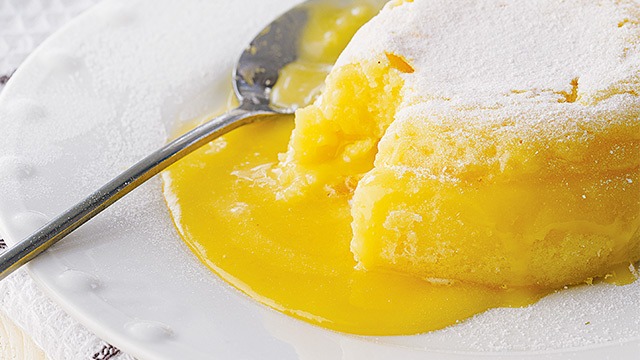 White Chocolate Lava Cake Recipe
Posted in:
Recipe