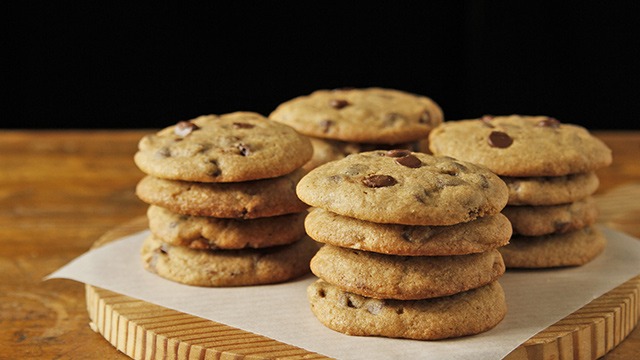 Fill up your cookie jar with this batch of classic chocolate chip cookies!
1 cup whole wheat flour, sifted
1 ½ cups all-purpose flour, sifted
1 cup salted butter, softened
1 ½ cups brown sugar, lightly packed
1 ¾ cups semi-sweet chocolate chips
2 In a medium-sized mixing bowl, whisk flours, baking soda,and salt together. Set aside.
3 In a large mixing bowl, beat sugar and butter together with a hand mixer until light and fluffy, around 5 minutes. Add eggs and vanilla and beat on medium speed until just combined.
4 In 2 batches, add the flour mixture into the butter mixture. Mix on low-medium speed until just combined. Do not over mix.Fold in chocolate chips.
5 Scoop dough onto a parchment-lined cookie sheet. Top with more chocolate chips and sprinkle with a little sea salt. Bake for 20-22 minutes until firm to touch and slightly golden brown at the edges. Cool on a wire rack.