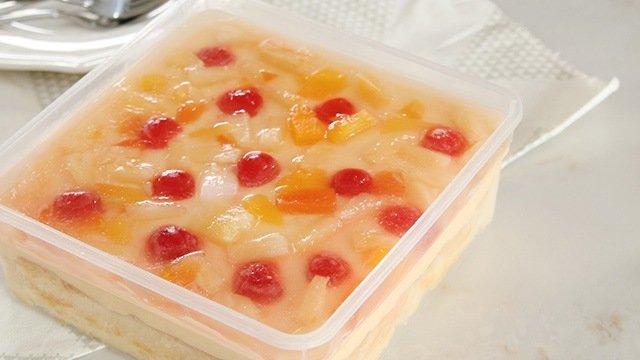 Crema de Fruta is a layered cake made with a homemade soft sponge cake, topped with a silky vanilla custard, and decorated with fruits set in gelatin. It's a classic Filipino favorite you can make using ingredients in your pantry that's guaranteed to impress.
Don't have time to make sponge cake? A homemade Crema de Fruta hack: Use store-bought broas!
For Custard:
2 large egg yolks
1/4 cup sugar
3 tablespoon all-purpose flour
1 cup fresh milk
1/2 cup all-purpose cream
1 teaspoon vanilla extract
For Cake:
3 large eggs, separated
1/4 cup water
1/4 cup canola oil
1 teaspoon vanilla extract
1 1/4 cup caster sugar, divided
1 cup cake flour, sifted
pinch of salt
Butter or oil, as needed
For Fruit Gelatin Topping:
3/4 cup fruit cocktail, drained, syrup reserved
2 tablespoons maraschino cherries, halved
1 1/2 cup reserved fruit cocktail syrup plus water
1 teaspoon high-yielding gulaman powder
1/4 cup sugar
1/8 teaspoon banana extract (optional)
1 Make the custard: In a saucepan, whisk egg yolks, sugar, flour, milk, and vanilla extract. Place over low heat and cook, stirring, until thickened. Transfer to a bowl. Cover with plastic wrap, ensuring the plastic touches the top of the custard to prevent a skin from forming. Chill and let cool completely.
2 Meanwhile, make Sponge Cake: Preheat oven to 325°F. Butter or oil a square 8×8 inch baking pan. Cut out parchment paper the shape and size of the pan and place on the bottom of the pan. Set aside.
3 In a large bowl using a whisk, whisk egg yolks, water, oil, and vanilla extract until just combined. Add flour, salt, and 1 cup sugar. Fold then beat until well combined. Set aside.
4 In the bowl of a stand mixer with the whisk attachment, add egg whites to the bowl, and whisk on medium-high until foamy. Sprinkle gradually the remaining sugar to make a meringue. Whisk only until stiff peaks.
5 Scoop out 1/3 of the meringue, and add to the sponge batter. Using a whisk, fold in meringue. Once well mixed, add the remaining meringue in batches, folding while being careful to not over mix the batter. Tap baking pan lightly on the counter to release trapped air bubbles.
6 Place in the oven, and bake for about 30 to 40 minutes or until a toothpick inserted into the center emerges cleanly and the top is golden brown. Remove from the oven, and transfer to a wire rack to cool completely.
7 Once the cake is cool, remove cake from pan and place in a square plastic container, trimming the sides as needed to fit. Top with cooled custard, spreading layer evenly. Distribute fruit cocktail and cherries on top of the custard, decorating as desired. Chill until ready to set with gelatin.
8 Make Gelatin: In a small saucepan, mix reserved fruit cocktail syrup with water, gulaman powder, and sugar together. Place over low heat, and, stirring constantly, heat only until the gulaman granules have dissolved and the liquid is hot. (Do not bring to a boil.) Stir in banana extract if using. Remove from heat.
9 Using the back of a spoon to prevent bubbles from forming and disturbing the fruits, pour hot gulaman immediately over the fruit layer until just covered. (You may have leftover gulaman mixture.) Let set about 5 minutes to cool slightly and set. Keep chilled until ready to slice and serve.
ADVERTISEMENT - CONTINUE READING BELOW
Recommended Videos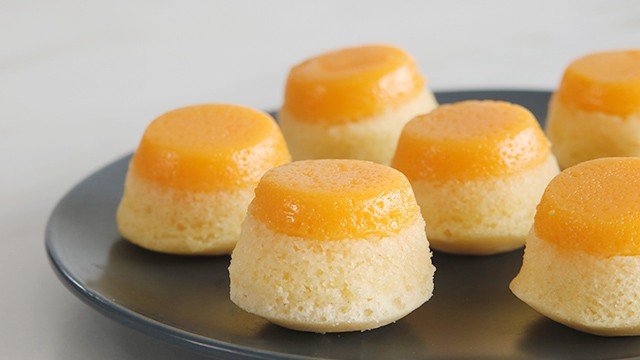 WATCH: How to Make Leche Flan Puto
Posted in:
Cooking