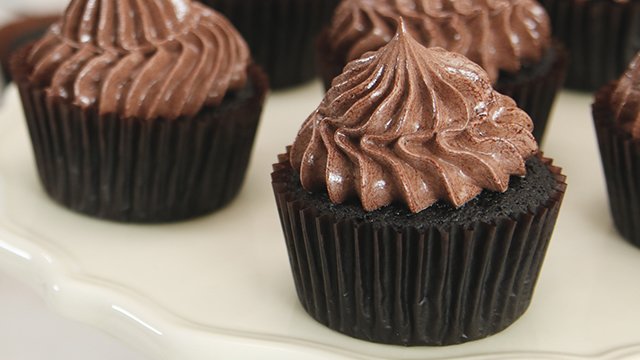 Treat yourself to a batch of these dark chocolate cupcakes. Feel free to use your favorite high-quality cocoa powder to intensify the deep, chocolate flavor of these decadent and moist cupcakes. Top it with a lusciously smooth chocolate Swiss frosting. We promise: It's worth the extra effort to make! 
Dark Chocolate Cupcakes Recipe
1 1/2 cup cake flour, sifted 
3/4 cup Dutch-processed cocoa powder, sifted 
1/2 tablespoon baking soda, sifted 
1 teaspoon baking powder, sifted 
1 1/4 cup brown sugar
1/2 teaspoon salt
1 1/4 cup buttermilk (1 1/2 tablespoon vinegar plus enough fresh milk to make 1 1/4 cups)
1/4 cup vegetable oil
2 large eggs
2 teaspoons vanilla extract
1 Preheat oven to 325°F. Place cupcake liners into 2 12-cup cupcake pans. Set aside.
2 In a large bowl, sift flour, cocoa, baking soda, and baking powder. Stir in sugar and salt into the flour mixture. Set aside.
3 Add buttermilk, eggs, oil, and vanilla into the bowl of a stand mixer with the beater attachment. Gently beat until mixed well. Add flour mixture by the spoonful to wet ingredients. Mix on Low until flour mixture is wet then increase speed to High for 5 seconds or until mixed well.
4 Using a measuring cup or scoop, pour about 1/4 cup of batter into each cupcake liner. Bake for 12 minutes or until a toothpick inserted into the center of each cupcake emerges clean. Cool completely on a wire rack. Frost with buttercream.
Chocolate Swiss Buttercream Recipe
2/3 cup caster sugar
2 large egg whites 
1/4 teaspoon salt 
1/2 cup water 
1/2 cup Dutch-processed cocoa powder, sifted 
1 teaspoon vanilla extract 
1 cup butter, cubed, softened
1 In a double boiler, add caster sugar, egg whites, and salt. (Add 1/8 teaspoon cream of tartar if desired.) Using a silicone spatula, stir ingredients over the simmering water until the sugar and salt granules have dissolved and egg whites are warmed (To pasteurize egg whites, heat to about 160°F (or 70°C) on a candy thermometer).
2 Remove egg whites from heat and place in the stand mixer. With the whisk attachment, whisk egg white mixture on High until it has cooled enough to the touch.
3 Meanwhile, in a small bowl, whisk water and cocoa powder to create a smooth paste. Set aside.
4 Once egg whites are cool, add butter, a cube at a time, until fully combined, scraping the bowl as needed, and mixture has become light and fluffy. Turn off mixer, and add cocoa paste and vanilla extract. Mix on Medium until just incorporated then mix on High until fully mixed. Transfer to a piping bag and use as desired.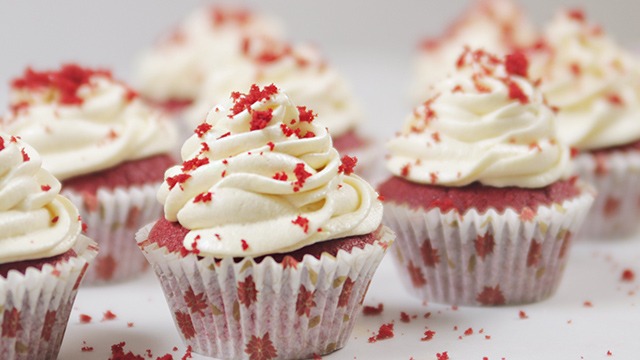 WATCH: How to Make Red Velvet Cupcakes
Posted in:
Baking