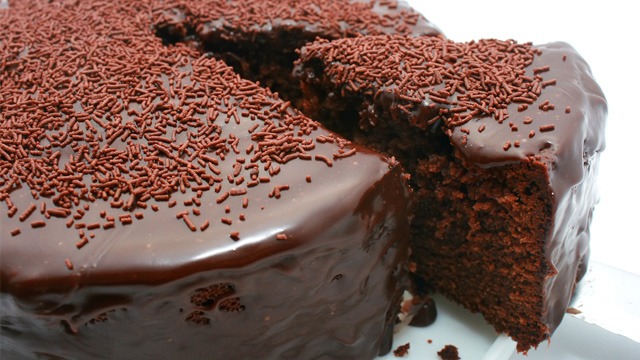 The easiest chocolate frosting has to be the 2-ingredient chocolate ganache. While you only need two ingredients, not everyone has chocolate bars on hand all the time. For those times when you have cocoa powder, not the solid bars, there is a frosting you can still make that's just as luscious and creamy: the classic chocolate fudge frosting.  
This recipe is an old-school frosting! It produces a silky chocolate fudge frosting that you can find on classic chocolate cakes that your lola, tita, or even grand relatives might have used to make or grew up devouring. The best news yet is that it uses regular kitchen ingredients that you will probably have if you stock up on baking ingredients. 
Here are the ingredients you need:
• sugar
• cocoa powder
• evaporated milk
• butter
• vanilla extract 
The vanilla is totally optional but it does deliver an awesome aroma that can't be beaten. Chocolate is its natural partner! However, this recipe is not a simple mix and frost type of frosting. It is a cooked frosting, so it needs to cool down before it can be used. Despite this, we are sure you'll like this version. 
Ready to make an easy frosting? This glossy chocolate fudge frosting is silky, luscious, and creamy. Here's how to make plus tips on how to make it successfully. Here's the recipe: 
Chocolate Fudge Frosting Recipe  
1 cup white sugar
1/2 cup cocoa powder
1 1/2 cups evaporated milk
1/4 cup unsalted butter
How to Make Chocolate Fudge Frosting
1 In a non-stick pan, mix sugar and cocoa powder until well combined. Slowly pour in milk, stirring until well combined. Cook on medium heat until it has a spreading consistency (lift whisk to check for consistency: when the last drop hangs and doesn't fall off, it means it's done).
2 Mix in the butter, and set aside.
*** 
ADVERTISEMENT - CONTINUE READING BELOW
Recommended Videos