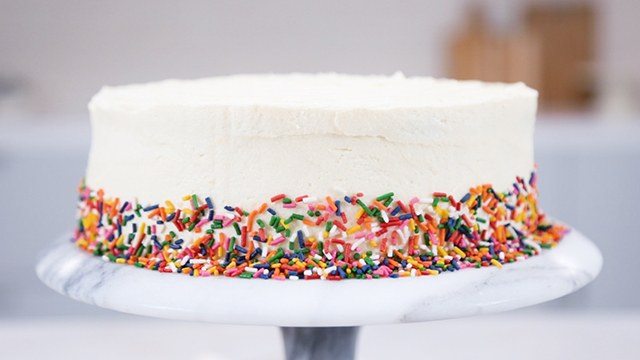 Using rainbow sprinkles as decoration is the fast and easy way to instantly add color to any cake. It's so easy, the kids can help garnish an otherwise plain cake into one that's eye-catching and colorful. It's no wonder that someone discovered that adding sprinkles into the cake batter itself as well as using it as the decoration is a good idea, thus creating the sprinkles cake. 
The many colors of rainbow sprinkles instantly transform the cake into a gorgeous one, both inside and outside, that it deserves to be the centerpiece of your party spread. Make this pretty delicious cake at your next party, and we're sure it will instantly be a crowd pleaser. 
We used rainbow sprinkles in this cake, but you can easily mix and match the single color sprinkles available in supermarkets and baking supply stores to customize the colors of the cake to match the color theme of your party. Eye-catching, delicious, and easy to make, this is the birthday cake which any child (or you!) would love to have at their party. 
Sprinkles Cake
Takes 65 minutes plus cooling and chilling 
Makes 1 8-inch, 2-layer cake
2 1/4 cups cake flour, sifted
2 teaspoons baking powder
2 teaspoons baking soda
1/2 teaspoon salt
1 cup unsalted butter, softened
1 cup sugar
2 large eggs
2 teaspoons vanilla extract
1 1/4 cups buttermilk
1/4 cup rainbow sprinkles, more for decorating
Cream Cheese Buttercream Frosting:
1/2 cup butter, softened
1/2 cup cream cheese, softened
4 cups powdered sugar, sifted
1/4 cup fresh milk
1 teaspoon vanilla extract
1 Preheat oven to 350 degrees F/180 degrees C. Set aside. Butter and line with parchment 2 8-inch cake pans. Set aside.
2 In a large bowl, sift cake flour, baking powder, baking soda, and salt. Set aside. In a stand mixer, beat butter until creamy. Add sugar, and beat again until creamy. Add eggs, one at a time, beating well after each addition. Stir in vanilla extract.
3 Add a third of the flour mixture into batter; beat until just blended. Pour in half the buttermilk and beat until just blended. Repeat with remaining flour and buttermilk mixtures, ending with the flour mixture. 
4 Divide batter into the two prepared cake pans. Sprinkle then stir in sprinkles. Place in the oven on the middle rack and bake for 35 minutes (rotating pans halfway) or until a toothpick emerges cleanly from the center of each cupcake. Transfer to a wire rack to cool completely.
5 Meanwhile, make the Vanilla Buttercream: In the bowl of a stand mixer with the whisk attachment, whip butter and cream cheese on medium speed until creamy. Add a third of the powdered sugar into the butter and whisk in on Low. Add half the milk, and whisk again to incorporate into the mixture. Add another third of the sugar, followed by the remaining milk and vanilla extract, and finally, the remaining powdered sugar, mixing well and scraping down the sides between each addition. Whip buttercream on high speed for 1 minute until light and creamy. Keep cool until needed. Best used at room temperature. 
6 To assemble: Place one cake layer on a rotating cake stand. Top with frosting and spread into an even level layer using an offset spatula. Place the second cake layer on top, upside down so the bottom is facing up. Cover the entire cake with a thin layer of frosting as a crumb coat. Chill for 1 hour. Once chilled, cover the entire cake again with remaining frosting. Decorate the bottom of the cake with sprinkles as desired. Slice and serve at room temperature.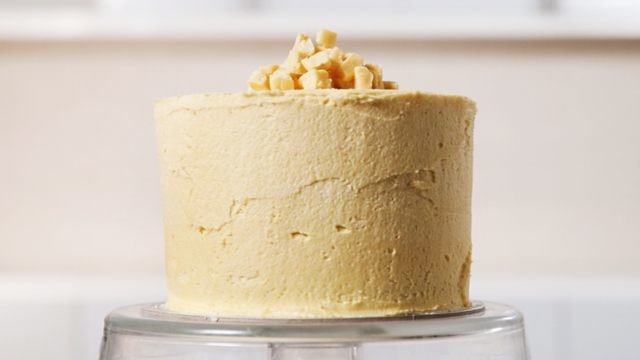 WATCH: How to Make Pastillas Cake
Posted in:
Baking