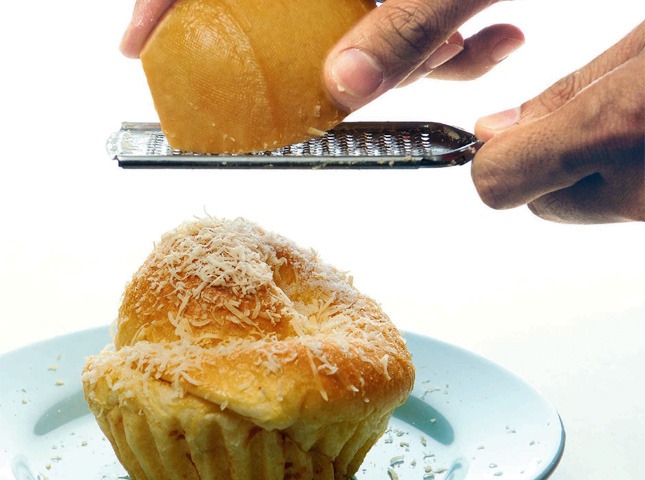 Ensaymada is a light, buttery bread that has become a well-loved local snack. Available in both neighborhood bakeries and upscale cafes, this soft and sugary delight is perfect for merienda especially with a cup of coffee or hot chocolate. It is typically enjoyed with a layer of cheese on top and served warm. There are numerous varieities to ensaymade however, this recipe is the simplest and easiest to make. Want to try it out at home? Check out our step-by-step guide below.
1 Preheat oven to 360°F. Grease ensaymada molds. Dust with flour and set aside.
2 Dissolve yeast in milk. Add the rest of the ingredients except butter.
3 Using the dough hook attachment, knead at low speed in the electric mixer for approximately 4 minutes. Add butter and knead at medium speed for 8 to 10 minutes until dough is well developed. The dough will be soft and sticky. Set aside, covered, and allow dough to rise for 45 minutes.
4 Scale dough to 80 grams per piece or use a ? measuring cup to form into equal balls. Shape by rounding and allow to rest for 25 minutes.
5 Turn dough pieces upside down and roll with a rolling pin to a very thin oval shape. Brush with soft butter. Grate cheese on top.
6 Roll dough to a rope. Rest for another 15 minutes.
7 After resting, swirl dough like a snail and place in floured molds. Proof until almost double in size.
8 Bake until golden brown, approximately 15 to 20 minutes. Cool completely before taking ensaymada out of the molds. Brush with soft butter and grate cheese on top. Sprinkle with sugar.
Recipe & Demonstration by Ernesto Babaran of International School for Culinary Arts and Hotel Management (ISCAHM); photography by David Hanson