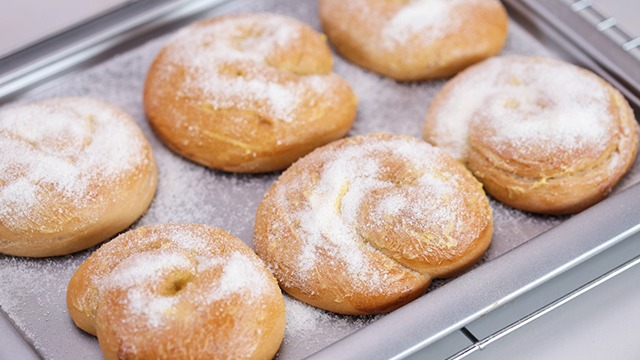 Ensaymada (or ensaimada) is a well-loved sweet Filipino coiled bread. It's usually topped with butter, sugar, and grated salty cheese. The ones from your neighborhood bakery (the ones you might remember from your childhood merienda) might be slathered with margarine and topped with a generous amount of sugar. You can now recreate that nostalgic merienda at home with our easy recipe! 
Panaderia-style Ensaymada
Makes 12
3 ¾ cups bread flour
2 teaspoons yeast
1 teaspoon iodized salt
½ cup brown sugar
1 ½ cups water
1/8 cup canola oil
1 medium egg, for the egg wash
For the sugar topping:
¼ cup white sugar
1/8 cup powdered milk
Pinch of iodized salt
Margarine, for brushing on ensaymada
1 In a large clean bowl, place bread flour. Add yeast and salt in separate areas in the bowl. Add brown sugar.
2 Make a well in the center. Gently pour the water and the oil into the well.
3 Mix with a spatula until combined.
4 Once the dough forms a ragged mass, transfer to a lightly floured surface and then knead until the dough is smooth and glossy.
5 Transfer to a lightly-oiled bowl and then cover with a kitchen towel. Let the dough rise for 1 hour or until it doubles in size.
6 Gently punch the dough to deflate and then transfer to a lightly floured surface.
7 Divide the dough into 12 equal pieces and then roll each piece into a ball.
8 Cover with a damp cloth. Let the dough balls rest for 10 minutes.
9 Once rested, roll the balls into a long stick-like shape, around 8 inches in length.
10 Form the shape of your ensaymada by forming a spiral, with one end of the dough at the center, and the other end at the edge. Make sure to tuck in the end under the dough. Place on top of a lightly greased baking tray.
11 Cover with a damp cloth and let it proof for 1-1/2 hours.
12 Thirty minutes before the end of proofing time, preheat your oven to 375F.
13 Beat the egg and brush each ensaymada with the egg wash. Place the dough into the oven and bake for 20-25 minutes.
14 Once golden brown, take out the ensaymada from the oven.
15 Make the sugar topping: Combine powdered milk, salt, and sugar in a small bowl.
16 Generously brush each ensaymada with margarine and then sprinkle the sugar topping mixture on each ensaymada.
MORE RECIPES: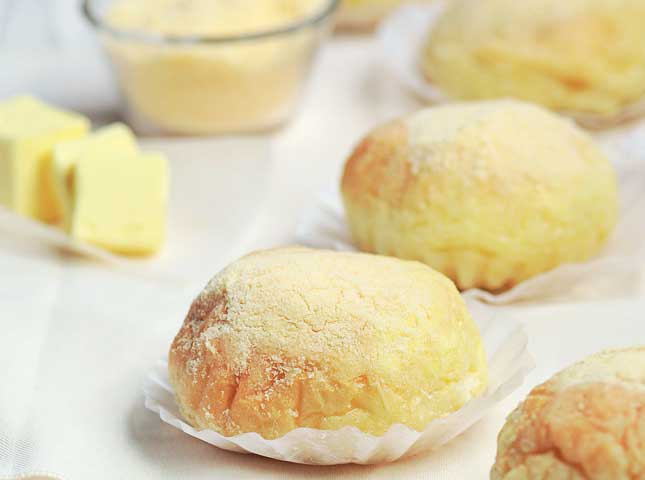 Cheesy Ensaymada Recipe
Posted in:
Recipe
Chocolate and Ensaymada Fondue Recipe
Posted in:
Recipe
ADVERTISEMENT - CONTINUE READING BELOW
Recommended Videos