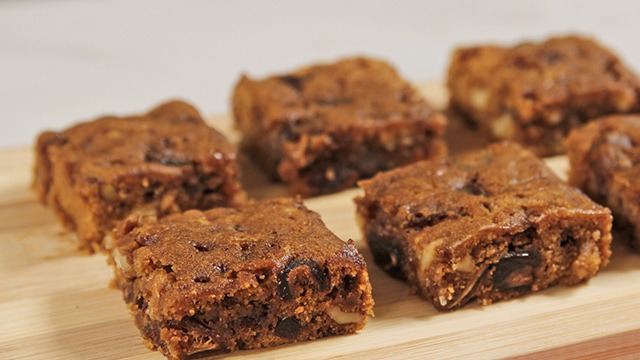 Food for the Gods is a popular Filipino holiday dessert recipe made with rich and tasty by dates and walnuts. 
What is food for the gods? 
At its most basic, it's a brownie recipe. Just like any brownie, this baked dessert is chewy, moist, and instead of being just a chocolate bar cookie, it's a butterscotch version that is instead studded with sweet and tender dates and bitter, nutty walnuts. It's a wonderful contrast to the buttery sweetness of the brownie.
Make them at home for Noche Buena or give them as gifts to friends and family.
Food for the Gods Recipe  
1/2 cup unsalted butter, melted
1 teaspoon vanilla extract
1 cup pitted dates, chopped
1 cup walnuts, roughly chopped
1
Preheat oven to 350?F. Line and lightly grease an 8" by 8" pan with parchment paper. Set aside.
2
In a mixing bowl, mix butter and sugar. Let cool slightly before beating in eggs. Stir in vanilla extract.
3
Add in flour, baking powder, and salt. Fold flour mixture into butter mixture until just combined. Fold in dates and walnuts until mixed in.
4 Spoon into prepared pan, and bake until a toothpick inserted into the brownies emerges cleanly, about 25 minutes. Don't over bake! Let cool to the touch on a wire rack.
5 Lift out from pan and transfer to a cutting board. Lightly grease a knife before cutting into bars. Wrap bars individually in cellophane if desired for gifting.