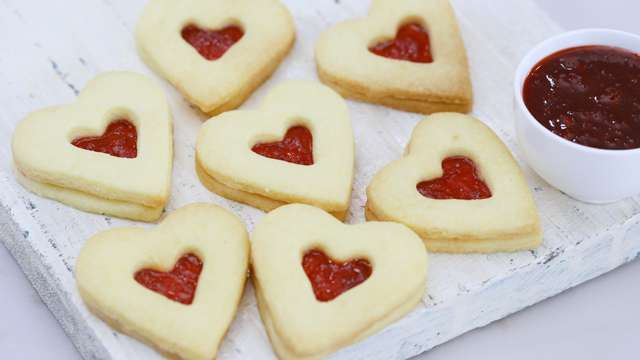 Wonderfully buttery with a strawberry jam-filled center, these are the perfect cookie gifts for this Valentine's Day. We just bet these heart-shaped cookies will warm even the coldest of hearts.
Heart-Shaped Shortbread Cookies

Takes 50 minutes plus chilling and cooling
Makes 18 sandwich cookies
 
2 cups all-purpose flour
3/4 cup powdered sugar
1/4 teaspoon salt
1 cup unsalted butter, cubed
1/4 cup homemade strawberry jam

 
1 Place flour, powdered sugar, and salt in a food processor. Add butter and pulse until mixture forms into a soft ball. (Alternatively, place in a large bowl and use two butter knives or a pastry cutter to cut the butter into the flour mixture. Once the mixture has pebbled, turn out of the bowl onto a work surface and press mixture together––knead if necessary–to form a soft ball.) Divide dough into two balls. Wrap dough in plastic wrap and chill 1 dough ball until ready to use.

 
2 Divide dough again into two. Set dough aside. Prepare 2 pieces of wax paper or plastic wrap and, using a rolling pin, roll one of the dough in between the sheets of plastic wrap until 1/8-inch-thick.

 
3 Using a cookie cutter, cut out hearts from the dough. Use a smaller heart cutter to cut a heart-shaped hole in the center of half of the heart cookies. Using the parchment paper under the cookies, lift the cookies from the work surface and chill for 10 minutes. Roll out any excess and remaining dough and repeat until all the cookies are shaped and chilled.

 
4 Meanwhile, preheat oven to 325°F/160°C. Line baking sheets with parchment paper. Set aside.

 
5 Remove cookies from the refrigerator. Lift cookies from the parchment or plastic wrap and transfer the cookies to the prepared baking sheets, spacing each cookie 2 inches apart Bake in the preheated oven for 15 minutes or until cookies are slightly golden around the edges. Remove from oven and cool completely on a wire rack.

 
6 Spread a thin layer of strawberry jam on the cookies without the heart-shaped holes. Place the one with the holes on top and spoon a little more jam in the heart hole if desired. Store in an airtight container.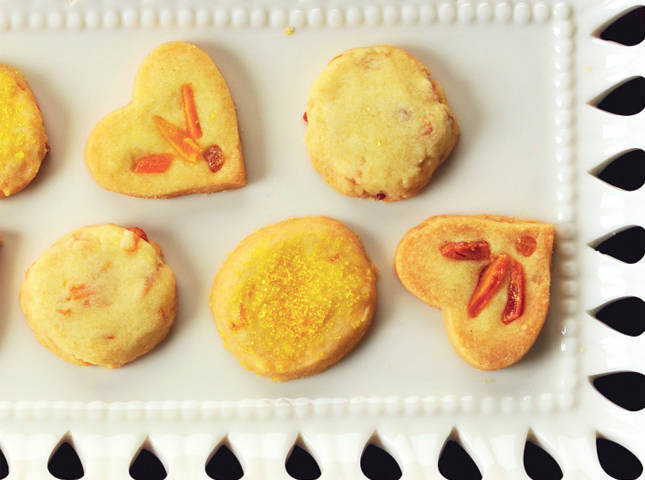 Mango-Ginger Shortbread Cookies
Posted in:
Recipe
ADVERTISEMENT - CONTINUE READING BELOW
Recommended Videos