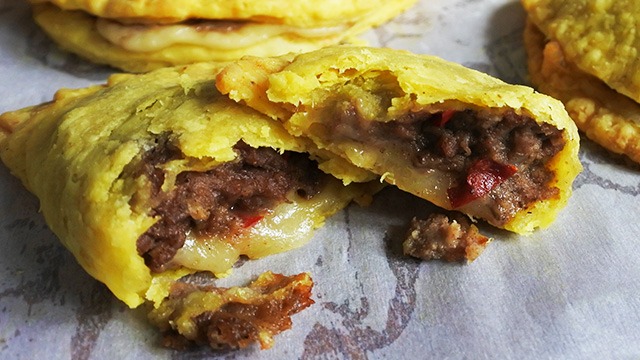 Do you love spicy and cheesy beef empanadas? You can make this leveled-up version of a Jamaican patty that's spicy and cheesy, too, at home. 
The Jamaican patty is just another name for a beef empanada with a flaky crust. Think of it as a Jamaican-style turnover or a beef empanada recipe that's cheesy and spicy, too. 
The Jamaican patty is a pastry that reminds you that it's a different kind of empanada but with a few differences. The dough has a distinct yellow-orange from the spices and might even be from some food coloring. It's definitely more flakey while the filling is usually made with savory ground beef mixture.
We used a few recipe hacks to make our version of this patty. For one, we used ground cinnamon since it's a spice that's more familiar but if you want a more authentic taste, use allspice. We added a small amount of breadcrumbs to the beef, so it would help absorb excess juices without sacrificing flavor. You can also use a little all-purpose flour instead to make the filling thicken. This resulted in a flavorful beef filling that didn't dribble down your mouth when you took a bite. 
The pastry dough was the biggest challenge. Feel free to use an empanada dough recipe mixed with spices. It's an easy dough hack! However, the more authentic dough to use would be puff pastry. It would be easy to use ready-made puff pastry but it would lack the spices and flavor of a typical Jamaican patty. We decided to make a rough puff pastry dough instead which you just mixed instead of folded. We also used butter instead of lard or shortening since this is the fat that is most accessible. Butter or even margarine is flavorful, but it did make forming and shaping the dough harder since it melts quickly. 
Use the hacks or feel free to make it as we did in the video. You won't regret it when you bite into one. Here's the recipe: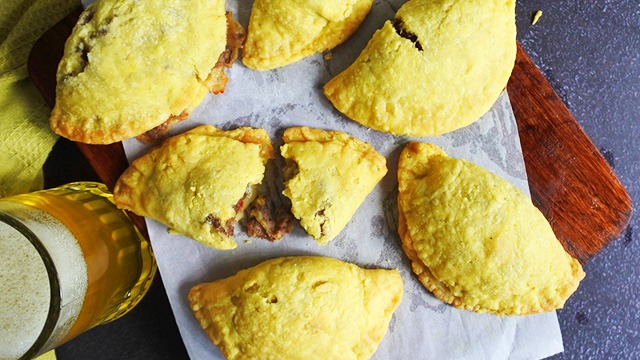 Jamaican Patty Recipe 
Takes 80 minutes plus cooling and chilling
Makes 16 patties
Jamaican Patty Ingredients 
For the dough:
3 cups all-purpose flour, plus more for kneading
1 teaspoon sugar
1 teaspoon salt
1 teaspoon curry powder
1/2 teaspoon turmeric powder
1 cup salted butter, cubed, chilled
1 large egg
2 tablespoons cold water, or as needed
For the beef filling:
2 tablespoons oil
2 medium white onions, peeled, finely chopped
3 cloves garlic, peeled, finely chopped
1 tablespoon fresh ginger, peeled, finely chopped
1/2 teaspoon dried thyme
2 teaspoons Spanish paprika
1/2 teaspoon ground cinnamon
300 grams ground beef
2 pieces siling labuyo, chopped, or to taste
1 beef bouillon cube
1/4 cup breadcrumbs
1 cup water
16 slices quick-melting cheese, sliced, chilled
Salt, to taste
Ground black pepper, to taste
How to Make Jamaican Patty 
1 Make the crust: Mix flour, sugar, salt, curry powder, and turmeric powder. Mix well. Add butter and using two knives, cut the butter into the flour mixture until small pebbles form. Add the egg and cold water and lightly knead to form a dough. Wrap in plastic wrap and chill to rest the dough.
2 Make the beef filling: In a large pan over medium heat, heat oil. Add onion, garlic, and ginger. Saute until softened. Add thyme, paprika, and cinnamon, and stir to mix. Add ground beef, stir, and form into a single layer. Cook until browned. Crumble and cook again until beef is no longer pink.
3 Add siling labuyo and stir to mix. Add and dissolve bouillon cube. Add breadcrumbs and stir to combine. Add water and stir. Season to taste with salt and ground black pepper. Remove from heat. Let cool completely.
4 Form the patties: Lightly flour a sheet of parchment paper. Divide dough into four. Keep the other dough pieces covered and chilled. Roll out dough until 1/8 inch thick using a rolling pin. Cut out circles using a large empanada maker. Transfer dough to the empanada maker. Fill each circle with cooled beef filling. Place a slice of cheese on one side. Seal closed. Repeat with remaining dough and filling. Keep patties chilled until ready to bake.
5 When ready to bake, preheat oven to 375 degrees F or 190 degrees C for about 20 minutes. Place patties on a baking sheet lined with parchment paper. Bake for 25 minutes or until the crust is golden brown and the filling is heated through.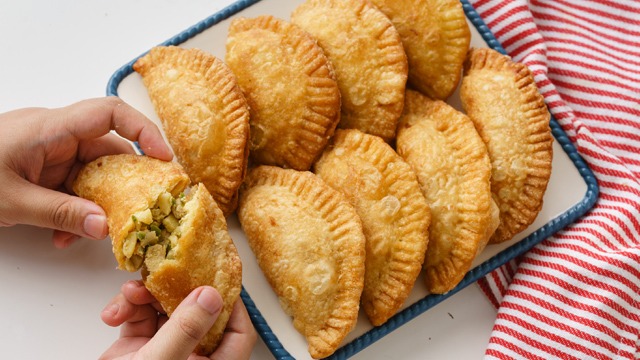 How To Make The Perfect Fried Empanada
Posted in:
Cooking
***