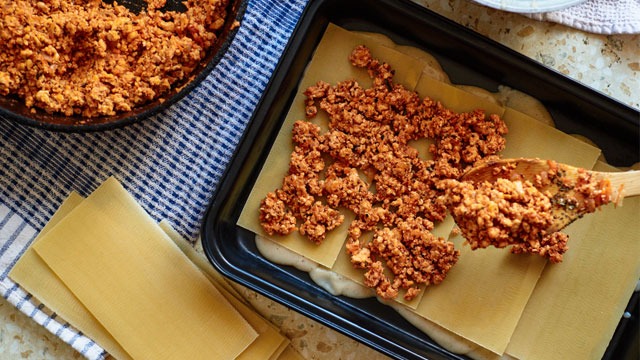 Lasagna is one of those dishes that scream "party". That's because it's hard to make it for just one person! The sheer size as well as the effort that it takes to make lasagna is worthy of being shared with more than just yourself. It's an especially great dish for the holidays. 
For those who want to make lasagna for the first time, you need to know an important fact: lasagna sheets come in long strips. This may trouble you, especially if you do not have a baking dish or even a baking pan that is in the shape of either a square or rectangle. These are after all the natural shapes that these lasagnas are meant to be cooked in. 
If you only have round baking dishes and pans, don't worry. Here's the good news for everyone who does not have a baking dish or even a baking pan that has four sides: 
You can make lasagna in a round pan. 
In fact, you can make lasagna in any shape or size of a pan. What is more important is that the baking pan that you eventually choose to use is oven-safe. Almost all baking pans made of metal are safe to use in the oven. It's the baking dishes that are made of glass, porcelain, ceramic, clay, or other materials that you need to be more careful of using in the oven.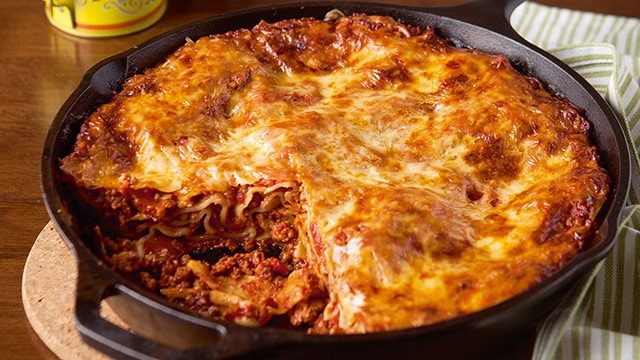 So what does "oven-safe" mean? All this means is that the baking dish you can use in the oven can withstand oven temperatures and will be safe to use when exposed to those high temperatures. Need to know if the baking dish you're using is safe to use in the oven? Here are tips to remember: 
• Use glass bakeware made of tempered glass or borosilicate. 
• Check for the oven-safe symbol. You'll find this on the bottom or underside of the 
• Always cool baking dishes before storing in the refrigerator. 
Once you know what kind of baking dish or pan is safe to use in the oven for your lasagna, here are tips to learn if you use a round one: 
1 Cut the lasagna strips to size. 
This is the most logical way of making those strips fit your round baking dish. Since these are not made for round containers, you need to cut the lasagna strips according to the width of the circle or the diameter. 
2 Crisscross the lasagna pieces. 
Once you have cut them to size, you can start the layering process. However, you'll have to do something you normally would not do when you use a square or rectangular pan: crisscross the pasta sheets. This basically means you'll have to lay out long one piece one way and the next lasagna piece should be placed perpendicular to it. You're basically making a cross pattern with the lasagna sheets. This is done so that you will eventually be able to fill the round shape better than if you just stacked them, leaving the sides empty. 
However, if you want a nice lasagna stack, you can do that, too. Just note that you might have a hard time keeping a tall stack from falling over if you do.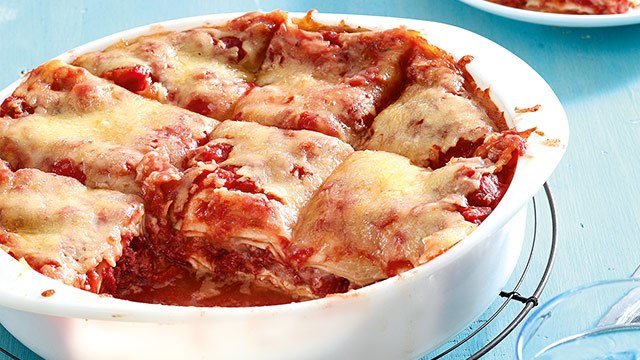 3 Be generous with the meaty sauce. 
The benefit of using a round pan instead of a square or rectangular one is that you'll have more sauce. That's because the spaces that are left by the pasta sheets will need to be filled with something, and that "something" is usually the meaty sauce. 
So, if you're a fan of the bolognese sauce be generous with the meat sauce! You and your friends will be extra thankful you got those pockets of saucy meat. 
Be inspired with these recipes that use a round baking dish or pan, including one recipe that is kid-friendly: 
***