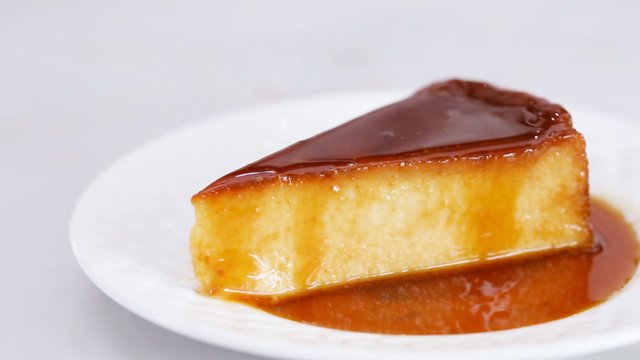 This leche flan is extra luscious thanks to cream cheese! Make a big batch for the whole family to enjoy. While this cream cheese leche flan comes together in the oven, you can also opt to steam it until the knife inserted in the middle of the flan comes out clean. Keep checking after the 30-minute mark, depending on the size of your pan or llaneras, and make sure that your steamer doesn't run out of water.
Cream Cheese Leche Flan Recipe
Makes 1 8-inch leche flan
Prep Time 10 minutes
Cooking Time 1 hour and 20 minutes
1 cup sugar
1/2 cup or 4 oz. cream cheese
1 300-ml can condensed milk
300 ml water (you can use the can of condensed milk to measure)
6 medium-sized eggs
1 teaspoon vanilla
1 Preheat oven to 350°F.
2 Heat sugar in a saucepan without stirring. Allow the sugar to caramelize slowly and evenly by swirling the pan. When the melted sugar has reached a dark amber color, pour it into an 8-inch cake pan and coat the bottom and sides. Use a thick pot holder while doing this because the caramel is very hot and will make the cake pan hot as well. Allow the caramel to cool until it has hardened.
3 Combine eggs, condensed milk, water, cream cheese and vanilla. Whisk until well combined. You can also use a hand mixer, immersion blender, or a regular blender. Strain egg and cream cheese mixture straight into the cake pan with the hardened caramel.
4 Place the cake pan in an oven-safe dish or pan and fill the pan up with water until it comes halfway through the cake pan. Place in the oven and bake for 1 hour and 20 minutes.
5 Remove from the oven and let cool on a baking rack. Run a knife around the edges and invert the leche flan onto a large serving plate.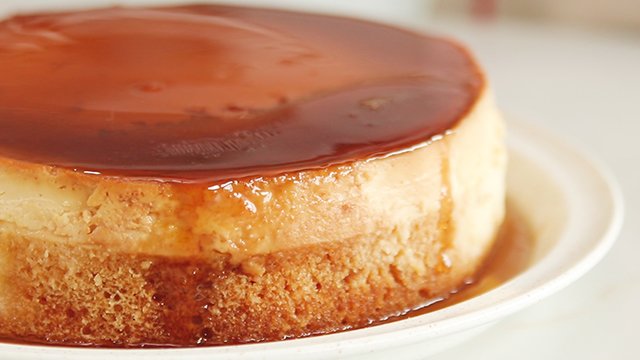 WATCH: How to Make a Leche Flan Cake
Posted in:
Baking