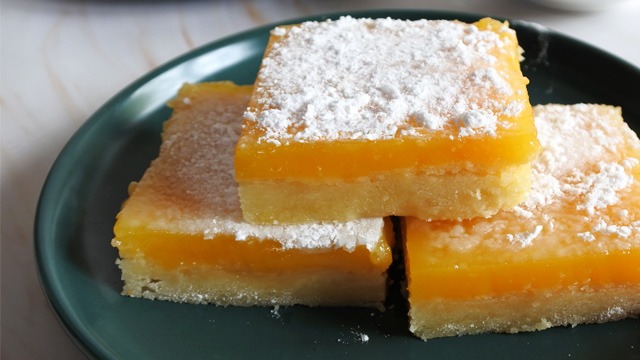 Lemon bars are classic cookie bars. These shortbread cookies are topped with a bright yellow lemon curd that's tart yet wonderfully balanced with sweetness.
The secret to the best kind of lemon bar is that it needs to have enough tang to make you pucker up, and that's exactly what these happy-hued lemon bars will do to you with every bite.   
If you think lemons are too expensive to use for these bars, switch to calamansi. The tiny but powerfully tangy limes are just as tart and bright in flavor as you want your bars to taste. However, you can adjust the amount of calamansi juice to measure just 3/4 cup instead of the full cup to temper the sharpness of the citrus.  
These lemon bars are made in a 9×13-inch (23×33 cm) baking pan lined with parchment paper. Here's a pro baker tip: to keep that paper down, we lightly oiled the pan to have the parchment "stick" to the pan but we also used metal paper clamps to keep the overhangs from getting in our way. This also avoids the parchment from rising up and burning the tips as your cookie bars bake!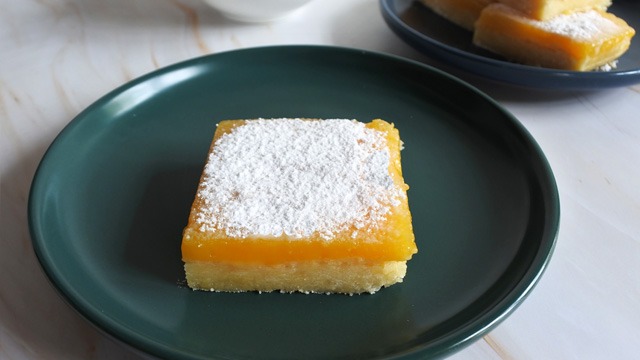 Want to make these from scratch right now? Here's the recipe: 
Lemon Bars Recipe
Takes 30 minutes
Makes 18 squares
Lemon Bars Ingredients 
1 cup unsalted butter, softened
3/4 cup sugar
1 teaspon vanilla flavoring
1/2 teaspoon salt
2 1/4 cups all-purpose flour
1 cup lemon juice
zest from 1 lemon
3 large eggs
3 large egg yolks
1 cup sugar
1/2 cup unsalted butter, softened
1 cup powdered sugar, sifted
How To Make Lemon Bars
1 Preheat the oven to 350 degrees F (180 degrees C). Line a 9×13-inch (23×33-cm) baking pan with parchment. Secure with small metal paper clamps if desired. Set aside.
2 In a large bowl, combine softened butter, sugar, vanilla flavoring, and salt. Cream well. Add flour and blend together into a dough. Transfer to the prepared baking pan and press the dough down evenly in the pan. Dock the shortbread dough using a fork.
3 Bake for 20 minutes in the preheated oven or until lightly golden brown. Remove from the oven and set aside.
4 Meanwhile, make the lemon curd: In a saucepan, combine lemon juice, zest from a lemon, eggs, egg yolks, and sugar. Blend well then heat the mixture over low heat, stirring, until thickened. Remove from heat when thickened. Add butter and stir to combine well. Strain the mixture through a sieve to remove the zest and any cooked egg pieces. Discard.
5 Pour the lemon curd onto the prepared crust. Tilt the pan to evenly distribute the curd over the crust. Gently tap to release bubbles.
6 Return the baking pan into the preheated oven and bake for 8 minutes or until the curd is set. Remove from the heat and let cool completely.
7 To serve, dust the top of the lemon bars with powdered sugar and slice into squares.
***
Thinking about what to cook next? Join our Facebook group, Yummy Pinoy Cooking Club, to get more recipe ideas, share your own dishes, and find out what the rest of the community are making and eating!
Got your own version of the classic dishes? Pa-share naman! Get your recipe published on Yummy.ph by submitting your recipe here.